Needs of Compressing WAV Files from Users
Q: How do I make my WAV files smaller? I used the dBpowerAmp music converter to turn my music into WAV files, but the size is still huge to send to my friends in emails.
Q: How can I do this and keep the CD compatible with standard CD players? MP3 format and 800MB CDs are out of the question. Can a WAV be compressed without changing the format? Maybe resampling or time scaling? I don't mind some loss of quality to gain 10 minutes.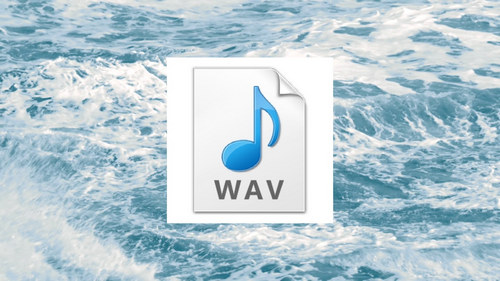 Compress WAV Audio File
A: WAV is one of the most commonly used formats for music enthusiasts, which stores two-channel LPCM audio sampled 44,100 times per second with 16 bits per sample. So the quality of the WAV file is almost the same as CD 44.1 kHz, 16-bit stereo, hence, WAV is known as the closest lossless music format. Uncompressed WAV files always have a large size, so file sharing of WAV files over the Internet is uncommon. For this, you may have all kinds of requirements to compress WAV file to smaller size in your daily life. Follow this article, I'd like to share you two ways to reduce WAV file size.
Two Ways to Shrink WAV File Easily
Ultra high and low tones that our ears are naturally oblivious to are eliminated, effectively shrinking the file size to half or below. So a wonderful program exists to accomplish the task to reduce size of WAV file - WonderFox HD Video Converter Factory Pro not only helps you compress WAV but also convert audio formats, save YouTube music, cut audio file, etc. Why not free download the perfect WAV compressor to start a new travel?
Method 1 - Lower Bit Rate of WAV File
Launch WAV file compressor when installation is complete. Add WAV files to the program. Click "Settings" button and go to the "Audio Settings" section. Then, reduce audio bitrate to a suitable file size. Choose any size as you want. For example, you can change the bitrate from 160 kbps to 128 kbps. Last, click "Run" button, everything is done!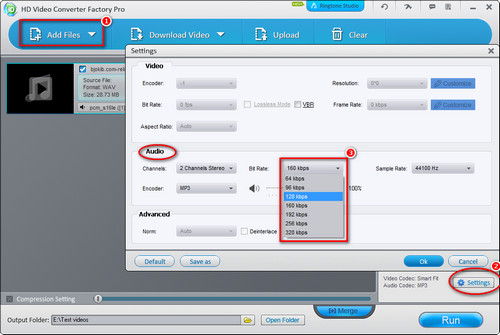 Reduce Audio Bitrate
Method 2 - Convert to Lossy Audio Format
The simplest and most effective way to reduce the size of the audio file is to convert to lossy audio format. As we know, MP3 is a frequently-used lossy format with powerful compatibility. You can convert WAV file to MP3 format for file compression. As you can see, choose MP3 as the output format and then click "Run" to finish the conversion.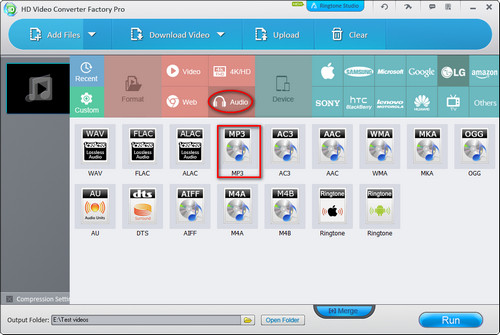 Compress WAV to MP3
Learn More about HD Video Converter Factory Pro
Now, will you know how to compress a WAV file? HD Video Converter Factory Pro is not only an audio compressor, moreover, it can merge audio files into one with lossless file quality, extract audio from video, convert video to 4K ultra HD and compress 4K video to 1080P, 720P, 480P and its built-in HD video editing function allows you to edit HD video.
Now, please download the HD Video Converter Factory Pro to complete your jobs.
More Special Features on HD Video Converter Factory Pro
Download video of different resolutions from YouTube
Batch convert video files to save a lot of time
Batch compress video files with smaller output size to free up store space
Convert videos to 300+formats and hot devices
Making ringtone for apple devices and android devices
Extract audio from movies/ films