Common Issues on Video and Audio Out of Sync
Q: Ripped a DVD of mine and found an improper audio to video sync. What's the easiest way to fix this audio and video not in sync problem?
Q: I have an AVI video file which I downloaded from the web. But it's with out-of-sync audio. How can I fix this problem easily ? I mean I spent several hours downloading this to my computer and don't want to waste more time. Thank you!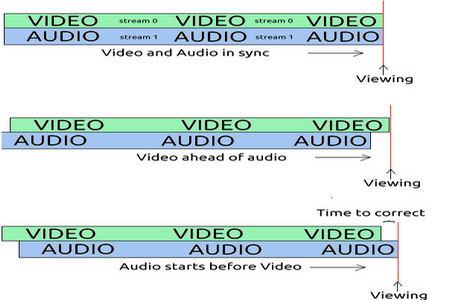 Video and audio not in sync
I know how terrible it is. Just imagine, In a movie when a couple are pouring their hearts out to each other, and the audiences are supposed to be deeply touched by their love, but what you see is not on the same track as what you hear. What a frustrating experience! So what to do when audio and video are out of sync?
How to Make Audio and Video Match UP?
I know that most of the readers are a stranger to the excessive professional sync issue. Thus, to give you a simple and clear solution on how to correct audio video sync permanently, I turned to the technical teammates for help, and accessed relevant information. In general, most of the audio sync problem arises from the time axis damage. So, what can be done to fix sound and video out of sync issue?
Fortunately, the freshest version of HD Video Converter Factory Pro offers the most powerful backup for fixing the video timeline. All you need is to complete a professional format conversion work. For instance, if your original video format is MP4, you can convert the MP4 video with the software and everything will be perfect because it will intelligently repair time axis damage. Follow this step-by-step guide and fix the MP4 audio out of sync problem permanently by yourself within minutes.
3 Steps:How to Fix out of Sync Audio MP4, AVI, MKV...
Free download the software and follow the guide to solve audio out of sync with video error, even if it's caused by filmora and format factory.
You'll see, there is no video and audio out of sync problem and degradation at all after convertion. It's the WonderFox HD Video Converter Factory Pro, which creates the magic. Also you are able to solve Handbrake audio sync error with this software.
Now curl up on the couch, and enjoy your family fun in the dream home theater.
More Special Features on HD Video Converter Factory Pro
Offer a built-in video editor to fix audio lag and sync audio to video, crop, split, merge and boost volume
Can convert between standard video and high-definition video(8K/4K/1080P/720P/480P) with high quality
Support 50+ output formats and 220+ devices, including H265, VP9, 4K, FLAC, ALAC, OGV, DTS, Projector
Download video of different resolutions from YouTube
Batch compress video files with smaller output size to free up store space on device
Batch convert video files to save a lot of time