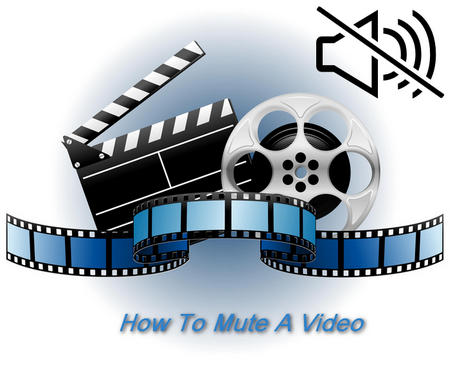 How to Mute a Video
Possible Reasons for Muting Videos
I'm pretty sure sometimes you may have an urgent demand for increasing audio volume when watching videos/movies or listening to music. Oppositely, you are likely to mute or remove audio in certain circumstances as follows:
Q: I made a video on a virtual world with Screencast-O-Matic. Accidentally, not knowing, I had my volume on, and when I previewed the video I heard my voice. I didn't want my voice to be heard (Or to hear the keyboard tapping). How to mute audio in video completely, so like, no one can hear any background stuff AT ALL?
Q: I have a few videos recorded in MP4 format and I want to completely mute audio from video so that there is no sound. What is the easiest way to do it? Is there a free program that will strip the sound out of a video? Thanks in advance.
Q: I have a lot of background noise or crappy sound from the videos I have just recorded. I want to know if there is a software I can use to permanently mute my videos sound or background noise or completely strip it off? It is very important and it means a lot to me. THANKS A BUNCH!
To sum up all cases in one question: How to mute a video permanently? In other words, how to make a video silent? It really means nothing to some professional video editors like Adobe Premier, Sony Vegas, etc. But you know, as general users or beginners, he would rather tend to adopt a simple approach to the same result, such as video mute online. However, some online free service bings convenience, simultaneously also bings some potential security issues to your PC like privacy leaks, hidden malware, virus, etc.
To avoid such troubles , here's the trick to mute audio in video using a safe & clean, handy and versatile video mute software - WonderFox HD Video Converter Factory Pro.
Simple Guide on How to Mute a Video
Free Download WonderFox HD Video Converter Factory Pro and install it on your Windows OS PC. It's well compatible with Windows 10/8.1/8/7/Vista/XP.

HD Video Converter Factory Pro
How do you mute a video? With WonderFox HD Video Converter Factory Pro, it is much easier than you think. Deal with audio and video problems with only a few clicks. Learn more >
1. Open this video sound mute software, you'll see a clear and comprehensible interface with all main features listing on the menu bar. Click "Add Files" to import the videos you want to mute audio or just a simple drag-and-drop. This program enables you to disable sound for all imported videos.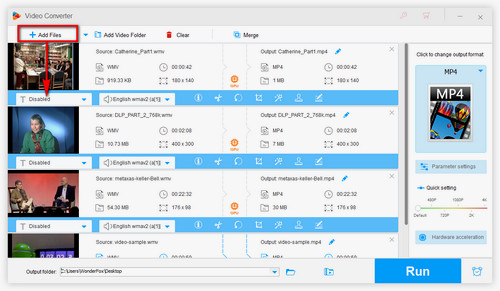 Import Videos You Want to Mute
2. Open Output Format sidebar on the right, 300+ different video & audio formats and devices are right there for your choice. That means you can batch convert your imported videos to a wide range of formats and devices. Or just choose your original format if you don't want to re-encode.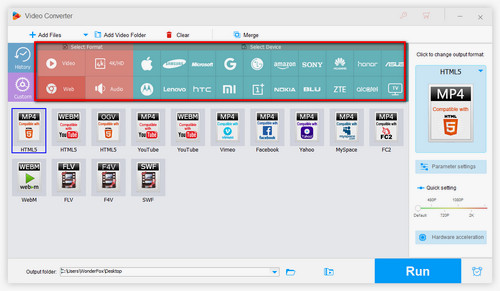 Select the Format among 300+ Profiles
3. After done, open settings window by clicking "Settings" button in the lower right corner. Drag the slider to the left next to the loudspeaker icon, and the value will become 0% on the right. Or simply click on the loudspeaker icon to make it a "Sound Off" mode so that you can mute MP4, AVI, MKV, etc. Then click OK and back to main interface.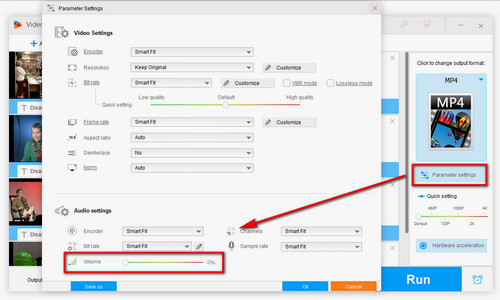 Make a Setting to Disable the Sound
Tips: The default "Smart Fit" means WonderFox HD Video Converter Factory Pro has already preset optimized settings for general users. For experienced user, you are allowed to adjust parameters here, such as change video resolution, change aspect ratio, change frame rate, change encoder and bitrate, etc.
4. Set your destination path and press Run button to start to batch mute audio in video.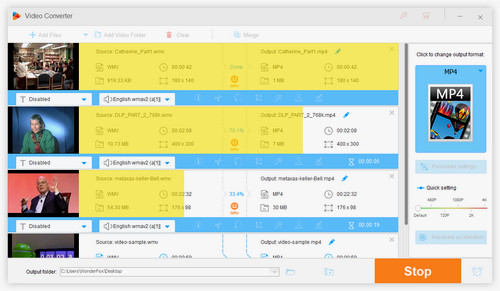 Start to Mute Videos
That's the whole process about how to mute videos. With this software, now you can easily disable audio with a few clicks. Is it enough? Of course not, WonderFox HD Video Converter Factory Pro can do more jobs for you. It empowers you to download YouTube video even 4K/8K video download by clicking "Download Video" button. As its name implies, it supports converting and compressing 4K HD videos with the unique compression technology, which means you are capable of reducing video size. Moreover, the program also owns the ability to add subtitles, join video files, rotate videos as well as add special video effect.

Congrats, problem solved now! Why not keep the full-licensed program for
LIFETIME
at lowest price now!
Still got question? Submit it to us and get answer within 24 hours.