How to Remove Subtitles From MKV, MP4, AVI and So On
Why We Need to Remove Subtitles from MKV Video?
Some movies and video clips are with built-in subtitles, in whatever subtitle formats. Despite the convenience and advantages in many aspects of subtitles, it makes me feel bored when I have the needs of secondary video clipping or video splitting and video editing just for my personal collection. One of the main reasons we want to remove subtitles is that we don't have the habit of watching movie with them due to covered scene caused by built-in subtitles and the disturbance of enjoyment. We hope there is some kind of subtitle remover or simple method to remove subtitles from MKV, MP4, AVI, WMV, M2TS, MPG, MOV, M4V, and any kinds of video file formats.

All-powerful subtitle remover
Easily remove soft subtitles and hard subtitles with the software. Convert the videos in batch to higher quality with smaller output size.
More features>
Story Time: Types of Subtitles and Instructions of Common Ways to Remove Subtitles
Normal subtitles, shown in MKV, MP4, AVI and other video file formats, actually exist in different types, thus different methods should be used for removing them. There are two kinds of subtitles currently, one is soft subtitle, which is also called external subtitles; and the other is hard subtitle, embedded in the video as a part of video images.
Here is a list of subtitles supported by common video types.
| | | |
| --- | --- | --- |
| Format | Soft Subtitle | Hard Subtitle |
| MKV | √ | √ |
| MP4、AVI、WMV, M2TS, MPG, MOV,M4V, etc. | × | √ |
So how to remove hard subtitles or soft subtitles from MKV/MP4/AVI/… video? Of course, we can download some video processing software which looks professional but complicated to operate, as it requires more time and energy to learn. Let alone some software claim to remove subtitles but by actions they don't. And some people among us have ever tried to put mosaics into the video where subtitles are shown, which will definitely influence the picture effects and sometimes affect our understanding of the movie at last. So we can see that the above ways are not so good.
Today, I will show you the simplest way of how to remove subtitles from MP4, MKV, AVI, MOV and so many other videos.
Hot search: Convert MTS to MKV free | Add Subtitles to MP4 | Download YouTube Subtitles
Full Guide: How to Remove Subtitles From MKV, MP4, AVI and Other Video Formats
HD Video Converter Factory Pro, an MKV, AVI or MP4 subtitle remover, is so easy to handle. There is the step-by-step guide on how to use the all-powerful subtitle remover to remove soft or hard subtitles.

Help you handle video subtitles handily
Want to remove Chinese or Korean subtitles from movie? You can do it.
More features>
1. How to Distinguish Between Soft Subtitles and Hard Subtitles?
You can directly Free Download the software here. After opening a video, as shown in the picture below, choose the "T" mark and click the triangle on the right. We can see the multiple subtitle options are listed in the drop-down window, then the subtitle of this video is soft subtitle type.

If we open an AVI, MP4, WMV or MOV video, when there appears the embedded subtitle in the original video, but only "Disabled" and "Add subtitles" options are shown, then we can say this subtitle is a hard one.
As long as the subtitle type has been identified, we only need a few steps on how to remove subtitles from a movie/video in MKV, MP4, AVI and other formats of video, and then we can enjoy the movie perfectly.
2. Fix How to Remove Subtitles from Video Now!
About the soft subtitles (MKV only)
1) Import videos by pressing "Add Files" or drag the video into software, then choose the "T" mark. Also, if you got a DVD movie with built-in subtitles, you can convert the DVD to MKV first, and erase subtitleas well.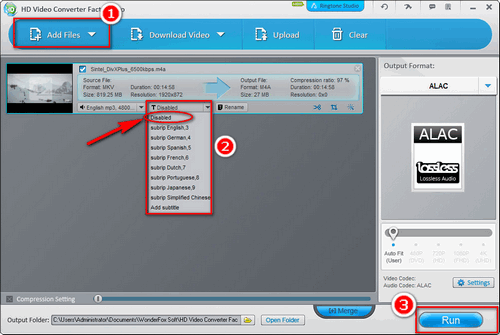 2) Choose the "Disabled" option in the drop-down window to hide the subtitle.
And if you want to change the video format, open the output format drop-down list on the right of UI to select an output video file format. If you want to directly play it on the go, you are able to select a portable device profile which the software developer has preset the best specs for it.
Tips: The HD Video Converter Factory Pro supports various video formats and pre-set device compatible profiles. But for advanced users, feel free to set your personal requirement for parameters and different conditions. Say, you can also convert video to 4K TV, iPhone, Samsung, BlackBerry and other devices.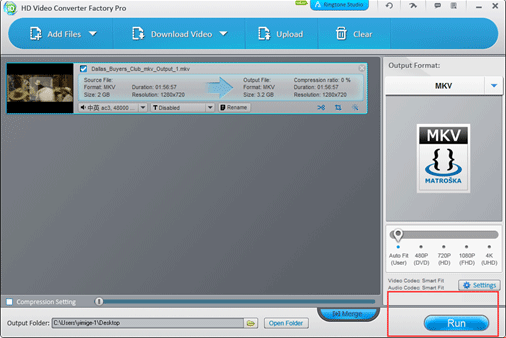 3) Click "Run" button, we will get a movie without quality loss and totally subtitle-free a couple of minutes later. The HD Video Converter Factory Pro, in short, is such a great MKV subtitle remover, AVI/MP4/MOV…remover. From now on, enjoy a subtitle-free movie any time any where!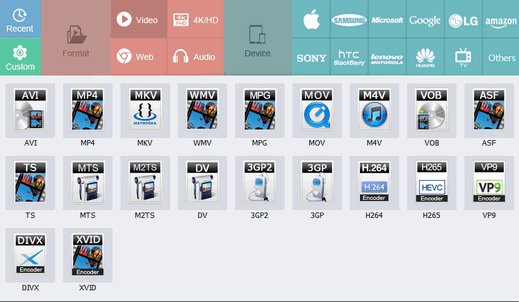 About the Hard Subtitles
Now it comes to various questions about how to remove hardcoded subtitles from MKV, or how to remove hardcoded subtitles from MP4 video. As the hard subtitles are embedded in the video, so there are no subtitles shown when we click the "T" mark. That's why another method of how to remove embedded subtitles should be taken.
1) We need to use the "Crop" function to crop video as the picture shown below.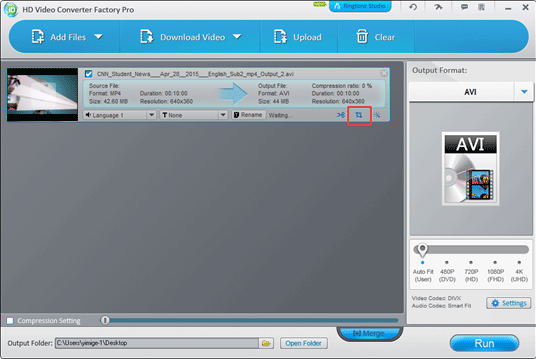 Then a temporary window will show up.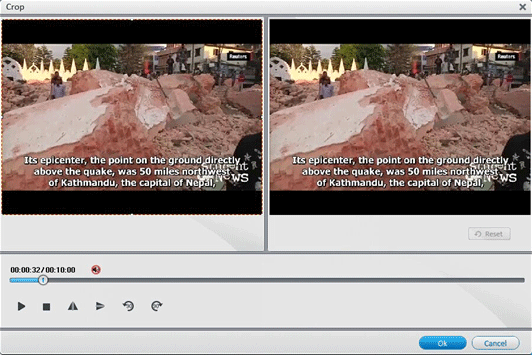 2) Simply adjust the dotted box on the left screen to crop the part containing hard subtitles. Meanwhile, you can preview the changes on the right side. Just like the interface shown below.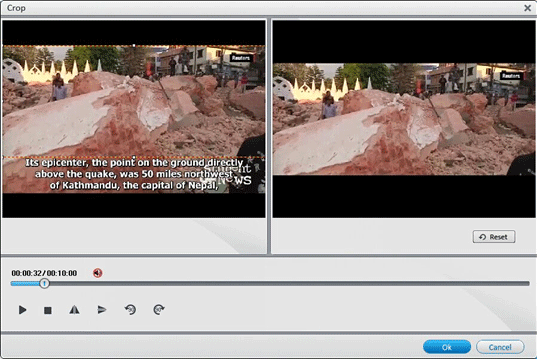 3) Then click the "OK" button and back to the main interface, click the blue "Run" button to start to remove subtitles from MP4, or remove subtitles from AVI, or from MKV, WMV, MP4, and any more.
Tips: This software can be also used as a HD video editing software for video-making lovers. Adding effects to video and splitting videos are available as well as converting video between SD and HD (SD to HD/HD to SD smoothly).
Of course, this software is suitable for removing subtitles from AVI, MKV, MOV, WMV and other formats supporting the hard subtitles. It's additionally an AVI subtitle remover and powerful software to meet our different needs.
However, everything is relative, sometimes we do need the subtitles, and what should we do then? You can also add subtitle to MP4 or other video formats with the same software. Moreover, it enables you to download YouTube hot/HD video, flexibly merge several video files into a single file, merge audio files, and compress 4K/8K videos remaining 99% original high quality. Just give a shot on this omnipotent software tool and explore more unexpected features which will surprise yourself.
Still have any question? Have some feedback?
Related Resource
Time-limited Offer Today
Delete subtitles from video, convert video to 200+ video formats and mobile devices with 480P, 720P HD, 1080P FHD, 4K UHD standard - 50X Faster conversion speed with 0-Quality-Loss.
Join the Disscussion on Removing/Adding/Editing Subtitle