Converting MP4 to MPEG for Making VCD or DVD
MP4 Video Converter Factory Pro help you convert MP4 video to MPG (*.mpg) format for burning VCD and DVD
Indeed, here we say MPEG means MPEG-1 and MPEG-2, and we've mentioned the three formats here are the same, more or less; they all belong to MPEG, but in different types and have different functions. So sometimes we have to Converting MP4 to MPEG.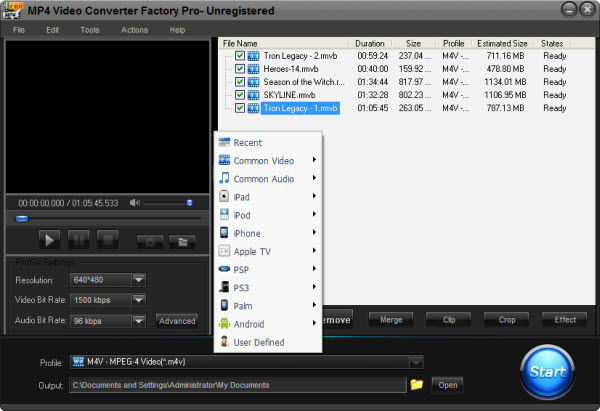 Brief introduction to MP4 and MPEG-1, MPEG-2
MPEG-1, the first MPEG compression standard for audio and video. It is used on Video CD, SVCD and can be used for low-quality video on DVD Video. It was used in digital satellite/cable TV services before MPEG-2 became widespread.
MPEG-2, transport video and audio standards for broadcast-quality television. MPEG-2 standard was considerably broader in scope and of wider appeal - supporting interlacing and high definition. MPEG-2 is considered important because it has been chosen as the compression scheme for over-the-air digital television ATSC, DVB and ISDB, digital satellite TV services like Dish Network, digital cable television signals, SVCD and DVD Video.
MP4(MPEG-4), MPEG-4 uses further coding tools with additional complexity to achieve higher compression factors than MPEG-2. In addition to more efficient coding of video, MPEG-4 moves closer to computer graphics applications. In more complex profiles, the MPEG-4 decoder effectively becomes a rendering processor and the compressed bit stream describes three-dimensional shapes and surface texture. MPEG-4 supports Intellectual Property Management and Protection (IPMP), which provides the facility to use proprietary technologies to manage and protect content like digital rights management.
Why should we have to converting MP4 to MPEG
From the message above, we can learn that MP4 is different to MPEG-1 and MPEG-2. MP4 is mainly used for internet transporting, supported by many mobile media player(mobile phone); MPEG-1 and MPEG-2 are used in digital devices, supported by making VCD or DVD.
When we have some videos are taken by our mobile phones, and we want to keep the video for long, or even make some effects; but because of the formats, we cannot convert the videos to VCD or DVD directly, so we have to converting MP4 to MPEG-1 or MPEG-2. Then, a video converter related to this situation is needed.
How to convert MP4 to MPEG
After knowing the basic knowledge mentioned above, I think it is necessary for us to know how to convert MP4 to MPEG now, actually, you just need to follow three main steps and then you will know how to convert MP4 to MPEG.
1) We have to download a MPEG video converter and learn the guide.

2) Learn the functions and follow the guide to converting.

3) Wait and then enjoy your video.
Here I suggest a useful and professional tool, MPEG Video Converter Factory Pro. It is the powerful video conversion software that you can easily to convert your video to common MPEG, HD MPEG and it supports all MPEG encoder with lossless video quality, and it provides powerful video editing function and video effect. It's a real all-in-one video converting tool. Then, with MPEG Video Converter Factory Pro, you can converting MP4 to MPEG conveniently, and make VCD or DVD freely.
MP4 Video Converter Factory Pro (for Windows) is shareware in discounting, the price from $29.95 to $19.95 that means now buy it you will save $10. This is a limited-time discount, please seize the opportunity. If you have any questions please contact order@videoconverterfactory.com