How to Convert MP4 to MPEG for Making VCD/ DVD
HD Video Converter Factory Pro cam help you convert MP4 video to MPG (*.mpg) format easily and quickly
Indeed, here we say MPEG means MPEG-1 and MPEG-2. The three formats we've mentioned here are the same; they all belong to MPEG, but in different types and have different functions. So sometimes we have to convert MP4 to MPEG for some purpose.
Understanding MP4, MPEG-1 and MPEG-2
MPEG-1: The first MPEG compression standard for audio and video. It is used on Video CD, SVCD and can be used for low-quality video on DVD Video. It was commonly used in digital satellite/cable TV services before MPEG-2 became widespread.
MPEG-2: Transport video and audio standards for broadcast-quality television. MPEG-2 standard was considerably broader in scope and of wider appeal - supporting interlacing and high definition. MPEG-2 is important for it has been chosen as the compression scheme for over-the-air digital television ATSC, DVB and ISDB, digital satellite TV services like Dish Network, digital cable television signals, SVCD and DVD Video.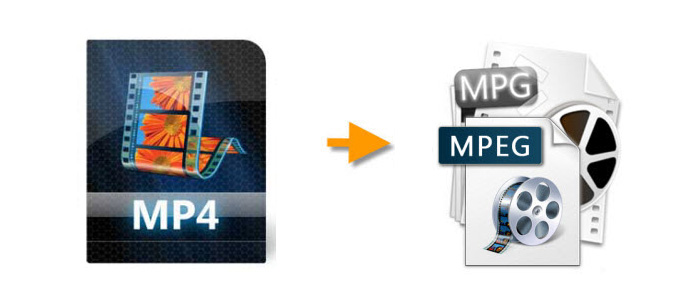 MP4 (MPEG-4): MPEG-4 uses further coding tools with additional complexity to achieve higher compression factors than MPEG-2. In addition to more efficient coding of video, MPEG-4 moves closer to computer graphics applications. In more complex profiles, the MPEG-4 decoder effectively becomes a rendering processor and the compressed bit stream describes three-dimensional shapes and surface texture. MPEG-4 supports Intellectual Property Management and Protection (IPMP), which provides the facility to use proprietary technologies to manage and protect content like digital rights management.
Why Should We Have to Convert MP4 to MPEG
From the message above, we can learn that MP4 is different to MPEG-1 and MPEG-2. MP4 is mainly used for internet transporting, supported by many mobile media players (portable devices); MPEG-1 and MPEG-2 are used in digital devices, supported by making VCD or DVD.
When we have some videos taken by our mobile phones, and we want to keep the video for long, or even add some effects to it; but due to the format problem, we cannot convert videos to VCD or DVD directly, so we have to convert MP4 to MPEG-1 or MPEG-2. Then, a good video converter is needed.
The Best Video Converter Recommended
If you have no idea about how to choose a suitable video converter, here we will recommend a good one to you - HD Video Converter Factory Pro. HD Video Converter is equipped with advanced High-Definition (HD) video conversion technology. It builds in 100+ video formats. It can convert nearly all popular videos, including MP4, MPEG, WMV, AVI, and more SD formats as well as HD formats.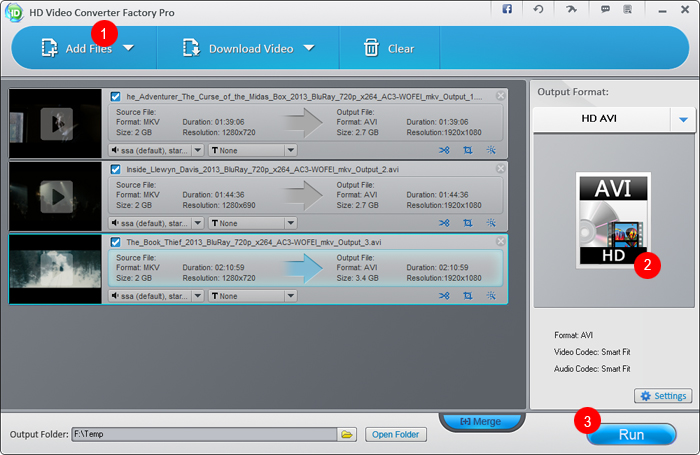 It well supports converting all the High Definition and HD-Camcorder videos to both portable and console players, such as iPad, iPhone, PS3, PSP, Xbox, BlackBerry, Nokia, Android, etc. You can also apply it to download online videos from YouTube, Facebook and other video-sharing websites.
How to Convert MP4 to MPEG Quickly
After learning the basic knowledge of MP4 and MPEG, I think it is necessary for us to know how to convert MP4 to MPEG now. Actually, you just need to follow three simple steps and you will know how to convert MP4 to MPEG with ease, please download it first:

Step 1 Import MP4 Video to Program
Download WonderFox HD Video Converter Factory Pro and then run it. on the main interface, click "Add File"/"Add Video" to import source video files to program. Before conversion, you can go to "Option" >> "HD Settings" by clicking Hammer icon, and then tick the option "SD to HD" and "Picture Enhancement" to do more settings.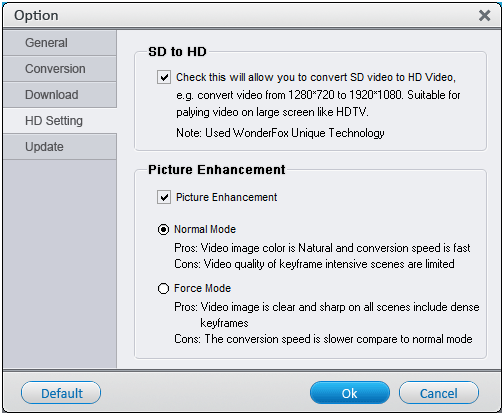 Step 2 Choose Output Format and Modify Output Settings
Choose "Output Format" as MPEG, you can also se3lect other formats such as WMV HD, AVI HD Video, HD MKV and HD MP4. Modify video resolution, bitrate and other video settings yourself on "Setting" interface. HD Video Converter can provide the optimal output settings (Smart Fit) intelligently.
Step 3 Start Converting SD Video to HD Video
When all the settings are OK, click "Run" to start converting your SD videos to HD in batch. You can experience ultrafast conversion speed and high video quality with this HD Video Converter. Open output folder to get the output video.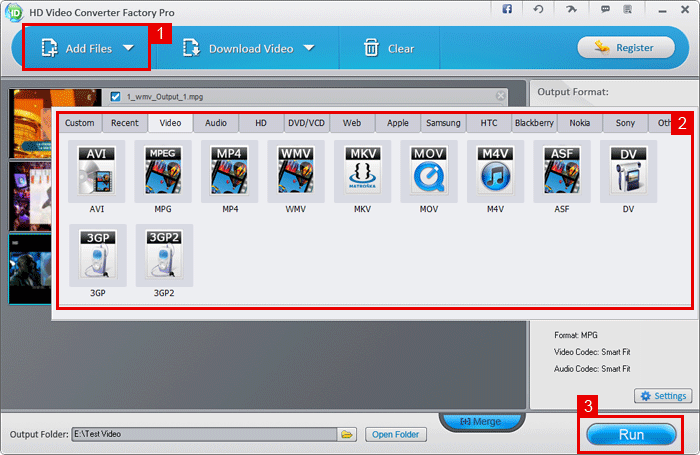 HD Video Converter Factory Pro is the powerful video conversion software. You can easily convert your videos to common MPEG, HD MPEG and it supports all MPEG encoder with lossless video quality. It provides powerful video editing functions for user. You could even use it to download videos. It's a real all-in-one video converting tool as you expected.
The free trial of HD Video Converter Factory Pro (for Windows) allow user to convert 5-minute video for each source file, if you want to convert videos more than 5 minutes, please purchase license code first, purchase now you can save $10. This is a limited-time discount, please seize the opportunity. If you still have any question, please feel free to contact us: