2017 Best Free DVD Ripper Review - How to Choose Free DVDfab, Winx DVD Ripper Free
Meet the Best Free DVD Ripper for Windows 7, 8, 10
1. WonderFox DVD Ripper Speedy
One of the best DVD ripper free software is WonderFox DVD Ripper Speedy, which is relatively new to some users, compared with others below. But it's worth mentioning, more and more users think it's a contender to HandBrake, MakeMKV, as well as the best free alternative to DVDFab(a famous shareware program). And it's also one of the best free DVD ripper 2016. Best DVD ripper free download here to try by yourself. How to use it easily?
Download the software: http://www.videoconverterfactory.com/download/dvd-ripper-s.exe
Open the DVD Ripper Speedy, you'll see an intuitive and friendly interface. It's easy to understand. Click on the "DVD Disc" button icon(two other options are ISO image and DVD folder). It detects drive letters right away. >> Select a drive letter you want to rip and convert, and then click "OK". It takes less than one minute to complete analyzing the DVD contents (audio/video/subtitles/ads, etc). And main title which means the right main movie, has been automatically chosen. >> ripping DVD to MPG is supported, as it will cost less converting time and the output quality is instact 1:1. >> Click "Run". It takes about 10 minutes to rip a DVD with an hour and a half duration time while reducing size from 6.9G to 2.2G.
Tip: Optimized parameters are preset for newbie. But if you are good at setting complex video audio parameters, you're able to use custom settings, for example, change aspect ratio, resolution, bitrates.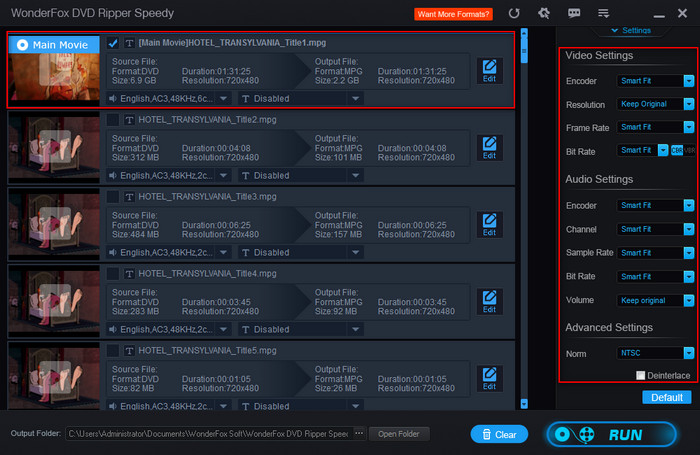 DVDs with CSS, region code, RCE, Sony ArccOS, UOPs, Disney X-project DRM can be ripped. Before ripping a DVD, you'd better know if it's legal to rip DVD free in your country, though what I think personally, I can rip DVD I have legally purchased. It supports Intel® Core TM, NVIDIA® CUDATM and AMD®.
2. Handbrake
Handbrake is the most well-known best free DVD ripper, which is also an open source. Besides Windows(including Windows 10), it allows users to install on Linux and Mac. You can use Handbrake to convert DVD(home-made ones) or BluRay sources with no copy protection to MP4 and MKV.
Click "Source" and select the wanted drive letter. Sometimes it appears to get stuck "Scanning Tile xx of xx". Probably Handbrake doesn't support the source file formats or can't start ripping work because of your DVD protection. >> Press "Browse" to set a file destination. >> click "Start".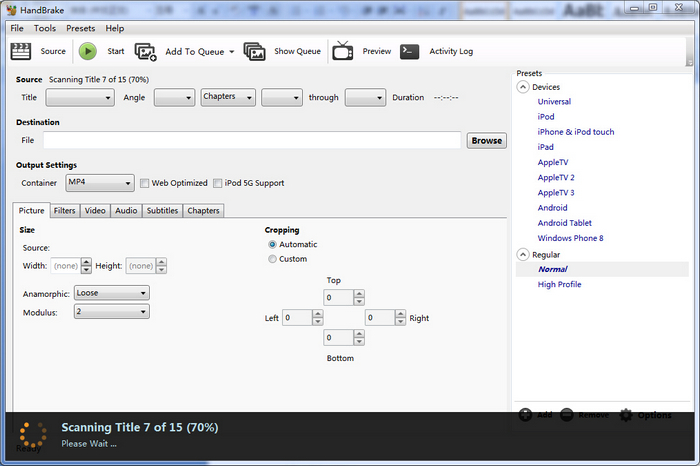 Handbrake also empowers you to add subtitles, queue up multiple encodes, rename chapters, set frame rates and more.
3. DVD Shrink
Among the best free dvd decrypter software, DVD Shrink is good for compressing DVD data. You can rip DVD to hard drive as VOB or as an ISO image. As the latest version of DVD Shrink is launched in 2004, the interface is relatively outdated. but some ripping related features are friendly, for example, you can choose which parts of the DVD you want to keep for ripping like audio for language, subtitles, etc. It's the same as WonderFox DVD Ripper Speedy, giving users flexible choices.
Click "Open Disc", it has analyzed DVD drive letters. >> Choose on from multiple drive letters. >> Uncheck unwanted parts. >> Click "Backup" and select "Hard Disk Folder". >> Press "Browse" to set the output folder. >> Click "OK".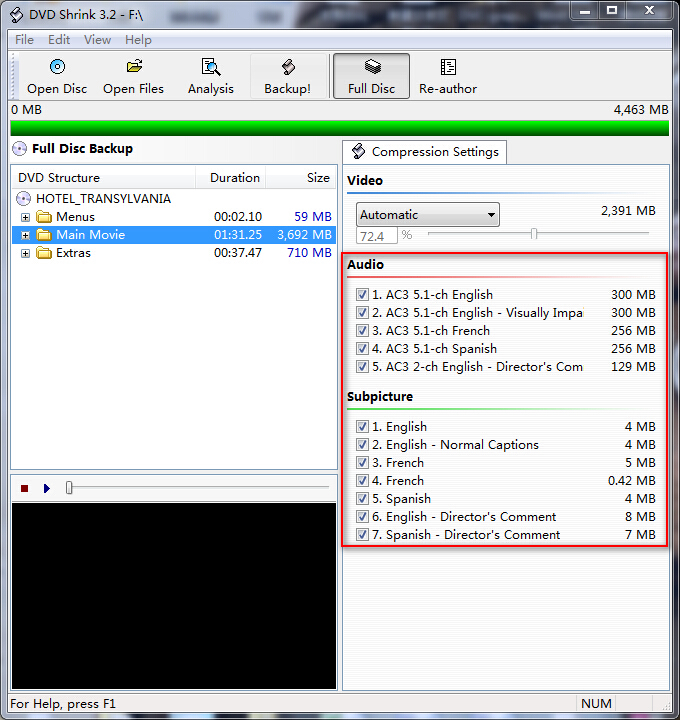 The output file format is .vob. If you want to watch the DVD movie on the go or on your smart TV, you can try this free video converter. The Free Video Converter Factory supports most common video files as input formats and enables users to convert video to H.265 and VP9, MKV, MP4, AVI, MOV, WMV, iTunes Video, etc and transfer video to any popular devices' optimized compatible formats, such as iPhone 7(Plus), iPad Pro, iPad Air 2, iPad mini 4, Apple TV4, Samsung phones and TV, Blackberry, Nokia, PS4, Xbox One, Surface, 4K/8K/Curved/Standard TV. So don't worry about video conversion problem anymore.
But DVD Shrink will add plug-in and some tiny tools, if you don't need them, do not select. It's a little annoying. And it hasn't been updated for a long time, it will probably not work on some new DVDs with the latest encryption techniques. But it still works better than some other DVD rippers I haven't chosen.
4. DVD Decrypter
DVD Decrypter is a very small handy free DVD decryption software. It's mostly like DVD Shrink, which can also rip DVD to VOB or ISO image. With it, you can rip the whole DVD content but don't have more features. Also this program won't work with the DRM on your DVDs, cause it stopped updates days ago. It's easy to find this free DVD rip software download source online.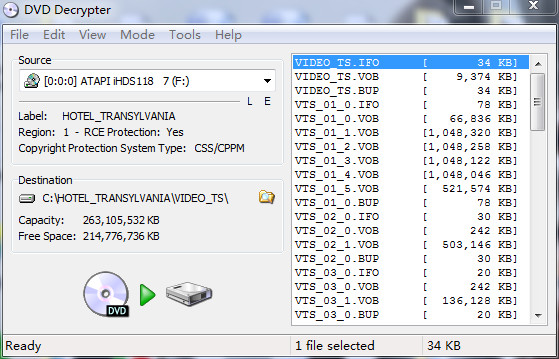 To sum up, among the best free DVD ripping software I refer here, DVD Ripper Speedy is an up-rising star and will be added to my "should keep" free software for ripping DVD collection list. And while some software here are not the all-in-one DVD rippers, but with some top free video converters it can also be used excellently. So here is my list for the best free DVD ripper 2017. Of course, if you insist on using DVDFab, click here to learn how to find DVDFab crack full version and make sure you don't want to try the following highly recommended DVDFab perfect alternative.
Related Resource
Join the Disscussion