How to Convert and Transfer Video to Android
Those favorite videos you stored in PC and downloaded online can not be read or played on your Android phones, tablets and TVs, while you think you made them in the right format for the gadgets. In this article I'll show you how you can transfer video to Android without any errors using a simple tool.
People now prefer to watch videos and movies via phones or tablets especially travelling out somewhere without net connection, thanks to the convenience of those portable devices. Among these gadgets, Android mobile OS is customized and flexible, really a good choice. However, like others, it also has video format limitation (limited kinds of video formats like 3GP, MP4 are supported) and those video incompatibility issues.
But problem will be much easier to be solved if you have the right Android video converter. Cuz even an Android phone with a 16GB of storage is not enough for us to store data (videos/photos/music), let alone download apps. We have to consider how to transfer movies to Android, in the meantime how to reduce video size while keeping high quality. We use WonderFox DVD Video Converter to overcome challenges on smartly transferring any video/DVD movie/online source to Android devices with controllable quality and file size.
Step by Step Guides: Transfer Video to Android
Connect the phone/tablet to the computer using the supplied USB cable or WIFI. Make everything ready: free download WonderFox DVD Video Converter here and follow the guide to copy video to Android phone, tablet and TV.

1. Now add your target video(s). You can simply drag and drop.
2. Open the output format list, choose an output device. The profile is preset with optimized parameters for Android, Samsung, HTC, BlackBerry, Nokia, iPhone, iPad, smart TV and any more.
3. Click "Run" to start to transfer video from PC to Android.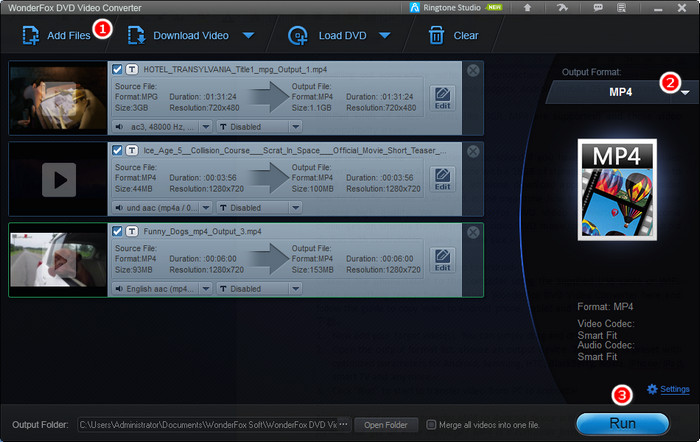 Note: Why did you ever transfer MP4 to Android device which claims to support this format, but got an error message? MP4 is a container format, used to store video, audio, subtitles and other data, so chances are the MP4 file you tried to transfer had its encoder incompatible with the device.
Step by Step Guides: Transfer Videos to Android from YouTube
1. If you want to directly transfer online video source to Android devices, WonderFox DVD Video Converter supports downloading online video. Click on "Download Video".
2. Copy and paste the video URL. Press "Analyze" and wait for a while. You can now choose the idea resolution and file size from the analysis list. Click "Download".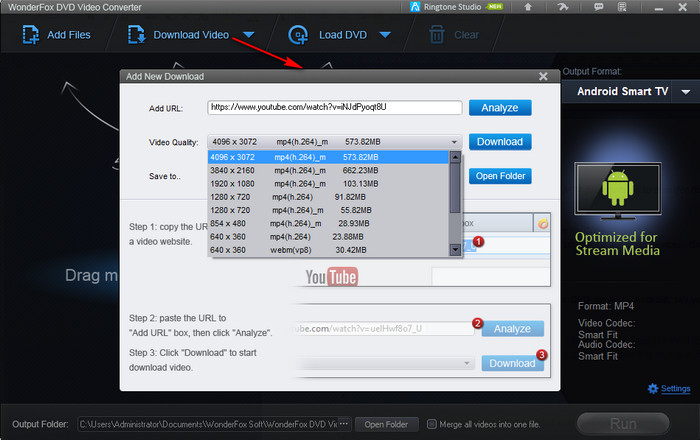 3. Select your Android device from the output format list and then press "Run" to start to transfer video to Android from online.
Step by Step Guides: Transfer Movie to Android
The Android converter also lets you to transfer your DVD movie to Android, say you can watch movies for Android all by yourself.
1. Insert the DVD disc to your computer hard drive. Click "Load DVD". Select a DVD drive letter if you have multiple drives including virtual drive.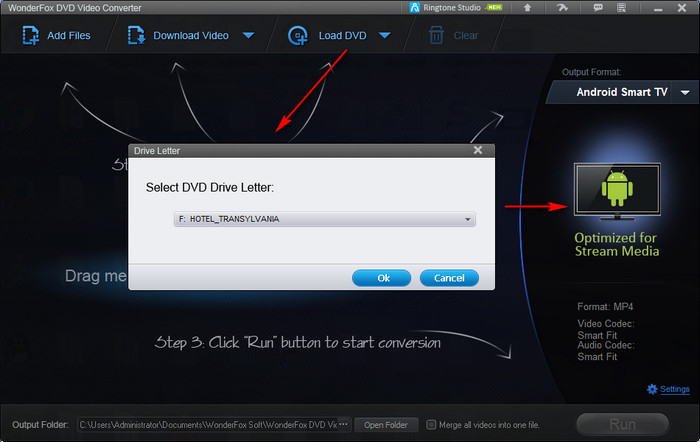 Note: Current DVD protection tech can be decrypted, so you are able to rip DVDs of Disney, Metro-Goldwyn-Mayer (MGM), Paramount Pictures, Sony Pictures Entertainment, Inc., Warner Bros Pictures, Universal Pictures, UNITED ARTISTS, 20th Century Fox.
1. After finishing analyzing the disc within a few minutes, main title is pointed. If it's a TV show, each chapters can be detected as well. Set your ideal output device.
2. Click "Run".
Hope this tutorial would be useful for you to figure out "how to transfer video to Android". If you still have a question, please feel free to contact us or learn more in tips center.
Related Software
WonderFox DVD Video Converter - all-in-one media solution includes DVD Backup, DVD Rip, Video and DVD Converter, Video Downloader, Video Editor/Player
HD Video Converter Factory Pro - equipped with advanced High-Definition (HD) video conversion technology. It can help users convert videos from Standard-Definition (SD) to High-Definition (HD) like HD MP4, HD MKV, HD AVI, HD MTS, HD TRP and also enables users to cut down the video size (convert HD videos to SD videos)
Related Resource
Stream DVD to Android TV: We share an easy way to rip all the DVD-movies of your big collections so you can watch it on your Android TV (Samsung, Sony, LG…) .
Make your Android video player become a comprehensive player.
Android vs iPhone vs Symbian: Differences between mobile OS.
How to download YouTube to Samsung cell phone and tablet: Useful tips on how to download YouTube video to play on your Samsung devices in the right way.
How to play DVD movie on samsung galaxy S4: Samsung Galaxy S4 (S IV) is definitely a right choice for watching HD videos and DVD movies on the go.
Related External Resource
Android for developers
Special Offer: WonderFox DVD Video Converter
Want to enjoy a complete movie night with your family instead of waiting long time for conversion? WonderFox DVD Video Converter is the best choice, which provides one-stop total solution to Rip DVDs (Disney, Paramount, Sony Included), Convert videos, Download online videos, Edit and Play movies/video with excellent performance.
Join the Disscussion