When I think about MKV file format, its open source feature always attract me most. Because this feature allows me to make changes over its code easily so as to bring me with unexpected surprise. It must be admitted that, as a video file format , MKV holds many excellent features, such as best format for holding DVD video, containing multiple audio tracks and supporting soft subtitles embedding, and so on. Nevertheless, when comes to compatible issues related to mobile devices and video edit software, it has less competitive edge than AVI format. Because AVI  is a typical file format that can hold high quality video in small size. Besides, it has a longer history than MKV, so that means more platforms and operating systems it can compatible with. For example, it is impossible for you to play MKV files on most of up-to-date mobile devices, such as your PSP, MP4 players , PDF and Zune and so on. Hence, it is very important to convert MKV to AVI in order to compatible with more devices.
If you don't have a clue about how to covert MKV to AVI, but don't be worried. Here you can seek help from this all-in-one HD Converter , which will perfectly solve all your video/audio related issues.
Converting MKV to AVI with Three Steps
Generally speaking, there are many online converters and freeware in this field, but what is the best MKV to AVI converter among them all? Let's not jump into any conclusion so rashly. Why not spending few time reading the simple tutorial below and I am sure that you will find the best answer to how to change MKV to AVI.
Preparation: Free download this powerful MKV to AVI converter and install it on your computer.
Step 1: Add MKV Files
Now, you can open this MKV converter to AVI, then add your MKV files into it. You can either click "Add Files" button at the top left corner or drag MKV files directly from your desktop.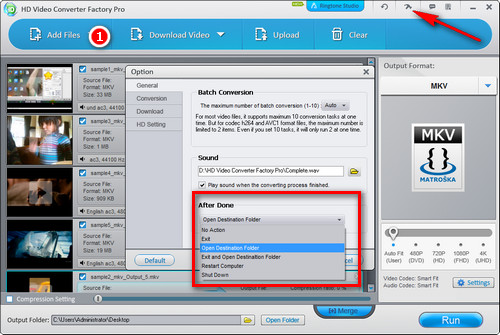 Add MKV Files
Tips: As you can see in the screenshot, there is a hammer shaped icon been pointed by a red arrow. When you enter it, then you can see more options, such as "Batch Conversion", "Sound" and "After Done". In the third option, you can set action when the conversion was done. There are six after done options for you, respectively, " no action", "exit", "open destination folder", "exit and open destination folder", "restart computer" and "shut down". So you don't have to worry about been calling out or walking away from your computer.
Step 2: Set AVI as the Output Format
In this stage, you are supposed to choose AVI format from dozens of formats options listed for you in the output format filed. The "More formats" will appear in front of you once you clicking the "AVI" format profile. In other words, this MKV file converter to AVI also allows you to convert SWF to MP4, convert M4B to MP3, convert MOV to MP4 and convert MKA to MP3, etc.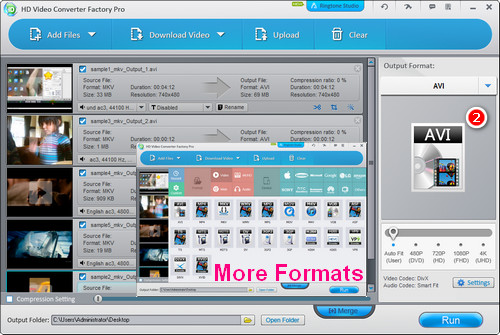 Set AVI as the Output Format
Step 3: Click "Run" Button
This is the final step, and you just need to click "Run" button, in this picture, you can see the orange "Cancel" button, it used to be blue "Run" button before you click it to start to convert MKV files to AVI. There is the red rectangle, you can choose an output folder for your converted AVI files so as to check them more easily after the whole conversion process was done.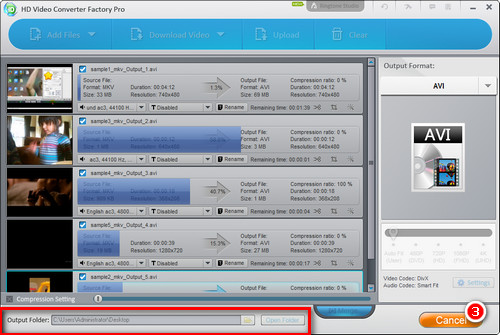 Click "Run" Button
Extra Functions Designed to Enrich Users' Experience
1. Video and Audio Merger
If you have many audio books stored in your computer and want to transfer to mobile devices like your iPhone or iPad, then you can enjoy them on the go. Therefore, you shouldn't miss this amazing Audio merger. Besides, if you have recorded many family films, then you can use it to merge videos without hassle.
2. Volume Booster
In the "Settings", you can adjust volume as silent or louder up to 200% than the original input file. For example, you can recode your original music and turn up the volume of it so as to play on your birthday party. Or you can turn down a loud music to a low volume and set it as your morning alarm.
3. Improve SD to HD
More and more HD movies are showing up on the film market, and the ordinary SD movies can't fulfill our viewing demands even if we are watching at home through our HDTVs. Therefore, we need to find a way to convert SD to HD in order to enjoy a clearer image.
Now, please download the HD Video Converter Factory Pro to complete your jobs.
More Special Features on HD Video Converter Factory Pro
Can convert between standard and high-definition video(4K/1080P/720P/480P) with high quality
Support 50+ output formats and 220+ devices, including iPhone, Android, H265, 4K, FLAC, DTS
Batch compress video files with smaller output size to free up store space on device
Batch convert video files to save a lot of time
Download video of different resolutions from YouTube
Offer a built-in video editor to crop, split, merge and retouch video and boost volume