Convert Normal Video to HD Video
Help you convert videos between popular video formats whether SD video or HD video.
Commonly, there must be some videos be converted daily, around the world. And to convert videos we need the video conversion software. For most of us, the first choice is the freeware, but the most free video converters just has basic conversion function and can not convert normal video to hd video as well.
Now, because of the improvement of the common videos, more and more videos are made with high quality. And then, to convert HD videos or convert low quality to HD video, some paid HD video conversion software is necessary for us, so one cheap HD video converter would be great.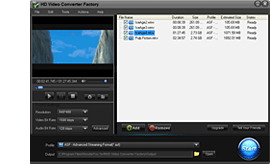 Some Complain about Some Video Converter
Nowadays, among the internet, there are lots of different kinds of free video converters cheap video converters, but almost every one has its own shortcoming or problem, such as slow converting speed, low quality, limitations of formats or audio and video are not sync. Especially, the problem of low quality is the biggest problem which is most users concerned with. We convert some video just for enjoying the video on larger screen comfortably, but because such problem, the blurry output video may let us feel sad. So we need a real low quality to hd video converter without such problems.
HD Video Converter Factory Pro is Real Low Quality to HD Video Converter
Why choose this software? Let me tell you.
1. Support convert low quality to HD Video, make your video clearer picture. Allow you play the converted video on various widescreen and larger screen.
2. Convert video to 100+ formats inculde videos, audios and mobile devices. If you would like to play a video on your iPad, just select "iPad" profile you will get the iPad compatible video.
3. 10X faster conversion speed.
4. Cheap price, HD Video Converter Factory Pro only $29.95.
Download URL: http://www.videoconverterfactory.com/download/hd-video-converter-pro.exe
How to Convert Normal Video to HD Video Format
The following is to show the full process with HD Video Converter Factory Pro
Step 1: Download and run the software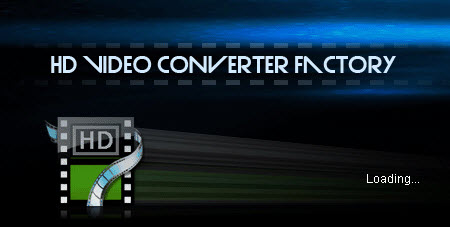 Step 2: 2-1: Click "Add" to load video file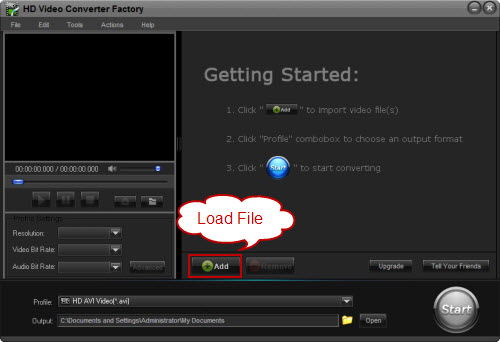 2-2: Click "Profile" to select video format for HD video formats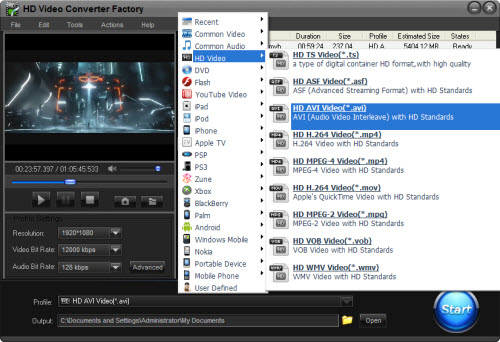 2-3: Click the icon near "Open" to set output folder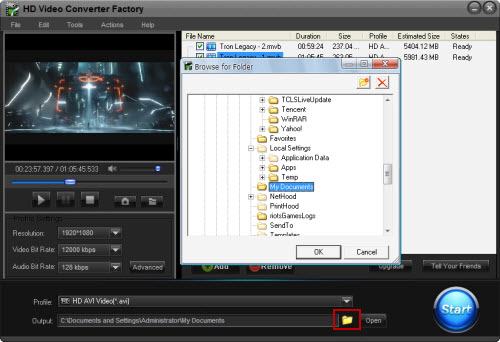 Step 3: 3-1: Click "Start" to run the conversion process
3-2: After the process down, click "Open" to get the output video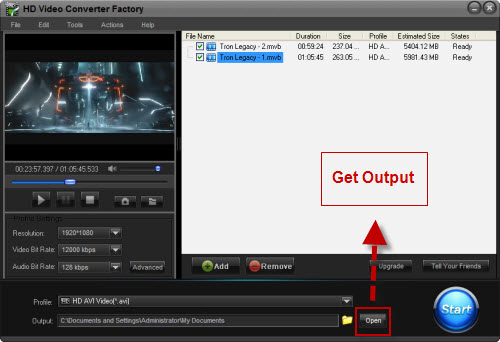 HD video converter Factory Pro is Born with Users' Need
We have learned users' requirements and the problems of some common free video converter; we apply ourselves to develop a new and real-useful one. So HD Video Converter Factory Pro comes out.
Free HD Video Converter Factory will solve most of the problems you concern with. It is powerful high definition video converter with fast converting speed and provides high quality. It supports all popular formats and all popular output device(iPad, iPod, iPhone, Apple TV, PS3, PSP, Xbox, Zune, PDA, Blackberry, Nokia, Android, Zen, etc), even updating for a lifetime. It is really useful and fit for you.
In using of HD Video Converter Factory proand without such problems in converting process, you can enjoy your video with high quality freely and comfortably. You can see a beautiful, vivid and clearer world, even the freckles on Kate Elizabeth Winslet's face.
Have you still puzzled with such problem? Are you still feeling pained to select a good free HD video converter? So here comes the Free HD Video Converter Factory and don't be hesitated. With the help of it, you will wave farewell to the slow converting speed, the limitations of formats even the low quality; and you will enjoy your vivid video and the clear world.
HD Video Converter Factory Pro (for Windows) is shareware in discounting, the price from $39.95 to $29.95 that means now buy it you will save $10. This is a limited-time discount, please seize the opportunity.