How to Copy 21 Day Fix Workout DVD to iPhone?
You want a lean six pack, cut arms, ripped shoulders, and toned legs? Of course, a perfect body is desired and enviable. The famous P90X and T25 are known as one of the best workouts, but they are too hard for people who want to drop some weights. So what's the most effective method to lose weight? Some people start a weight loss with diet, and some people get weight off by fitness. The best way to truly get the body and level of health that you want is through the combination of diet and exercise. That's why 21 Day Fix can exactly help us. Combining workouts with healthy eating, 21 Day Fix provides us a great solution for losing weight.
Advantages to Copy 21 Day Fix Workout DVD to iPhone
Well, I'm not advertising for 21 Day Fix, so let's stop introducing it. But are you ready to get serious? If you truly want to get lean and fit, you can't just eat right, you have to get moving and make your body get into action. The key to keep the weight off is the 30 min workouts for a full 21 days straight (no day off). Just keep the daily transformation with Autumn Calabrese, you will get results!
However, some unpredictable reasons may probably stop your 21 Day Fix plan, such as business trip or family travel. Although the DVD disc is portable, you mightn't take it with you anywhere. I believe you don't want to start over the workouts due to the interrupt. If we can copy workout DVD 21 Day Fix to iPhone, we can play the workout video anytime and anywhere. Yes, here's the solution to rip 21 day fix workout DVD to iPhone 6, as well as copy DVD to tablet.
The 6 different workouts are spitted into 2 DVDs, including Total Body Cardio Fix, Upper Fix, Lower Fix, Pilates Fix, Cardio Fix and Yoga Fix. Indeed, it will be more convenient to work out by the schedule if we can copy 21 Day Fix workout videos separately, and we can select the exercise course at will.
How to Copy 21 Day Fix Workout DVD to iPhone
As we know, the workout DVDs distributed by Beach Body (like P90X, T25 and 21 Day Fix) all are well protected with the encryption technology, and we can't copy protected DVDs directly. We need a third-party software tool to make it work.
Due to the unique digital protection technology by Beach Body, there's few DVD ripping tools in the market can rip 21 Day Fix workout DVD and remove CSS encryption successfully. Here, I'd like to recommend you the way I managed to copy 21 Day Fix work DVD to iPhone. In fact, it's as easy as 1-2-3 steps with WonderFox DVD Video Converter.

Before we start the process, make sure you've installed WonderFox DVD Video Converter.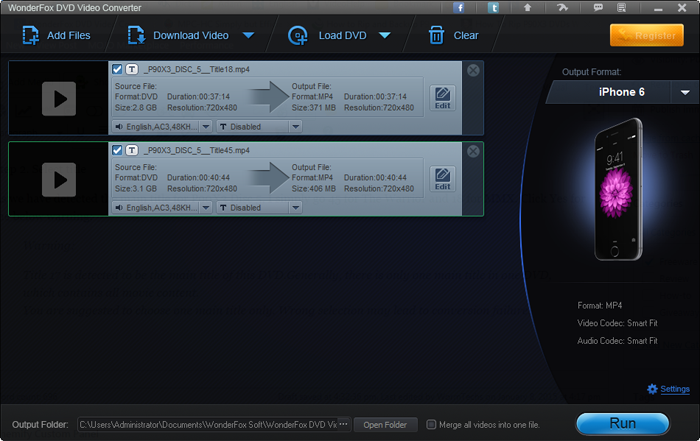 1. Launch WonderFox DVD Video Converter, and then select iPhone as the output format.
2. Insert the DVD disc to your DVD-Rom, and then click "Load DVD" to select the drive letter.
3. After the analysis, WonderFox DVD Video Converter will select the right video title for you. Just click "Run" button to start the process.
Waiting for a few minutes, you will get the output video file in the output folder. You can also take good advantage of WonderFox DVD Video Converter to trim the video as your wish, download the workout videos from YouTube. The tip is also available to copy P90X DVD and rip focus T25. Why don't you have a try?
After the whole 21 Day Fix workouts, you will no longer have that feeling of not wanting to show off, trying to hide yourself, and being scared of the beach! Get the extreme body transformation in 21 days!
Related Resource
Related Software
Special Offer: WonderFox DVD Video Converter
Want to enjoy a complete movie night with your family instead of waiting long time for conversion? WonderFox DVD Video Converter is the best choice, which provides one-stop total solution to Rip DVDs (Disney, Paramount, Sony, Beachbody series Included), Convert videos, Download online videos, Edit and Play movies/video with excellent performance.