The simplest method to resolve "an error occurred please try again later YouTube fix chrome" or other YouTube play issue on Chrome is to get the video downloaded for offline playback on your computer or other devices. And this can be done by the freeware – Free HD Video Converter Factory. It's totally free with no adware, spyware or third-party software and the fast downloading speed can save you much time and energy. All you need to do now is follow the guide to download the YouTube videos via it.
The Easiest Process to Download Chrome Won't Play YouTube Videos
The Download Process
1. Click on "New Download" button and Paste the "Paste and Analyze" button.
2. When the analysis is finished, choose one desired resolution and format, then click OK to add it to download list.
3. After that, set a destination folder and press the "Download All" button.
After download, you can find the video in the output folder.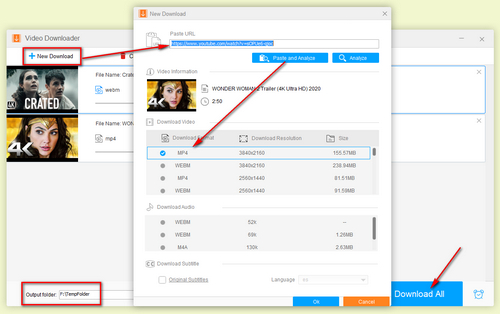 A-three-step YouTube Video Download Process
This freeware can also download HD videos, download 1080P videos, download 4K videos and more. Besides the powerful download function, this software is able to convert videos to batches of formats and devices, such as convert ASF to AVI, DTS to AC3, FLAC to iPhone and so forth.
Part 2: Other Possible Solutions on YouTube Videos Won't Play on Chrome
Solution 1: Check Chrome Browser
When your Chrome is unable to play YouTube, you can: refresh the page > reload the video > play the video in a new tab > restart your browser > update Chrome to the latest version > restart your computer. If still not working, reinstall the newest Chrome and create a new user profile to watch YouTube videos. Tips: please backup your bookmarks before reinstalling Chrome!
Solution 2: Do Not Use Ad-Block
If you have installed Ad-block, turn it off. Then refresh or restart Chrome and you may watch YouTube videos now.
Solution 3: Reset Internet connection
A weak network connection may result in YouTube not loading on Chrome, YouTube not working on Windows 10, or YouTube Videos Freeze. You can solve this matter by changing the video resolution to a lower degree. Or you can reconnect to your network: Unplug your modem or wireless router > Wait for about one minute, then plug in your modem or wireless router > Connect to the network and play the video again.
Solution 4: Clear Cache and Cookies
Too much cache and cookies on Chrome may prevent you from watching YouTube videos. Follow the steps to fix it: Open Chrome and click More > Click More tools > Clear browsing data > Then choose the time period > Select the types of information you want to remove > Click Clear browsing data.
Solution 5: Turn on JavaScript
YouTube videos won't run without JavaScript. So if you can't watch YouTube video on Chrome, or the audio plays but just get a black screen video or a green screen video, follow the steps to turn on it: Open a new Chrome window > Type chrome://settings/content into the address bar > In the JavaScript section, select Allow all sites to run JavaScript (recommended) > To close the window, click Done > Refresh the page and the setting is updated to Chrome.
Basically, these are some popular solutions on YouTube videos can't play in Chrome. However, the solution in part one can resolve this problem perfectly no matter what Windows operating system you are using. If you still have some problems on this topic, share with us in the discussion below.
Now, please download the Free HD Video Converter Factory to complete your jobs.