If you use the version of Windows 7 or Windows Vista, your computer might have a built-in free DVD maker – Windows DVD Maker. With it, you can convert WMV to DVD format that can be played on a DVD player.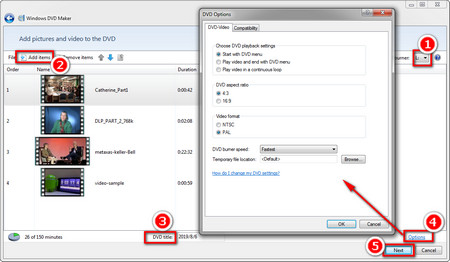 Burn Windows Movie to DVD
Step 1. Insert a blank DVD disc into the optical disc drive of your computer.
Step 2. Run Windows DVD Maker, go to the upper right corner of the window, and choose the target DVD burner. Hit Add items to import WMV videos. Please note that if the import fails, likely that the WMV file is with an unsupported video codec. You can use a free video converter to convert the file to WMV again.
Step 3. At the bottom of the window, you can view the total length of files you can burn, and rename the DVD title.
Step 4. Click on the Options button on the lower right corner, and then customize DVD-Video properties including playback settings, aspect ratio, NTSC/PAL, burning speed, etc. Then hit OK to save the changes.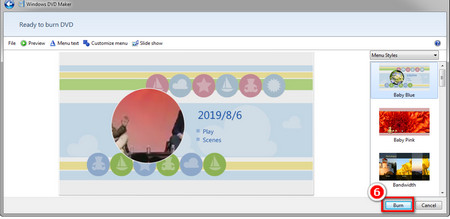 Burn WMV File to DVD
Step 5. Select Next and set the Menu style.
Step 6. Click on Burn to start burning WMV to DVD.