WebM is a media file format designed for the web. When you download a video from a website, it's likely to be a WebM file. While WebM is the main video format adopted by the internet, it finds less popularity among software and devices. Sometimes you may not open a WebM video because of the incompatible format, and you have to convert WebM to a supported format first. Conversely, if you want to embed a video onto your website, you need to convert the video into WebM format. At such moments, a WebM converter is going to help you greatly.
In the following, we will show you the best WebM converter that can change WebM files to different video and audio formats as well as convert video to WebM super easily. Please read on.
WonderFox HD Video Converter Factory Pro is the best WebM converter software that works on Windows. It is easy to use, fast, and converts video files while preserving the best quality. That means it can quickly perform high-quality WebM conversions through simple clicks.
With excellent format support, the program can easily convert WebM to MP4, MKV, MOV, AVI, MP3, WAV, and so forth. It can change the video into WebM format as well. The cherry on top is that the program can also download and convert WebM from Facebook, Vimeo, YouTube, and more.
Moreover, HD Video Converter Factory Pro is a batch WebM converter that can convert multiple WebM files or change multiple videos to WebM simultaneously. Besides the batch mode, it includes support for hardware acceleration that can significantly speed up your conversion process. Here are the key features of the WebM file converter.
Key Features:
Convert any video to WebM and vice versa.
Support all forms of videos and audio files.
Support HD, FHF, 4K, and 8K video conversions.
Various options to customize the output settings.
Download WebM, MP4, and audio from URLs.
Batch processing mode and hardware acceleration.
Simple operations.
Now, follow the next part to learn how to use the WebM video converter to convert video to and from WebM.
Step 1. Add Source Video to the Converter
Double-click the converter software on your PC to open the program. Next, select the Converter module and click Add Files to import your source videos into the conversion list. You can add multiple files for batch conversion at once.
At the bottom of the program interface, click the triangle button to set an output folder in advance.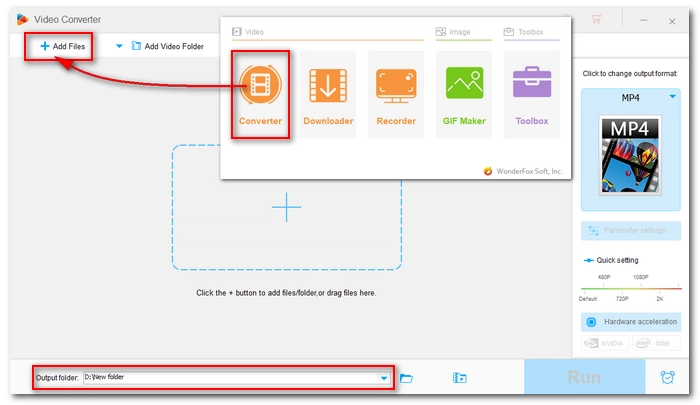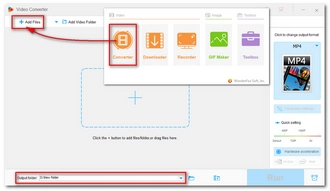 Step 2. Choose One Output Format or Profile
On the right side of the program, click the format image to open the output format page. If you want to convert video to WebM, go to the Web format section and select the corresponding WebM option as the output format. To convert WebM into other formats, you can explore the other categories and select the wanted output profile. For instance, you can convert WebM into MP4 format or transform WebM into iPhone profile.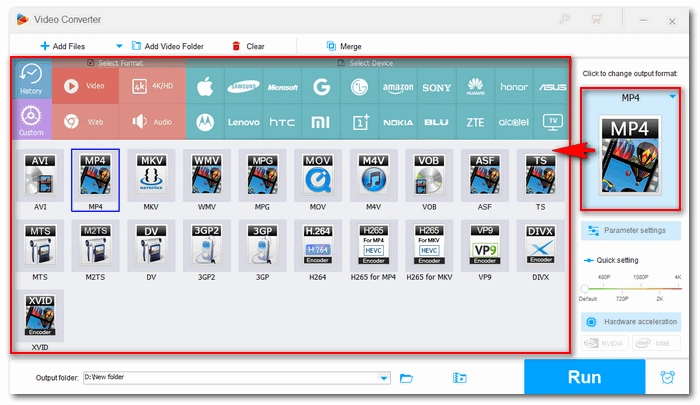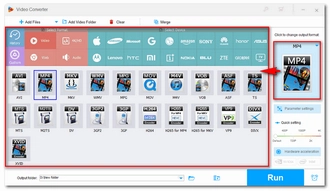 Optional. Change Parameter Settings
Note: This step isn't necessary especially if you are not familiar with the video parameters. If simple format conversion is all you need, you can skip this step.
You can use the advanced settings to tailor the conversion to the way you like. In the Parameter settings, you can flexibly adjust the video and audio codecs, resolution, bitrate, frame rate, aspect ratio, volume, and more. When you finish, click OK to save the settings.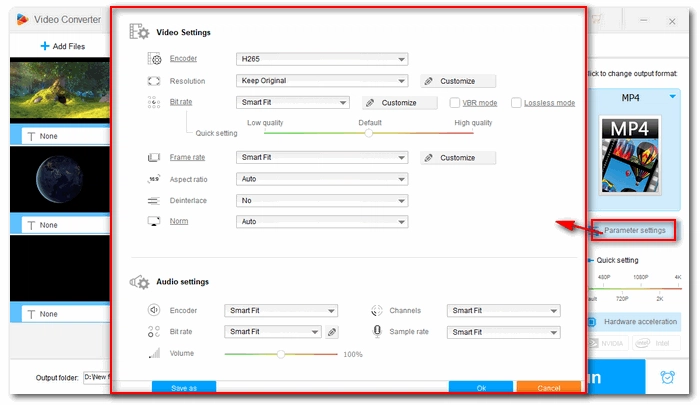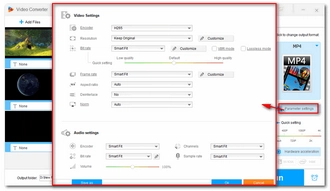 Step 3. Convert Video to WebM or Change WebM into Another Format
Finally, click Run to start the WebM conversion. The process should take some time if the source files are big and of high quality. You can schedule the activity when the conversion is complete and leave the program to do its work.
Tips. Before conversion, you can use editing tools the program provides to trim, cut, crop, rotate, and merge the videos if you want.
Hot Search: WebM to MP4 4K | WebM to MP3 | Merge WebM Files | Cut WebM | WebM Codec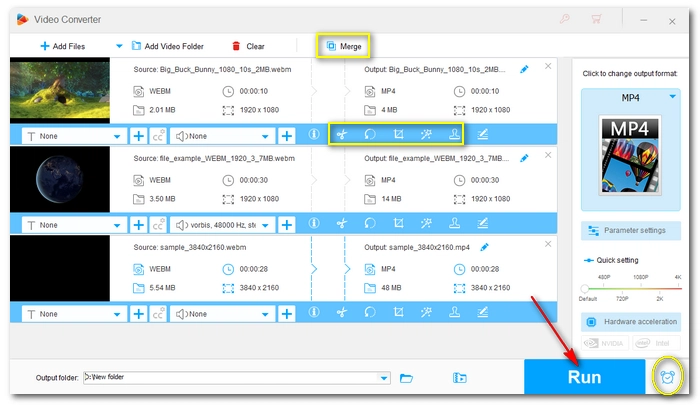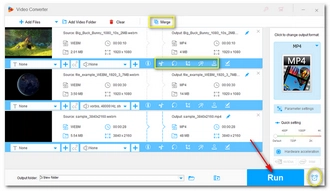 1. Can WebM Files Be Converted?
Yes, WebM files can be converted with a WebM video converter. You can use a WebM converter to change WebM into different formats, such as MP4, MP3, WAV, MOV, AVI, MPG, 3GP, and so on. The conversion is reversible, and you can convert from video to WebM as well. A good video converter to WebM should deal with the conversion without compromising the quality.
2. How Do I Convert a Large WebM to MP4 for Free?
There are a host of free video converters that can convert large WebM files to MP4. The free version of HD Video Converter Factory Pro is one of the best free WebM converters with no size limit. It can free convert WebM to MP4, MKV, AVI, MOV… and vice versa. Even better, it is a free video converter without watermark. The steps to convert a large WebM to MP4 are the same as the tutorial shown above. Simply free download free download the WebM converter and have a try.
But keep in mind that the free version has some limitations, which are that it does not have batch conversion mode and it cannot upconvert video resolution to FHD or higher quality.
3. What is the Best WebM Converter Online?
If you are looking for a WebM video converter online, you can easily find many programs. But if you want the best online WebM converter to convert large WebM files, CloudConvert is probably the answer you need. This online video converter will convert large WebM files (1GB) to any format without a watermark completely for free. It delivers high-quality conversion and outputs video with good quality. What's more, no signup or registration is needed. You can use the service anywhere from any device as long as you can access the internet.
4. How to Play WebM Files?
In general, most browsers, including Google Chrome, Mozilla Firefox, Microsoft Edge, and Opera, can open WebM files without a hitch. Media players like VLC, MPC-HC, MPV Player, and GOM Player can play WebM videos as well. If your media player does not support WebM, you can convert WebM to a common format or try another player program to solve the issue right away.
Converting WebM to or from other files is no hard task now. The WebM converter recommended here will help you convert WebM and a wide range of other formats without any delay. Meanwhile, it comes with more practical tools to refine your videos too. Time to download download the WebM converter and give it a shot.
If you want to know more about format conversion, you can check out our other articles here:
That's pretty much everything I want to share with you. Thanks for reading till the end. Have a nice day!