The easiest way to move video frame by frame in VLC is through the shortcut key. The default hotkey for VLC next frame is "E". To use this shortcut:
First, you need to play a video file in VLC, then navigate the timeline to the place where your wanted frame is going to show up, you can either pause the video or let it continue to play (just make sure the wanted frame isn't passed).
Next, press "E" on the keyboard, and the video will automatically stop and advance to the next frame.
Then, keep tapping "E" to view the video frame by frame and get to the accurate place you need.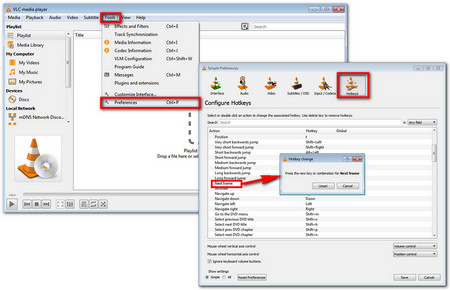 Note: There might be a chance that this shortcut key doesn't work for you because the default key has been changed to another keyboard character to do the task. You can manually customize the shortcuts in Tools > Preferences > Hotkeys, then find "Next frame" in the "Action" list and double click on it. And then press a new key or combination that suits your habit for "Next frame". Finally, use the new shortcuts to advance frames in VLC.