Since the playlist feature of VLC App is faultiness on some aspects, for example, it doesn't allow you to add all music into a playlist at one click. So many people wonder whether they could play a playlist in VLC App, if they created the playlist using VLC for Windows. Actually, in most cases, it does not work. But if you want to make a playlist for Android form PC, you can follow the simple steps below: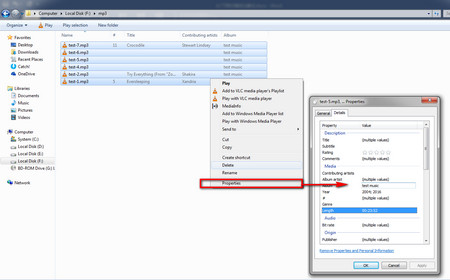 How to Make a Playlist on Android from PC
Step 1. On your computer, create a new folder and copy the music files you want to save into a playlist.
Step 2. Choose all files, right-click and select Properties. Then go to the Details tab.
Step 3. There are several options you can modify, such as Album artist, Album, Year, Genre, etc. This time, I choose to change the Album tag. Please make sure the Album tag is special and is different from any music Album tag on your Android phone. So there I change the Album to Test Music, which will be applied to all the music files in the folder.
Step 4. Copy the folder to your phone, open your music player and choose to play music by Album >Test Music.
Step 5. Now you can play the music in the playlist with ease.