What is Time Lapse?
Time-lapse is a photography technique in which the frequency of the captured frames is lower than that we watch. Thus the video appears to be moving faster than they are in reality. Timelapse compresses scenes from hours to minutes or just a few seconds, and we can easily obtain information from the time-lapsing video. Do you want to make a timelapse digital video on your computer? First, you need to record a video with a time-lapse screen recorder. Then you can turn it into a timelapse using a video editor.
The following post introduces the top 5 time lapse video recorders for this task. Let's dive into the details.
Best 5 Timelapse Recorders for Windows and Mac
1. HD Video Converter Factory Pro
One of the best time-lapse screen recorders for Windows 10 is WonderFox HD Video Converter Factory Pro. It's a versatile video program able to convert video/audio, record PC screen, download videos from sites, and edit videos with simple clicks. The screen recorder comes with many features. It supports full/partial screen recording, game recording, internal/external audio capture, various output formats, high output video quality, and so forth. There's no time limit, watermark, or dropped frame.
After recording, this program can help you optimize your video for smooth upload to websites. For instance, you can convert the video format and codec, change video pixels, FPS, and bitrate, trim the video length, compress video file size, and combine several recording clips into a single file. Moreover, you can use editing tools to make your video more attractive by adding a watermark, special effects, subtitles, or a new audio track.
Get the versatile timelapse screen recorder PC here: https://www.videoconverterfactory.com/download/hd-video-converter-pro.exehttps://www.videoconverterfactory.com/download/hd-video-converter-pro.exe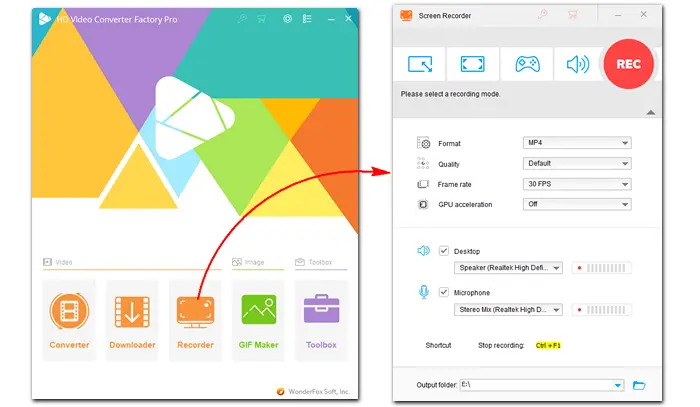 How to Record a Time Lapse Video on Windows 10/11:
Step 1. Free download and install the screen recorder on your PC. Run the software and click "Recorder" on the home interface.
Step 2. There are four recording modes: custom, full-screen, game, and audio-only. Select the mode and area you want to record. Then press "OK".
Step 3. Select MP4, MKV, AVI, or MOV as the export format, set a video quality and frame rate, and check the audio source from "Desktop", "Microphone", or both to record our video with sound.
Step 4. Click the bottom triangle button to specify an output path.
Step 5. Press the "REC" icon to start recording; press "Ctrl + F1" to stop recording.
2. Debut Video Capture Software
Debut Video Capture is the best timelapse recorder software for Windows and Mac, which offers a specialized time lapse video recording feature. It can record the entire screen, a single window or any selected area, video from a webcam or network IP camera in AVI, MWV, FLV, MPG, MP4, or MOV formats. Apart from recording videos, this software can record audio from your microphone and speakers. It allows you to record video alone, capture video and audio simultaneously, or add a webcam overlay to the screen. Also, it will spotlight the cursor when you move your mouse.
It provides a Green Screen feature which lets you replace the background with image, video, or solid color. What's more, you can add text, logo, or watermark, change color settings and effects, and adjust the video resolution, size, frame rate, etc., for your video capture. After recording and editing your video, you can upload it directly to YouTube, Vimeo, or Flicker.
Get Debut Video Capture and Screen Recorder Software here: https://www.nchsoftware.com/capture/index.html
Note: The free version of Debut video capture software is available for non-commercial use only. You can buy a license for the Debut Professional software.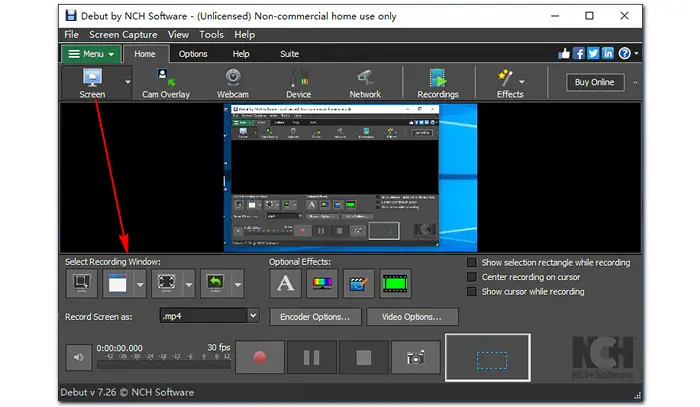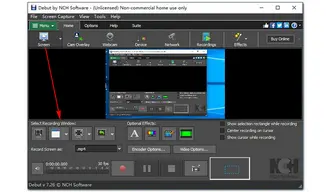 Features:
Record video and audio simultaneously
Support webcam overlay
Screen capture time lapse
Flexible video color and output settings
Available on Windows and macOS computers
How to Record a Time Lapse Video:
Step 1. Launch Debut Video Capture. Go to the "Screen" > "Select Recording Window" to choose the window you want to record.
Step 2. Click the "Video Options" button and tick the box before "Enable Time-lapse".
Step 3. Change the number after "Capture One Frame Every" to set the frequency of the video recording.
Step 4. Tap the red spot icon at the bottom of the software to start recording. Click the button to stop recording when you're done.
Hot Search: Screen Recorder No Time Limit | 5 Best Screen Recorder for Low-end PC
3. CamStudio
CamStudio is a free desktop recorder and video streaming software that works on Microsoft Windows. It can record all on-screen video and audio activities into industry-standard AVI videos and optionally turn them into streaming flash videos (SWF files) using the in-built SWF Producer. You can use the software to record a movie stream, create a demonstration, track the progress of a program that executes for a long time, and the like.
Like other Timelapse recorders, CamStudio provides flexible video, audio, and cursor options, such as video compression (reduce AVI file size), quality, keyframes every, frame rate for capture and playback, time lapse, audio format, bitrate, cursor highlight, etc. It also supports keyboard shortcuts for the recording task. It doesn't require any particular skill; all levels of users can handle the software, whether you are a beginner or a professional.
Download CamStudio on your Windows computer: https://camstudio.org/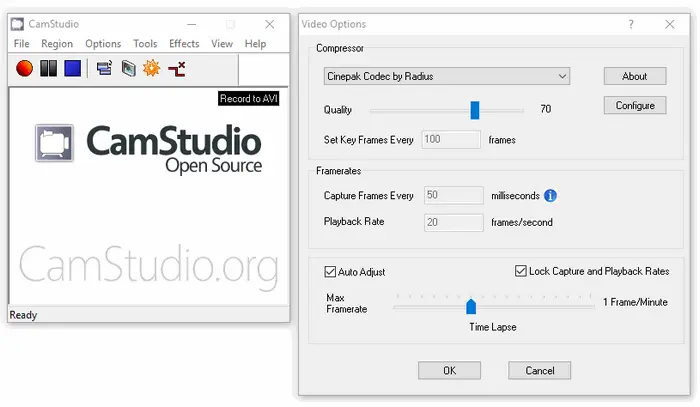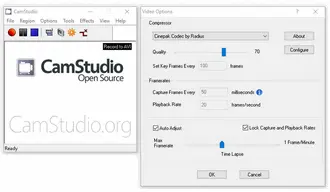 Features:
Record videos as AVI or turn them into SWF
Create video tutorials and demonstrations for user training
Support a touch of tools to make your video look professional
Offer a user-friendly interface
How to Screen Record Time Lapse Windows:
Step 1. Launch CamStudio and click "Region" to set a recording area. You can choose Region, Fixed Region, Window, or Full Screen.
Step 2. Click "Options" to adjust the related settings.
Step 3. Go to "File" and select the "Record" option to start recording.
Step 4. When you finish, click "Stop" to end the recording.
4. OBS Studio
Another timelapse recorder for Windows and macOS computers is OBS. This cross-platform video recording and live streaming software allows you to capture any video and audio on your screen in real-time, including a specific device, window, browser, VLC video source, gameplay, image slide show, application sound, audio input and output, and so on. It also lets you mix multiple sources, add filters, change colors, and transform the recording. In the OBS screen recorder, you can drag the cursor to adjust the recording region, add transitions, rotate 90 or 180 degrees, flip horizontally or vertically, de-interlace the video, and achieve more.
The default recording format in OBS Studio is MKV. You can change it to FLV, MP4, MOV, TS, or M3U8 in the Output Settings or remux MKV recordings to MP4 using its Remux feature. And after recording the video, you can stream it to Twitch, YouTube, Facebook, and other video-sharing sites.
Download OBS Studio: https://obsproject.com/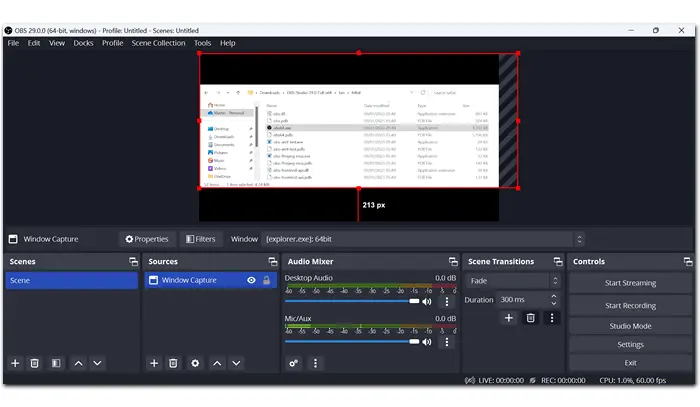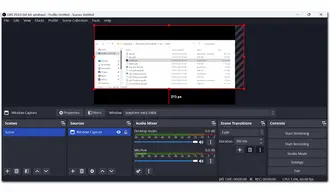 Features:
Record videos in high resolution
Support real-time video/audio capturing and mixing
Add transitions between scenes
Monitor up to 8 different scenes simultaneously
How to Record a Time Lapse Video on Windows/Mac:
Step 1. Start OBS on your desktop. Click the "+" button under the "Sources" tab and select "Display Capture".
Step 2. Go to "File" > "Settings" to adjust the output settings based on your need.
Step 3. Click the Start Recording button at the bottom right.
Step 4. Once done, click Stop Recording to stop it.
Tips. You can set the end time of your recording through "Tools" > "Output Timer" and change the default recording path in "Settings" > "Output".
5. Bandicam
Bnadicam is a closed-source screen capture and video recording software for Windows. It can capture anything on your PC screen as a high-quality video in MP4 or AVI format. This app makes it possible to record various 2D/3D games with 4K UHD Video and capture up to 480 FPS Video. It also lets you record an external video device, like a webcam, Xbox, PlayStation, IPTV, etc. Meanwhile, it supports screenshot image files.
This software includes various recording options. With it, you can record a video with the system audio and your voice at the same time, add webcam overlay, add a mouse click effect and animation, draw on your video in real time, and schedule your recording at a specific time. Though professional, Bandicam offers a simple interface, and everyone can get started without hassles. If you want to record a time-lapse video using the software, please follow the guide below.
Download Bandicam on Windows PC: https://www.bandicam.com/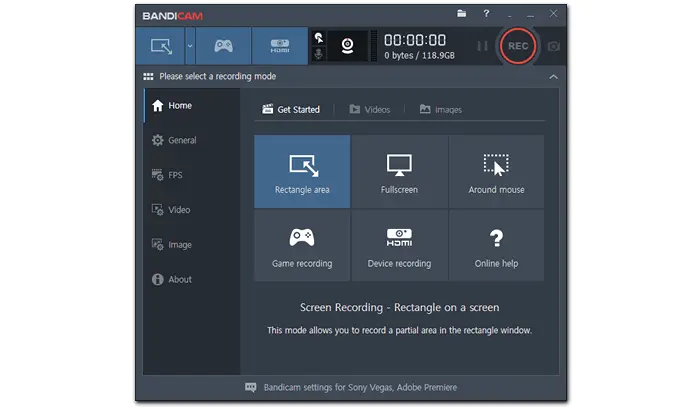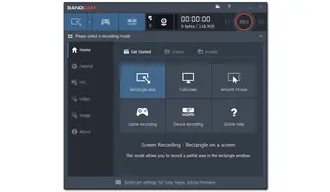 Features:
Make chroma key videos in real-time
Support webcam overlay
Schedule recording to start the recording automatically
Allow 3D game recording at 480 FPS
How to Record Time Lapse Video:
Step 1. Open Bandicam and navigate to the "Video" tab, where you can add webcam overlay, logo, mouse click effect, and change the output format, video size, FPS, codec, and quality. Then click "OK".
Step 2. At the top of the interface, tap on "Screen Recording Mode" and select a mode from the drop-down list.
Step 3. Hit the REC button to start recording. During the recording, you can click the camera icon to take a screenshot, and click the pencil icon to draw on the screen.
Tips. To change the save path, go to "General", click the three dots, and select a new output folder. For scheduled recording, click "General" > "Settings" > "Add" to set a specific time to start recording.
Bottom Line
FAQs about Timelapse Recording
1. How to record time lapse on iPhone?
It's easy to timelapse a video on your iPhone.
Place your phone on a tripod, turn on the camera, and press the time-lapse icon. Then point out the subject you want to timelapse. Hold and tap the area you want to focus on and start to record.
2. How to use time lapse on iPad?
Open the Camera app on your iPad, move the list of camera options, and find the "Time Lapse" option below the "Start" or "Stop" button. Then aim at the target and tap the "Start" button to start recording the time-lapse video. Tap it again to stop recording.
3. Does time-lapse record sound?
No. During the time-lapse recording, the device cannot record the audio, and the time-lapse effect is only visible after the recording is completed. You must use a third-party application to adjust the video's sound effects. Or you can record a normal video with the recording software in this article and convert it to a timelapse video later.