Screencast-O-Matic Overview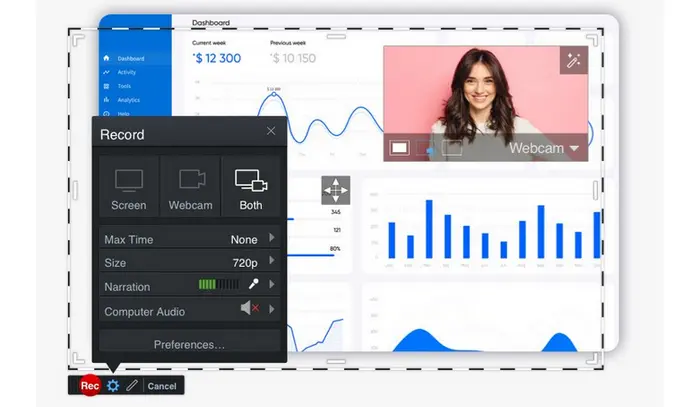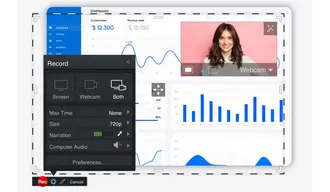 Screencast-O-Matic is a screen capture and video editing app for Windows and Mac. It allows you to capture any area of your screen, add narration from your microphone, and resize video from your webcam. While recording, you can use drawing tools to highlight or add text to enrich your video. It's functional for making tutorials, demos, lectures, etc. After recording, you can easily publish the video to YouTube or other platforms.
There are three versions of Screencast-O-Matic: Free, Deluxe, and Premier. The Free Recorder blocks many features behind a paywall, like the 15-minute recording limit, no scrolling capture, and only narration capture. Also, the editing interface is confusing. How to screen record longer than 15 minutes (with audio)? The following shares the best ten alternatives to Screencast-O-Matic screen recorder. Let's dive into the details.
Top 10 Screencast-O-Matic Alternatives
Here introduce ten alternate recording programs for Windows and Mac. We will explain the main features, pros & cons, and compatible devices of each screen recorder. Read on to get your needed one.
1. WonderFox HD Video Converter Factory Pro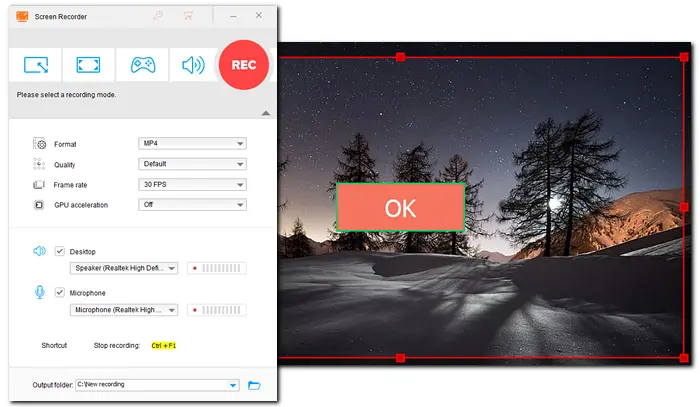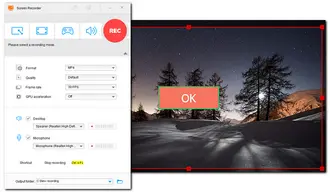 Compatibility: Windows
Pros:
Capture only part or full screen of your PC
Record desktop audio or microphone, or both
Multiple recording formats (MP4, MKV, MOV, AVI, MP3, WAV, AAC, AC3)
Record gameplay at 60 FPS without lag
No watermark or time limit
Simple to use but fully featured (e.g. convert, download, and edit videos)
Cons:
Only available for Windows
Don't support screenshots or webcam capture
WonderFox HD Video Converter Factory Pro is all-in-one video software for Windows. Its in-built screen recorder offers an easy way to capture activities in high quality on a PC. The interface is simple and self-explanatory. Even though it's the first time you used the software, you can handle it without any issue.
With HD Video Converter Factory Pro, you can record the whole screen or a specific window on your computer, record gameplay with background sound, record video or music from a website, and record meetings, classes, live streams, and more. Far beyond that, you can optimize your recordings for better upload by converting, trimming, merging, compressing file size, adding subtitles, etc. GetGet the best Screencast-O-Matic Windows alternative now!
2. Share X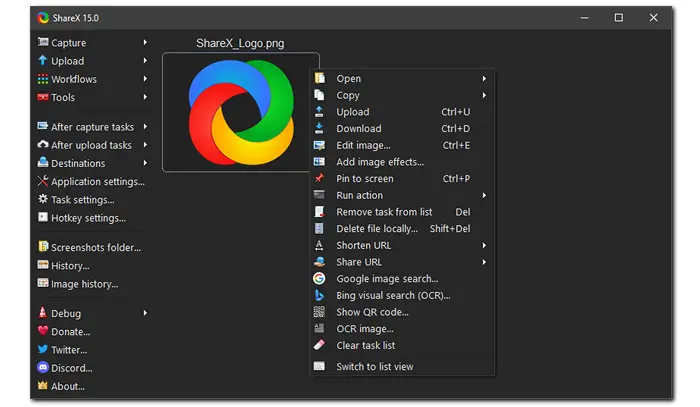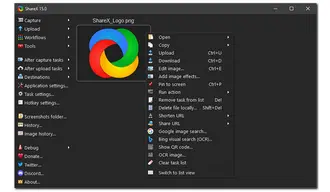 Compatibility: Windows 7 and later
Pros:
Free and open-source
Capture full screen, monitor menu, or an active window
Provide an intuitive user interface
Offer after capture task and after edit actions
Upload to multiple destinations
Cons:
Not available for Mac
Some features don't work
Leave watermarks (which can be deleted)
Share X is the best Screencast-O-Matic free alternative for Windows. This screenshot and recording program lets you capture any area of your screen and share it with a single press of a key. It supports many ways to record your screen, including Fullscreen, Monitor, scrolling screen capture, on-screen text, and Auto-capturing screenshots. It also supports unlimitedly customizable workflows with hotkey settings.
In addition, Share X allows you to upload images, text, or other types of files to many supported destinations. Other tools like screen color picker, image editor, ruler, DNS changer, QR code generator, and directory indexer are available. However, too many options will create a confusing and high learning curve for new users.
3. Ezvid
Compatibility: Windows
Pros:
Straightforward and neat interface
An in-built video editor
Record your screen at a fast speed in HD
You can control the speed of the output and auto-save videos
Cons:
45-minute recording limit
Don't allow fullscreen capture
Unable to save the recording to your computer
Another Screencast alternative for Windows is Ezvid. Its intuitive interface, awesome editing features, and HD footage capture make Ezvid for Windows the easiest screen recorder and video editor for PCs. It lets you record videos from your desktop and share them on YouTube or other social media channels. It also comes with a built-in video editor to edit and enhance your videos. You can add images, text, shapes, and music to your video, make slideshows, control the video speed, etc.
However, Ezvid doesn't allow full-screen recording, which makes it inconvenient for those who want to record their gameplay.
4. Camtasia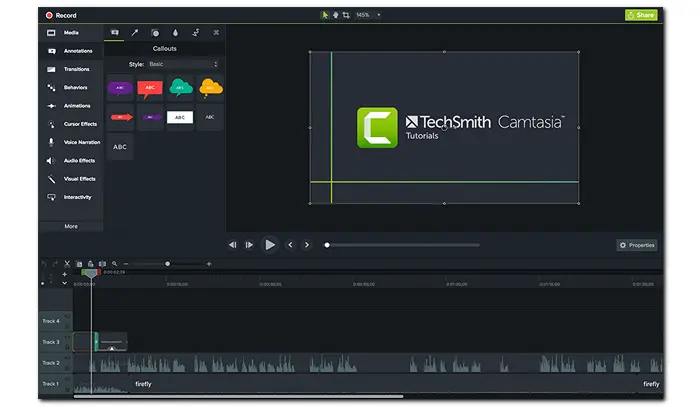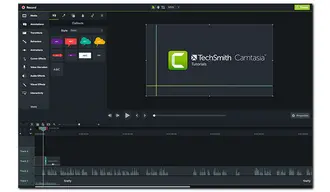 Compatibility: Windows, Mac
Pros:
Professional-grade and easy to use
Support Instant editing after recording
Offer premade templates for intro-outros
Support multiple file formats and HD video exporting
Cons:
Starting price at $199 onetime, and the trial version will attach an unremovable watermark
Lack some versatility for screen recording and video editing
Created by TechSmith, Camtasia is designed for creating and recording video tutorials and presentations via screencast. It can help you record your screen and edit it instantly by adding video effects, titles, transitions, animation, etc. It also offers tools to combine or split clips, trim videos, and speed up or slow down the footage with ease. The only problem with Camtasia is that it focuses more on video editing, and some older computers cannot run it effectively.
In general, Camtasia is a good choice if you are looking for reliable software to capture your screen. It can simplify your work when creating a series of training videos.
5. OBS Studio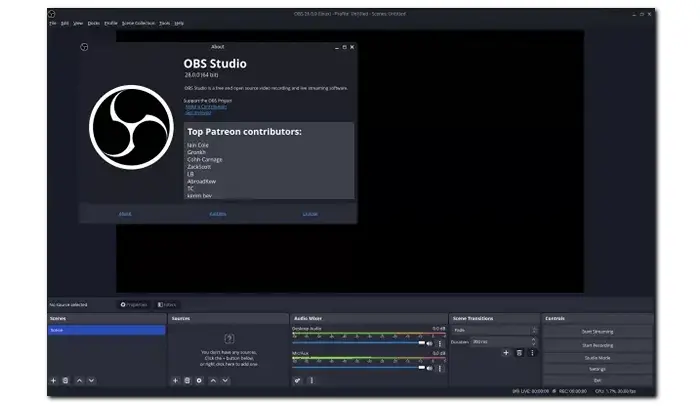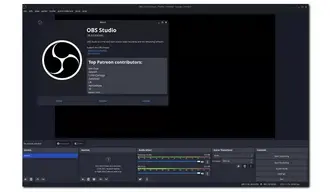 Compatibility: Windows 10/11, macOS 10.15 and newer
Pros:
Capture screen and stream recordings
Switch between multiple scenes
Real-time video/audio capturing and mixing
Available on multiple systems for free
Cons:
The complex interface is not friendly to newbies
Heavy on the system (so make sure to have high hardware configuration for more headspace)
Crash sometimes (see how to fix OBS recording black screen/not recording audio)
OBS is an excellent Screencast-O-Matic alternative that enables you to record screens and stream videos to YouTube or other providers. It's free, open-source, and cross-platform. It allows you to create multiple scenes and sources, such as specific screens, images, text, and webcam, and record them simultaneously into one video.
Different from other screen recorders, OBS provides many configuration options to change video bitrate, frame rate, audio bitrate, resolution, and other parameters, remux FLV or MKV format to MP4, mix audio with pre-source filters, and more.
6. ActivePresenter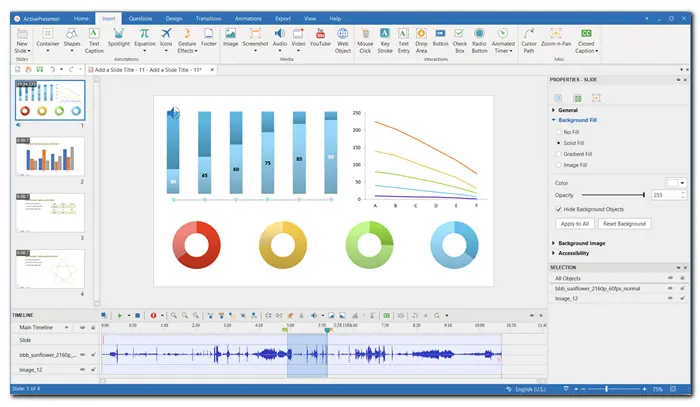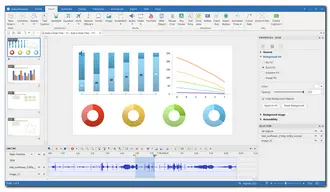 Compatibility: Windows, macOS
Pros:
Integrate with popular learning management systems
Support full motion recording and webcam recording
Image editing, color effect correction, and other animations
No watermarks and time limit
Cons:
Majorly useful for video sliders (demos or tutorials)
A mix of presentation and video recording is not for everyone
Its free service doesn't have free updates
One of the best alternatives to Screencast-O-Matic for making tutorials is ActivePresenter. It's a world-class eLearning authoring tool that helps you record and edit videos on your Windows or Mac computer. The program can correctly execute a screen recording task for tutorials, training presentations, and product demonstrations. It has no limits to the video length but your storage size.
ActivePresenter is mainly used to create interactive eLearning sessions with excellently-knitted video editors. If you don't have such demands, the tool should not be in consideration for a simple screen recording.
7. Loom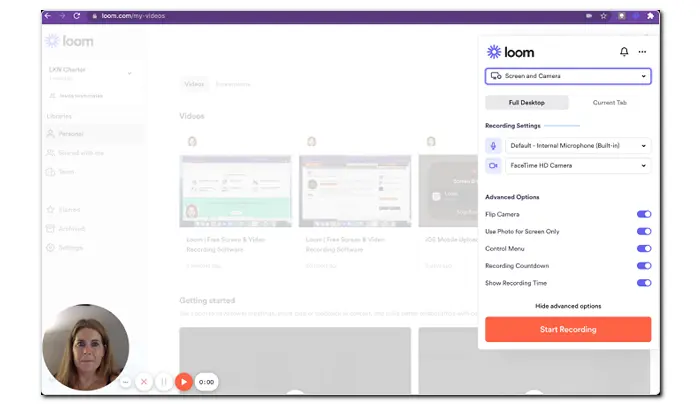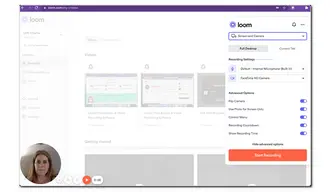 Compatibility: Windows 8.1 or above, macOS 10.14.6 or above
Pros:
Record screen, webcam, and audio
Provide web-based, desktop, and mobile services
Provide interactive features
Cons:
No editing option on the computer
The online editing feature is limited
Don't support selecting recording region
Only record 5 minutes in the trial version
Loom is a simple Screencast alternative that can work with multiple devices, such as Windows, Mac, Chrome, iOS, and Android phones. Its clean interface, rich reactions, and team features are loved by millions of users.
Loom offers three modes: Screen + Cam, Screen only, and Cam only. But none of them can record system audio. After recording the screen, you can trim it, add a title or thumbnail, etc. Moreover, you can send live videos and be part of a meeting in no time instead of wasting time attending in-person conferences.
8. TinyTake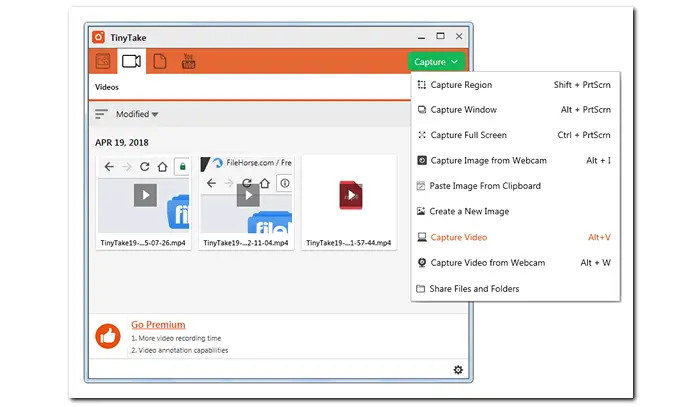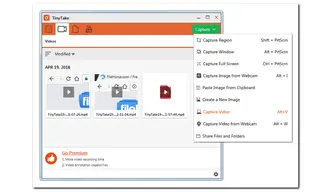 Compatibility: Windows 7/8/8.1/10, Mac OS X 10.13 & above
Pros:
Capture and annotate images and videos
Save captures locally or upload files through email
Bulk share files to YouTube or other video sites
Inbuilt file viewer for any type of documents
Cons:
Its free version has a 5-minute recording limit
Save videos in MP4 format only
Need an account
TinyTake is another Screencast-O-Matic free alternative for Windows/Mac. It lets you capture images or videos from your computer screen, add comments, and share them with others in minutes.
It supports recording a customized region, specific window, or full screen and capturing images or videos from your webcam. It also allows you to open, annotate, and share an existing image, store screenshots/videos in the cloud, assign custom short-cut keys, zoom in/out, browse through zipped folders online, and so forth.
9. QuickTime Player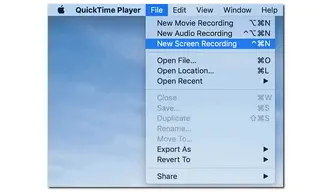 Compatibility: Mac
Pros:
Record video with microphone quickly
Modify related video settings based on needs
Free for macOS users
Cons:
Limited to macOS only
Save videos in MOV format
Don't support video enhancement
QuickTime Player can serve as a Screencast-O-Matic Mac alternative. As a well-known media player for macOS devices, QuickTime also has a screen recording feature that enables you to capture screen activities with sound. It records videos in 1080P at 60fps by default, and the recording file size will show on the interface. Additional video editing tools like cutter and cropper are also available.
Though QuickTime cannot record MP4 videos directly, it can capture in MOV format with H.264 video and 44.1kHz AAC audio, which can be received on most platforms and apps. Or you can use a professional video converter to convert MOV to MP4 with 0-quality loss.
10. Apowersoft Free Online Screen Recorder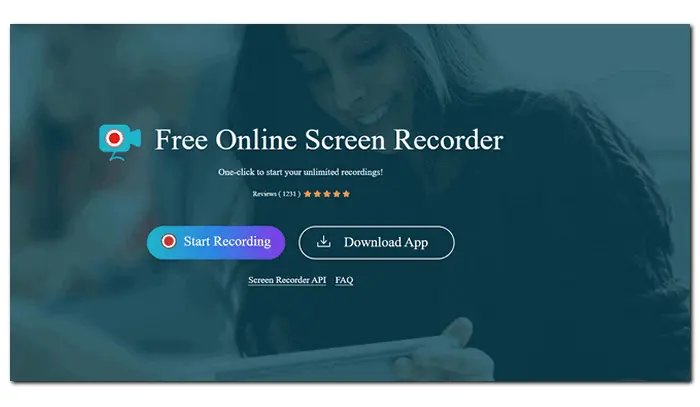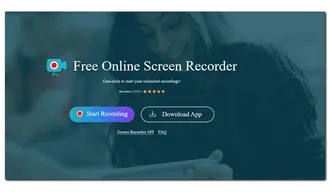 Compatibility: Web-based, Windows
Pros:
Add a webcam or record multiple webcam videos
Real-time screen annotating and editing
Adjust recording settings
Free & online without software installation
Cons:
30-minute recording limit online
Preview the video for only 3 seconds
Save videos in WebM format
Apowersoft Screen Recorder is a Screencast-O-Matic free alternative based on the website. It also offers an app that you can download on Windows. The desktop version provides more features than the online. Installing the screen recorder, you can select the resolution of your video, choose the audio input (system sound and microphone audio), take simple screenshots, and add text, lines, or arrows while recording. Once you finish the recording, you can export it to MP4, WMV, MP3, WAV, GIF, etc., or upload it directly to RecClound and other platforms. The desktop app allows you to schedule recording tasks on your computer or phone and set it to shut down automatically.
The Bottom Line
We have introduced the best 10 alternatives to Screencast-O-Matic for Windows and Mac above. Each alternate screen recorder has distinctive features and shortcomings.
To sum up, HD Video Converter Factory Pro, Ezvid, Loom, and QuickTime are easy to operate for all users. Experienced video creators can use Share X, Camtasia, or OBS. ActivePresenter is the most helpful to users who create tutorial videos with interactions. Get the recording software meeting your needs to start your work now!