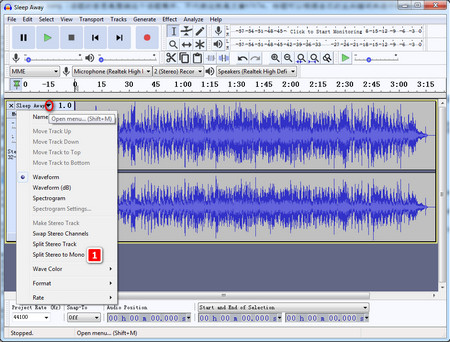 Audacity Remove Vocals
Earlier, we talked about how to use Audacity to normalize audio. In fact, Audacity is a free open source cross-platform audio editing program that has built-in support for vocal removal. How to remove vocals with Audacity? Just follow these steps:
Step 1. In order to remove vocals with Audacity, firstly, download and run Audacity. Official site of Audacity: https://www.audacityteam.org/.
Step 2. Click File > Open to import songs on the menu bar, or drag and drop files directly into Audacity.
Step 3. In the Track Control Panel on the left, click on the drop-down arrow above and select Split Stereo to Mono. The one stereo audio track will be split into two separate mono tracks.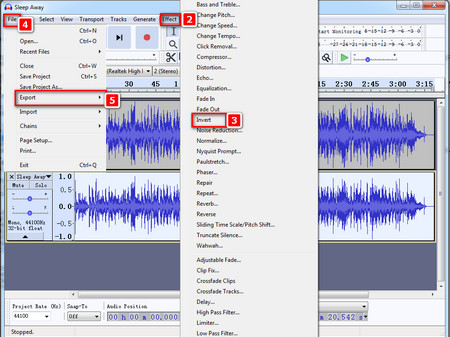 Audacity Remove Vocals from A Song
Step 4. Double-click to select the lower track, click Effect on the menu bar, and select Invert.
Step 5. Export your music by clicking File > Export on the menu bar. Once you do this, a box will pop up asking you to choose what name you want to export it as. Type in the name you want and press save to export your audio.
If you are an experienced user, you can click on Effect on the menu bar after importing songs, scroll down and select Vocal Reduction and Isolation or Vocal Remover for professional editing.
Also see: Fix the Problem of Audio not being in Sync | Audio Compressor