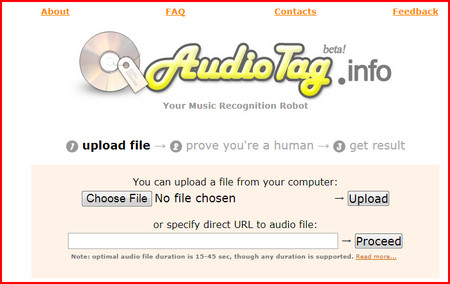 Identify Songs by Sound
Audiotag.info is a free music-recognition service. You can record or cut an audio sample and upload it to this website. Then AudioTag can help you analyze and match the most similar songs in the music library.
How to identify a song via Audiotag.info?
1. Upload audio sample or directly specify direct URL to audio file.
2. Prove you're a human, calculate and enter the result in the box.
3. Click the Next button to start recognizing.
You can upload your files in almost any file format and with any bit-rate. Uncompressed, ADPCM and other waves (.WAV), MPEG-1 Layer III (.MP3), Ogg Vorbis (.OGG), FLAC, Flash Video (.FLV), .AMR, .MP4, and many more file formats are supported. It even allows you to identify almost any unknown piece of music quickly and easily.