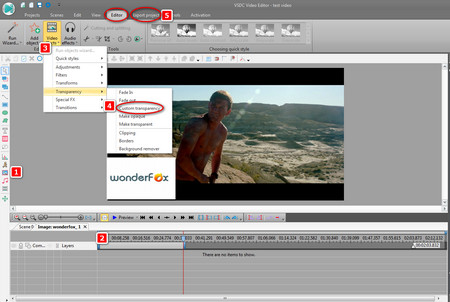 How to Remove Watermarks from Videos
It is not possible to crop the watermark without losing a part of the frame, so replacing the existing watermark with the new watermark is an option worth considering.
Step 1: Same as above two methods, so as to remove video watermark, first of all, you need to run the VSDC Free Video Editor, and import the video.
Step 2: Select Add image in the left Object Tools to add the watermark you need to cover, and click OK.
Step 3: Click on the timeline and press the picture track to adjust the watermark size and cover the original video watermark.
Step 4: In menu Editor tab, click Video effects > Transparency > Custom Transparency, and click OK. You can define transparency on the right.
Step 5: Click the Export project icon, customize the format and output directory, and click the Export project button to start to export the video. Your job is now complete since the watermark in the video is now replaced with the one you selected.
All the three methods mentioned above are feasible solutions on how to remove watermark from video, do you get them? If this article does help you remove video watermark, please share it with more friends.