How to Rip DVD to HDTV, Convert DVD Video to HDTV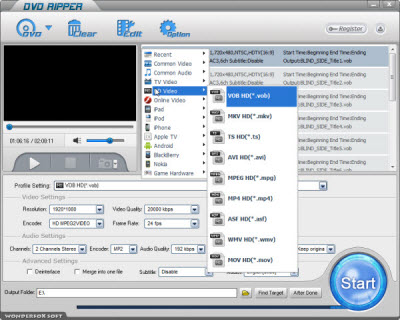 HDTV has become common in people's daily life. The reason why HDTV is soon fashionable is that its visual expression brings the viewer into the action. Now at least HDTV support 720P resolution. But DVD disc doesn't stay fashion. Shall we give up the DVD discs which are collected hardly by us? In fact, we don't need to do that if we use a HDTV DVD Ripper to convert DVD to HDTV. So how to rip DVD to HDTV should be considered about.
How to Rip DVD to HDTV
How to Choose A Nice HDTV DVD Ripper
Before we see the converting steps, we should choose a nice HDTV DVD Ripper. Logically, only HD video format can be supported best by HDTV. And we have to convert DVD to HD video format. So it must cost a lot of time to convert a normal format to a HD format. However, the developer of DVD Ripper can find and create a better arithmetic to solve this problem. The developer of WonderFox DVD Ripper have done just that. We only spend 50%-60% of the whole movie time on ripping by using WonderFox DVD Ripper. At the same time, the quality of video is also improved. We can also set up the resolution to 720P or 1080P. Beside these, WonderFox DVD Ripper has other features as follow:
1. Can Open DVD, IFO, MPEG/VOB files.
2. Can select a part of video/audio to convert according to start time and quantity of frames.
4. You can select audio track and subtitle to convert.
5. Can edit the video files.
6. Many other schemes for a lot of devices.
7. Easy to use.
Such a great software, the last thing we should do is knowing how to rip DVD to HDTV with it.
How to Rip DVD to HDTV with WonderFox DVD Ripper
It is really easy to use it, here are the steps:
1. Download and run it.



2. Load DVD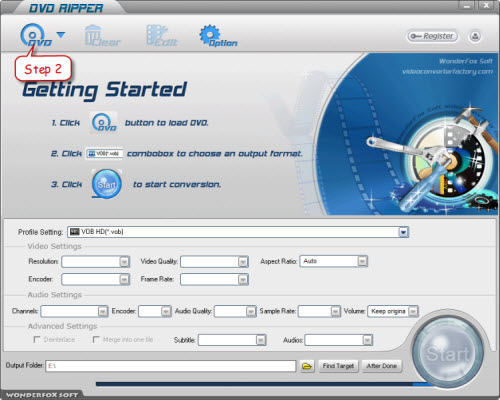 3. We can preview the source files to choose the part we like.
4. Select the output format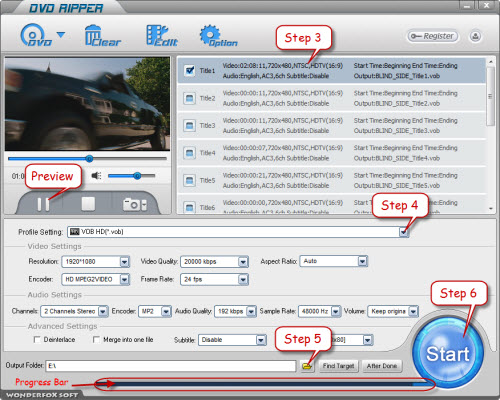 5. Select the output folder.
6. Click 'Start' button. After the blue fill the line, we can hear a warning bell.
In conclusion, the WonderFox DVD Ripper is really a good choice for us to rip/convert DVD to video. The DVD ripper runs well on Windows, so, we can easily convert DVD to PC, convert DVD to Hadr Drive, copy DVD to tablet, convert DVD to cell phone with it. Furthermore, the software also allow us to convert DVD to AVI, convert DVD MKV, convert DVD to WMV, convert DVD movies to MP4, rip DVD files to audio; and besides, convert DVD to iPad, rip DVD to file to iPhone, convert DVD to Nokia video type, convert DVD to BlackBerry video formats and convert DVD to Android devices are also available for us.