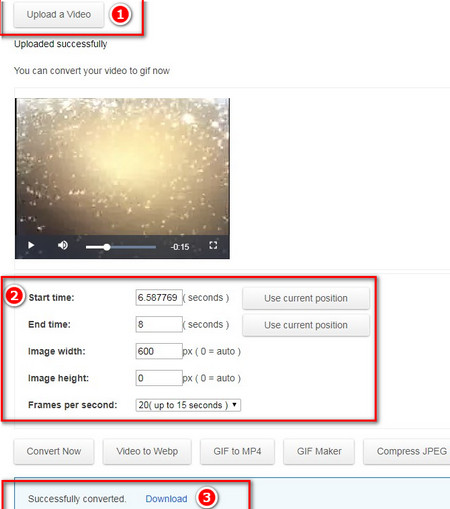 There are many online GIF converters that can be used to convert MPG video to GIF without any program installed on computer. But most of these sites have various drawbacks, for instance, upload file size and format are limited, no response from server and they can't freely cut the video into clips that need to be converted GIFs, etc. Finally, I recommend HNET Online Video to GIF Converter after multiple attempts and experiences. Now, let us look at how to use the online converter to make GIFs.
First copy the link and open it in the browser: https://hnet.com/video-to-gif/
Step 1: Click Upload a video to upload MPEG file. You are allowed to upload a file limited to 100MB.
Step 2: After the file is uploaded, you can preview it online. Input Start and End times to determine the clips to be converted. You can also click Use current position to choose the Start and End times while previewing the video. After that, you can set the resolution of the output GIF and the Frames per second, which influence the conversion time and the quality of the output file.
Step 3: Click Convert Now and wait for the conversion. As soon as the conversion is finished, click Download to save your GIF.