DVD Flick is an open source DVD creating application for Windows which has the ability of importing audio tracks, video files and subtitles, composing a DVD-Video movie and burning it to a disc, or creating an ISO image for later DVD burning. Then, let me show you how to convert MP4 to ISO image with this freeware step by step. Before we start, you are suggested to download it here: http://www.dvdflick.net/
Step 1. Launch the DVD Flick, import your MP4 files by clicking the "Add Title" on the right side. You can adjust the order by pressing "Move up" and "Move down".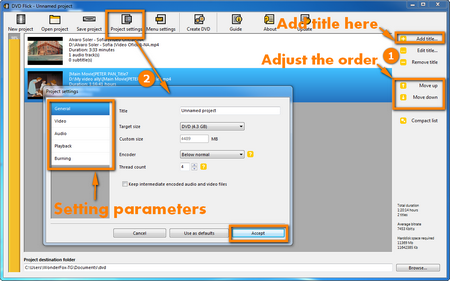 Step 2. Head to the "Project settings" segment of the toolbar at the top. It will appear a new window, in the "General" tab of which you can customize the DVD title and select the DVD targeted size.
-Go into the "Video" tab, you can choose the DVD standard format including NTSC for the U.S., Canada, PAL for Europe, and parts of Asia, and encoding speed as well as change the bit rate.
-Under the "Audio" tab, you are able to define the volume, channel, and bit rate by your own.
-Set the playback mode under the "Playback" tab.
-Check the "Create ISO image", then change the "Disc label" and click the "Accept".
Step 3. You can add your desired menu stylish skin for the DVD via clicking "Menu Settings" before you set the project directory. It is suggested you create a new folder because you will be noticed that the content of the folder will be emptied in the next step.
Step 4. Subsequently, you can start converting MP4 to ISO through hitting the "Create DVD" button in the menu bar, which might take a while due to the computer configuration and the file size. After the conversion is complete, ImgBurn will automatically pop up to complete the ISO generation.