MP3 is a universal audio format in daily life. Sometimes, we need to record an MP3 audio file on the PC for music enjoyment, voice backup, conference highlights, or other purposes. To achieve that, sound recording software is a must. So this article collects the six best MP3 recorder for Windows 10 to help you record MP3 easily with good sound quality. just keep reading to find a proper recording tool based on your demands.
1. WonderFox HD Video Converter Factory Pro
WonderFox HD Video Converter Factory Pro is a professional audio & video tool for Windows PCs. It offers the easiest way to record audio and video in high quality. Besides MP3, this software enables you to record WAV, AAC, and AC3 from the website, podcast, gameplay, call, and external voices via your microphone. There's no lag or time limit. Moreover, this MP3 recorder app Windows 10 allows you to edit the recorded audio files and enhance the audio quality after recording. The interface is brief, and the process is simple. Even though it's your first time using the software, you will have no issues handling it.
Get WonderFox HD Video Converter Factory Pro here:
https://www.videoconverterfactory.com/download/hd-video-converter-pro.exehttps://www.videoconverterfactory.com/download/hd-video-converter-pro.exe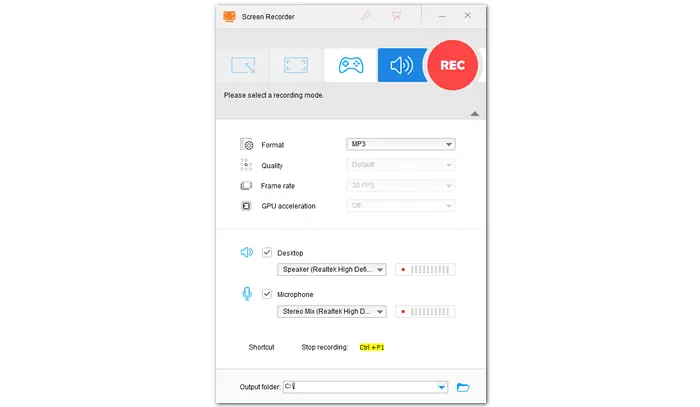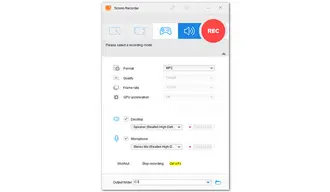 2. Voice Recorder
Voice Recorder is an audio recording application built-in Windows 10. You can search for the Voice Recorder app on your PC and open it to record sound. It's easy to use and also allows you to trim audio recordings. What's worth noting is that this app records audio in M4A format rather than MP3. If you use this inbuilt feature to record audio files, you need to convert the recorded M4A to MP3 with an audio format converter. And HD Video Converter Factory Pro is a good solution for this job. Besides being an MP3 voice recorder Windows 10, this software is a powerful MP3 converter on a PC, capable of converting any audio/video to MP3 easily and fast.
Also Check: The Best Video to MP3 Converter for PC Windows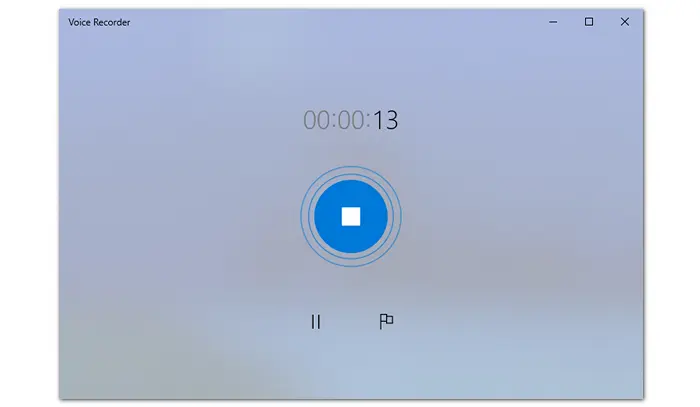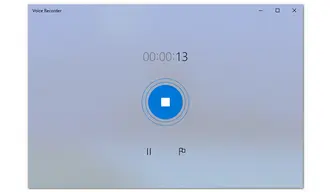 3. Audacity
If you process audio files a lot, Audacity is not a stranger to you. It's an open-source audio program designed to record, edit, and convert audio files on Windows and other platforms. In Audacity, you can record sound from a microphone, line input, USB/Firewire devices, and others. With some sound cards, you can also capture streaming audio from the Internet. After recording, you can monitor the volume and edit multiple audio tracks at once. Moreover, this MP3 recorder Windows 10 supports recording at sample rates up to 192kHz or 384kHz, and at 24-bit depth with appropriate devices and host selection. Under most circumstances, Audacity is a good option to record live audio and export MP3 files.
Website: https://www.audacityteam.org/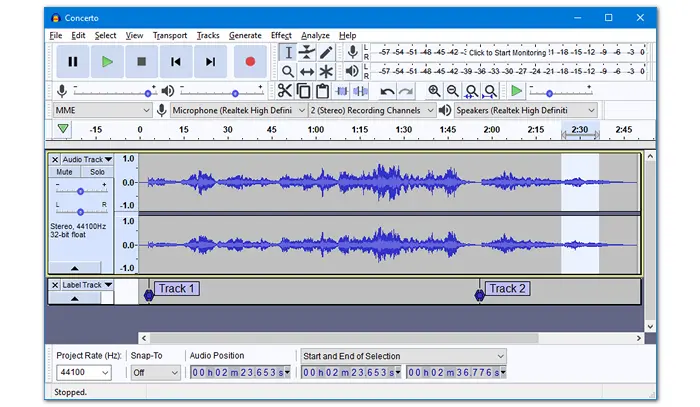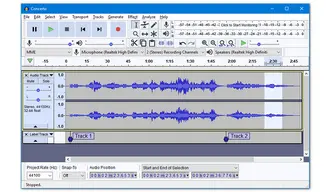 4. Adobe Audition
Adobe Audition is a professional video workstation that allows you to record, edit, and mix audio files on a PC. Using Adobe Audition, you can record audio from different sources, such as a built-in microphone, USB mic, and audio interface. Before the recording, you have to adjust the input signal to optimize signal-to-noise levels. Adobe Audition supports various export audio formats like MP3, WAV, OGG, WMA, AIFF, etc. Therefore, you can use it as an MP3 voice recorder Windows 10 to record audio on your PC.
Warm Tip: Audition is a comprehensive toolset that includes multitrack, waveform, and spectral display for creating, mixing, editing, and restoring audio content. Although the software is powerful, new users are hard to get started with it.
Website: https://www.adobe.com/products/audition.html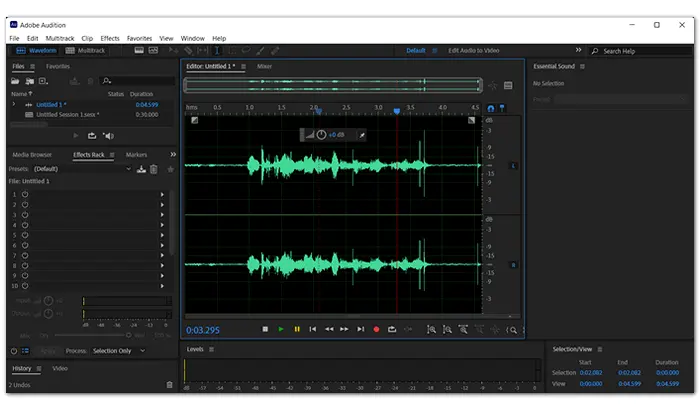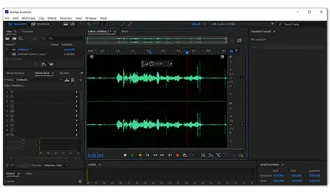 5. WavePad
WavePad is a full-featured professional audio and music editor for Windows. With the ability to both record and edit music and other types of audio recordings with ease, WavePad works as a special audio editor and MP3 recorder Windows 10. Apart from MP3, it supports a number of other audio formats, including WAV, GSM, WMA, FLAC, AIF, real audio, and more. Start recording an MP3 file in this software and drag the audio recording into the timeline for editing. After that, you can directly share your project online, burn it to a CD, or transfer it to your device for playback. In general, WavePad is more focused on audio editing, so some terms may be difficult for novices to understand.
Website: https://www.nch.com.au/wavepad/index.html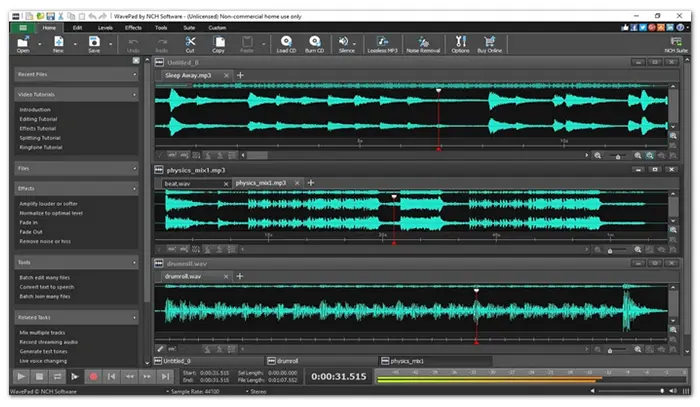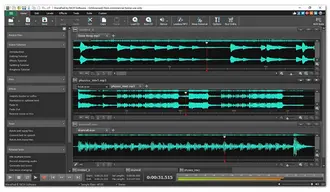 6. Audio Recorder Online
Apowersoft free online audio recorder claims to be a safe MP3 audio recorder Windows 10, which saves the audio recording data to your local disk to avoid potential data leakage risks. With simple clicks, you can record system sound and microphone, such as meetings, broadcasting, game background, music soundtracks, etc. The sound from your PC or browser will be recorded as an MP3 file by default. Importantly, it adapts HTML5 technology to record audio in high quality. After recording, you can check the recorded audio file online. If it's not satisfying, you can start a new recording on the mainboard right away. The process is easy to handle with its self-explanatory buttons.
Website: https://www.apowersoft.com/free-audio-recorder-online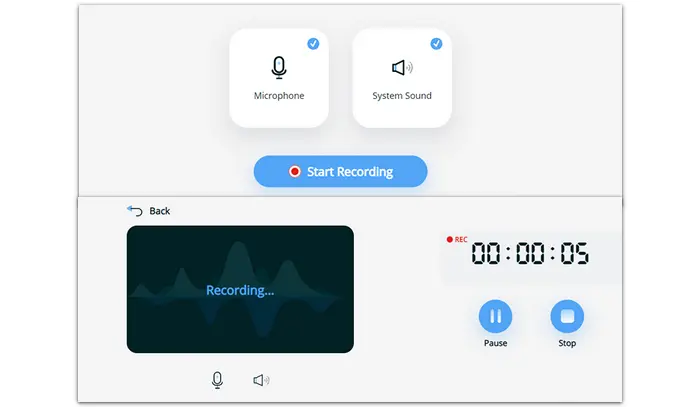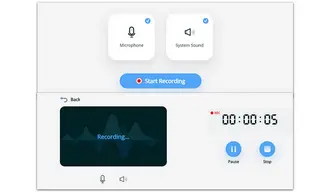 In Conclusion
This article has introduced the six best MP3 recorder Windows 10. Professionals can use Adobe Audition and WavePad Audio Editing Software to record and edit MP3 audio files. Windows Voice Recorder cannot record MP3 directly. HD Video Converter Factory Pro, Audacity, and Apowersoft audio recorder online are easy to handle for all levels of users. However, Audacity can only record audio, and online voice recorders have time or other limits. Besides recording MP3 on Windows 10, HD Video Converter Factory Pro has more amazing features: