What is an MLV File?
Q: "I recently downloaded a trial version of a proprietary software which contained videos. All the videos were of MLV format and could be opened through the application. But no other video player was able to play the video. VLC media player opened the file, but showed the unidentified codec error. What is the MLV video format? How can I open MLV file?"
A: An MLV file is a Magic Lantern Raw Video file created by Canon DSLR cameras that have the Magic Lantern installed, a free open-source firmware add-on that runs from the SD/CF card and unlocks many advanced features in Canon EOS cameras.
Magic Lantern has the ability to record raw HD video in a proprietary .MLV file format. The advantage of recording raw .MLV footage is higher dynamic range, more flexibility in post-processing, and overall better video quality compared to the standard h.264 footage that Canon DSLRs normally record.
However, since the .MLV format is proprietary, these files will not play in standard media players, NLE video editing software, or be recognized by video transcoding software. So how can you play MLV files, or convert MLV to MP4 or other standard formats? That's where this guide comes in. Read on!
Your MLV File Savior - MLV App
Since only few MLV converters and MLV players are available over the internet, to make your life easier, I'll introduce the best 2-in-1 utility in view of ease of use, accessibility, and cost.
The MLV App, your Prince Charming for all those dealing with MLV files, is an open-source, cross-platform application that's designed to handle these stubborn Magic Lantern raw video files. It allows you to play and convert your MLV files to more commonly used formats like MP4 or MOV on Windows, Mac, and Linux.
Let's explore the step-by-step process of playing and converting MLV files using MLV App.
Step-by-Step Guide to Convert MLV to MP4 with MLV App
Step 1 - Download and Install MLV App
Go to the Official Website or GitHub Releases page. download the version compatible with your operating system. Follow the installation instructions provided by MLV App to ensure a seamless setup.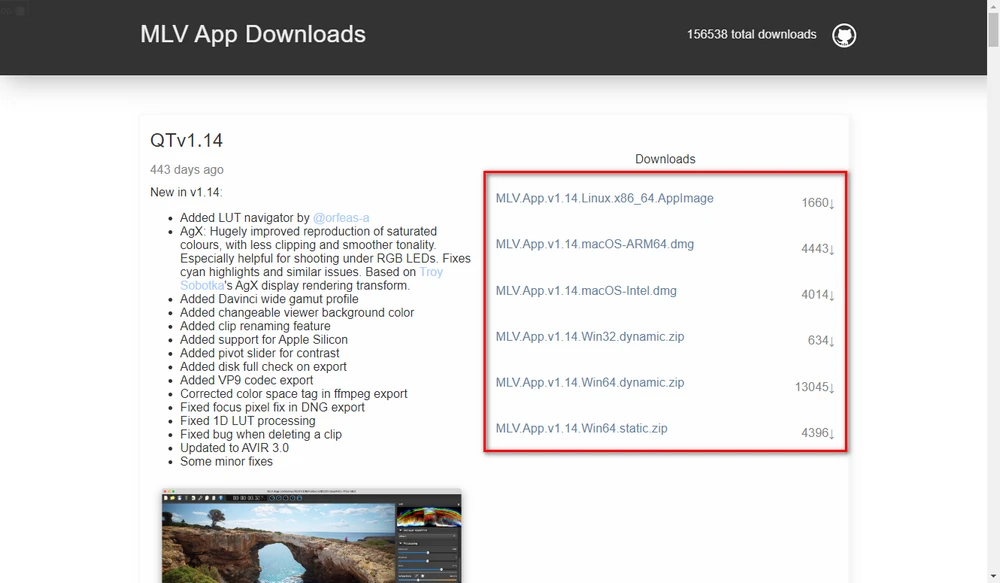 Step 2 - Launch MLV App and Import MLV Files
Launch MLV App on your computer. Go to "File" > "Import MLV". Locate your folder containing .MLV files and select them to add them to MLV App. MLV App supports batch import, allowing you to effortlessly manage multiple files simultaneously. They'll be loaded in the "Session" part on the left side.
Step 3 - Play MLV Files
To play an MLV file, double-click a clip in the "Session" part, then hit the "Play" button next to the Timecode/Duration display at the top of the window to play or pause your Magic Lantern raw video in the large preview window.
Optional. You're able to implement other editing work on the right side, such as RAW Correction, Cut in & Cut Out, and more.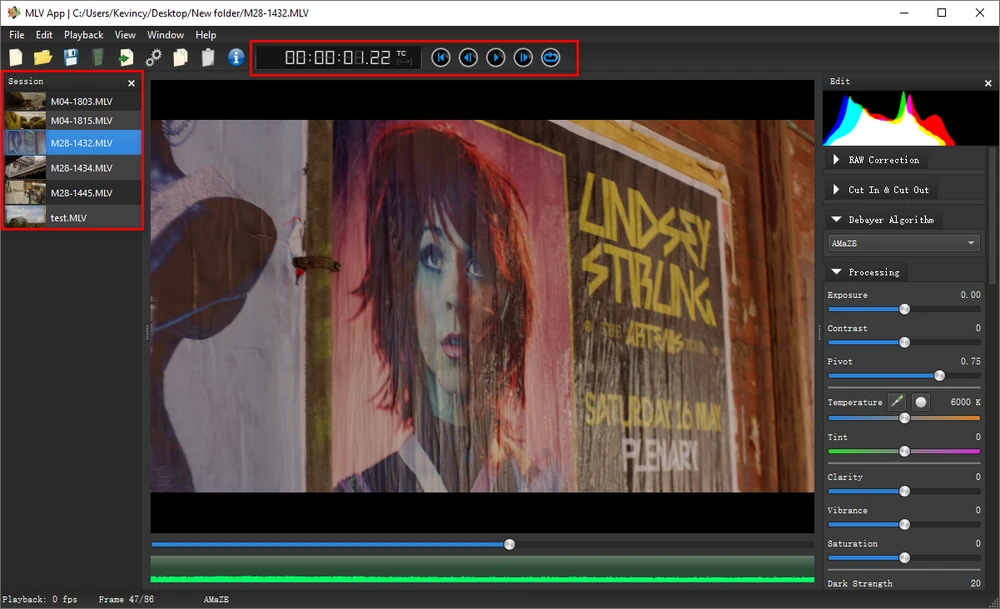 Step 4 - Customize Export Settings
Click on the "Gears" button to open "Export Setting" window. Navigation to "File Export" tab, choose H.264 or H.265 codec and .mp4 container. You're also able to resize MP4 file and change frame rate as you wish. Then click "Close".
Note. If required, you can also choose other post-production video codecs like Apple ProRes, DNxHD, DNxHR, GoPro Cineform, etc.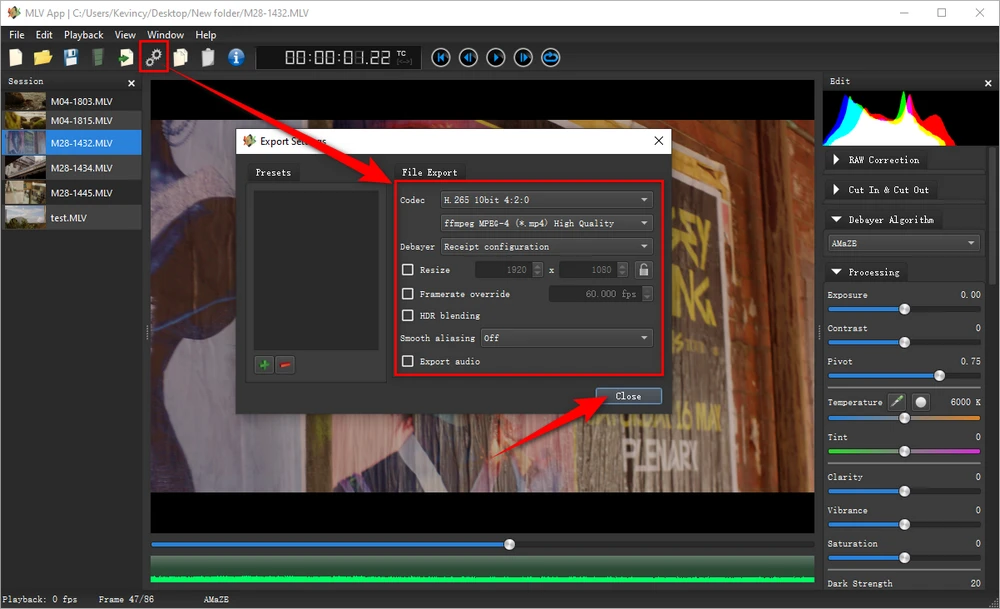 Step 5 - Export MLV to MP4
Select all MLV files on the left side, click on "Export select clips" button to choose a destination location for saving the output MP4 files. Finally, click on "Select Folder" button to convert and export MLV files to MP4.
Now, sit back and relax as MLV App works its magic, seamlessly transforming your MLV files into high-quality MP4 or MOV videos. The conversion progress will be displayed, keeping you informed every step of the way.
Once the conversion process is complete, navigate to the designated output folder to find your newly converted MP4 or MOV files. These files are now compatible with a wide range of media players, video editors, and other applications, allowing you to effortlessly incorporate them into your creative projects.
FAQs About MLV Files and MLV App
Q1: Can I play MLV files with standard media players?
A: Unfortunately, most standard media players do not natively support MLV files. However, with MLV App, you can play MLV files seamlessly within its dedicated environment.
Q2: Is MLV App a free application?
A: Yes, MLV App is 100% free and open source software for Windows, Mac, and Linux.
Q3: Does MLV App preserve the original quality of MLV files during conversion?
A: MLV App employs advanced algorithms to ensure high-quality conversions while preserving the integrity of your original MLV files.
Q4: Can MLV App extract audio from MLV files during the conversion process?
A: Yes, MLV App has the ability to extract audio from MLV files and include it in the converted output files. BTW, you can also export MLV to audio-only WAV file.
Final Words
I hope this guide gave you a good overview of how to use the free MLV App to play back and convert your Magic Lantern .MLV raw video files. Converting to editable formats like H.264 MP4, ProRes, or DNxHD using MLV App is the best workflow for post-processing and editing your MLV footage.
The app provides a lot of great features beyond just conversion too like color correction, trimming, and batch processing. MLV App runs on Windows, Mac, and Linux so it's a cross-platform solution anyone can use.
Now you can finally unlock the full potential of your raw high quality .MLV video files from Magic Lantern with Canon DSLRs! Just use MLV App for free MLV conversion and playback.