Even the famous VLC media player and Audacity do not support MIDI playback, but here, we will recommend several MIDI players for different platforms.
Part 1: MIDI Player Online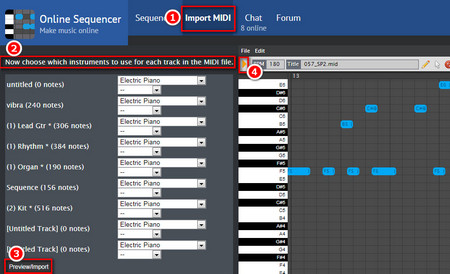 Online MIDI Player Software
1. https://onlinesequencer.net
OnlineSequencer.net is an online music sequencer that allows you to play midi files online.
Step 1: Click "Import MIDI" button on the top menu to load your MIDI file into the online MIDI player.
Step 2: After choosing MIDI file and then click "continue" to enter a new interface. Next, choose different instruments for tracks.
Step 3: Click "Previewing/Import" and then you will see the detailed MIDI data.
Step 4: Click the yellow button to start to play MIDI file.
That's the whole process of onlinesequencer as the MIDI file player to play MIDI files, do you get it?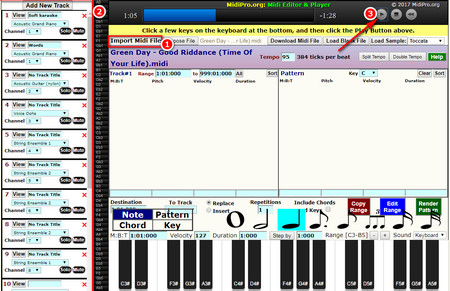 MIDI Player Freeware
2. http://www.midipro.org/Editor.php
MidiPro.org is a complete online MIDI editor and player. Similar with OnlineSequencer.net, it is also a MIDI file player that allows you to view MIDI file online. Then, let's go to how to play MIDI file.
Step 1: Like OnlineSequencer.net, firstly, you need to load your MIDI files into the MIDI file player.
Step 2: Set different instruments for tracks.
Step 3: Click "Play" button to play MIDI file.
Tips: MidiPro.org requires the Google Chrome browser.