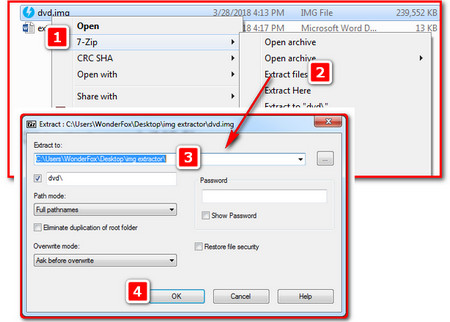 Using 7-Zip as An IMG Extractor
A file archiver should be an essential tool for computers, such as WinRAR, 7-Zip, etc. It can be used as an IMG file extractor. The following is an example of using 7-Zip, a free and open-source file archiver to illustrate how to extract .img file:
Step 1: In order to extract IMG file, firstly, you should download and install 7-Zip. Here is the download link: https://www.7-zip.org/
Step 2: Right click IMG file. You will see a context menu list pops up.
Step 3: Select 7-Zip > Extract Files > Custom Output Directory in the "Exact to" section. Click the "Location" field and select the location where you want the files to be extracted.
Step 4: Click OK to start to unpack IMG file to the specified location.