AOMedia Video 1 (AV1/AV01), developed as the successor to VP9, aims to be a royalty-free video coding format for transmitting video over the Internet with higher efficiency. While this recent format is adopted by streaming services such as YouTube, Netflix, Hulu, Amazon, etc., it has not gained widespread popularity offline, and many devices and applications do not recognize files encoded with AV1.
If you have some AV1 files and want to play them without hassles, the best way would be converting AV1 to a more popular profile, such as H264-encoded MP4. And don't worry. In the following, I'm going to show you my solution to convert AV1 to MP4 HEVC/AVC/MPEG4 with an impressive AV1 converter. Please read on.
How to Convert AV1 to MP4 HEVC/AVC/MPEG-4?
WonderFox HD Video Converter Factory Pro is a professional video converter that can help us convert AV1 files to MP4 easily. It has a built-in AV1 decoder to decode AV1 files and provides multiple encoders like AVC, HEVC and MPEG4 to transcode AV1. It can convert AV1 files to MP4, MKV, MOV and more common video formats. Additionally, it supports multiple file inputs for batch conversion. The whole workflow is simple. Without further ado, let me show you the steps to convert AV1 to MP4 files below.
Launch HD Video Converter Factory Pro and open the "Converter" program. Next, click the center + button or the upper-left "Add Files" to load your AV1 files into the converter. You can also drop files here directly.
Tips. You can set an output folder for your converted files by clicking the ▼ button.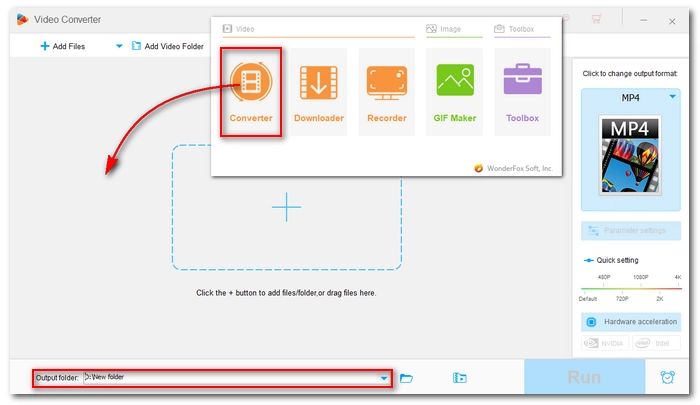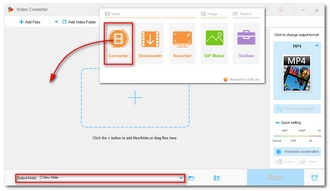 Click the format image on the right side of the converter and the output format page will appear. Then, head to the "Video" category and select "MP4" as the output format. You can also select a different profile, such as "H264", "H265 for MP4", and "H265 for MKV" as the output format. Or you can explore the device section where you can convert your AV1 to a target device in one click.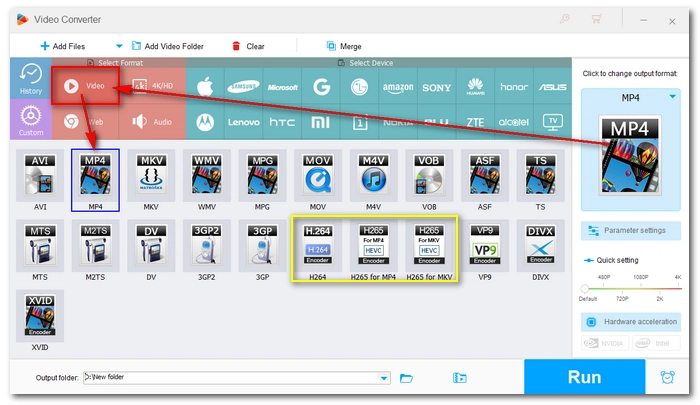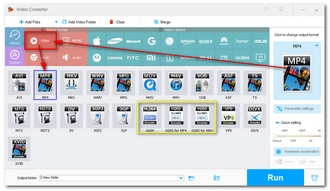 To play AV1 on other devices, the AV1 codec needs to be changed. Just open the "Parameter settings" and find the video encoder option. Click to open the encoder drop-down list and select your preferred video codec, including MPEG-4, H254, and H265 (for MP4 format).
You can modify other settings like resolution, bitrate, frame rate, volume, etc. as you see fit.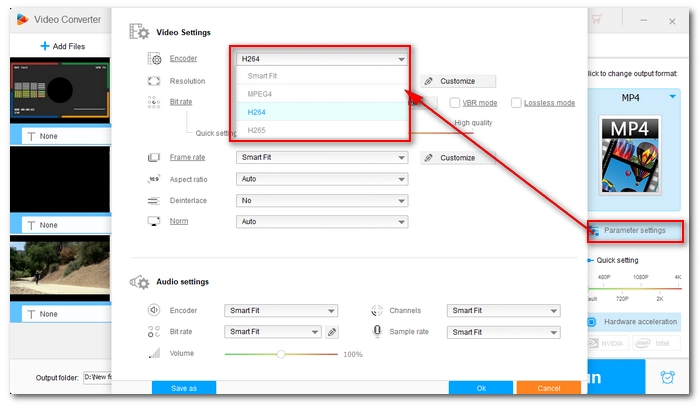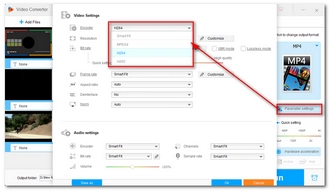 Finally, click the "Run" button to start the conversion at once.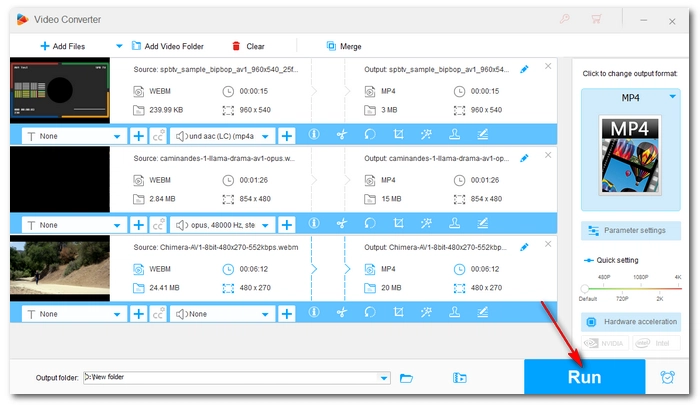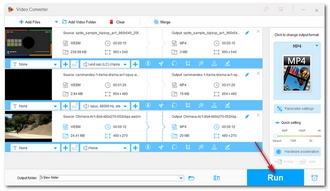 Wrap-up
As you can see, converting AV1 files to MP4 is pretty easy with the video converter here. Now, just try converting your AV1 videos with this software.
That's all I want to share about how to convert AV1 to MP4 for convenient video playback on other devices. I hope you will find this article helpful. Thanks for reading. Have a nice day!
1. How to convert AV1 to AVC?
WonderFox HD Video Converter Factory Pro offers you a three-step process to convert AV1 to AVC. Follow the steps below:
Add you AV1 video to the program.
Choose H264 (AVC) as the output format.
Convert AV1 to AVC in no time.
2. How can I play AV1 videos on my PC?
You need to install AV1 codec on your PC to play AV1 files smoothly. Alternatively, you can directly use VLC to decode AV1 video or convert AV1 to MP4 H264 to make the file playable on PC without installing the codec.
3. Does MP4 support AV1?
Yes, MP4 support AV1 codec. AV1 can also be wrapped in MKV and WebM containers.