How to Rip DVD to HTC Desire, Convert DVD Video to HTC Desire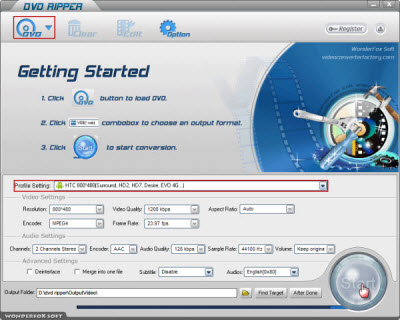 HTC Desire is a powerful mobile phone which runs the popular Android OS, but it is not powerful enough to do everything on it like playing DVD videos on it. If you want to play DVD on your HTC Desire, what you need to do firstly is to rip the DVD files to the compatible HTC Desire format. This article will teach you how to rip DVD to HTC desire to help you play DVD videos on your HTC Desire.
How to Rip DVD to HTC Desire
Information on HTC Desire
HTC Desire is smartphone based on Android OS, v2.1 and it is published in March, 2010. On account of its design features and excellent operating process, HTC Desire draws so much attention once it is published. Here I would like to show some related information on it. It is equipped with AMOLED or SLCD capacitive touchscreen, 16M colors. The size is 480 x 800 pixels, 3.7 inches. The internal memory is 576 MB RAM; 512 MB ROM, while the card slot microSD can be up to 32GB, which can hold lots of audio and video resources. As for CPU, it is CPU 1 GHz Scorpion processor, Adreno 200 GPU, Qualcomm QSD8250 Snapdragon chipset, which can support cellphone applications very well. Besides, the battery is Li-Ion 1400 mAh, which can meet the demands of video playback. If users want to enjoy movies with HTC Desire, it is a right choice! What if they want to enjoy DVD videos on HTC Desire? They may meet the problem that how to rip DVD to HTC Desire. It is the best if users can solve the problem in an easy way.
Suggestions on How to Choose a Great DVD Ripper for HTC Desire
There are different kinds of DVD rippers in the market. It is not an easy task if users want to choose a great one from them. In view of this point, I would like to recommend you WonderFox DVD Ripper. It is the ideal one for users to solve how to rip DVD to HTC Desire. You can spend less time and energy on how to choosing a great one.
Compared with other like products, it does have several advantages. Here is the related information. Firstly, It can support various video formats and digital devices well and it is totally designed for different kinds of video devices. The DVD ripper can come up to its parameters well with suitable resolution and pixels. Secondly, high-quality output effect and fast ripping speed. WonderFox DVD Ripper can provide users with nice output effects in short time. Next point is its safe ripping process. The DVD Ripper won't do any harm to your computer or cellphone. In addition, it can provide users with extra functions, like trimming, cropping and special effect to videos. Users can enjoy the video editing process freely.
With WonderFox DVD Ripper, users can solve how to rip DVD to HTC Desire easily. It can provide users with high-end ripping service in an fast and safe way. All you need to do is ripping DVD within few clicks.
Steps of how to Rip DVD to HTC Desire
1. Download WonderFox DVD Ripper and install it.
2. Load DVD disk and choose HTC 800*480 (surround,HD2,HD7,Desire...) as the output profile.


3. Click 'Start' button to launch the ripping process.
4. Put output files into your HTC Desire to enjoy.
As we can see, it is easily handled and fast to rip DVD to HTC Desire with WonderFox DVD Ripper.
Furthermore, WonderFox DVD Ripper supports to rip/convert DVD to all Android based devices (mobile phones and tablets).It is really a good choice for us to rip/convert DVD to video. Just download it and have a try.