How to Rip DVD to Xoom, Convert DVD to Moto Xoom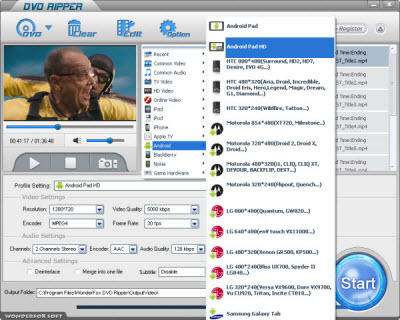 Xoom is the first tablet of Motorola. It is a very good choice for multimedia requirements, especially for video/audio playback. But for share or play DVD video on Xoom, we have to rip DVD to video first. Then how to rip DVD to Xoom is the problem we have to face and solve. And now, I just suggest WonderFox DVD Ripper for DVD to Xoom.
How to Rip DVD to Xoom
Video Function of Xoom
Motorola Xoom is a new type of tablet computer released on February 24, 2011 by Motorola Inc. As the first one to run Android 3.0 Honeycomb, it attracts much attention from consumers and everyone in the business. The Xoom supports up to 720p video playback and has a 1280×800 widescreen, 10.1-inch display and 3D graphics acceleration. The CPU involved is Nvidia Tegra 2 SoC with powerful information processing. Besides, the standard battery can support about 10 hours of continuation duration. Referring to video function of Xoom, it is really enjoyable to watch movies on it. However, it is a pity that Xoom can not support CD-ROM driver as a tablet computer. Users need rip dvd to Xoom if they want to enjoy the DVD video on it. Users can solve how to rip DVD to Xoom with a good DVD ripper for Xoom.
How to Choose a Great DVD Ripper for Xoom
There are so many kinds of DVD ripper over the Internet. It is not easy to get a great Xoom DVD ripper from them. Here is the recommended advice on a great DVD ripper for Xoom to solve how to rip DVD to Xoom.
1. Combination of ripping and conversion. Users can get the video files that they want easily and they don't need convert video after ripping the DVD files.
2. Fast ripping process. A great DVD ripper can provide users with fast ripping and converting speed, which can save lots of time.
3. Easy operating process. Users can finish the ripping process with few steps and they can handle the ripping process in a simple way.
4. High-quality output video effect. The DVD ripper should ensure the output quality of video and meets users' demands well.
5. Safe converting process. It is safe to rip DVD video with this DVD ripper for Xoom without any viruses and spywares.
6. Extra functions. To enjoy the fun of DIY, the DVD ripper should also include the function of video editing, like merging, cropping, clipping and adding effects to your videos.
According to the standards mentioned above, I do think WonderFox DVD Ripper is the excellent DVD ripper for Xoom to solve how to rip DVD to Xoom. It complies with these standards fully, which can present users great ripping process.
Steps of how to Rip DVD to Xoom
1. Download the WonderFox DVD Ripper and install it on your PC.
2. Put the DVD disk in CD driver and load the disk with clicking the button 'DVD'.
3. Choose the profile 'Android Pad' and click 'START' button to rip DVD to Xoom.
4. Put the converted video files into your Xoom to enjoy the videos after finishing ripping process.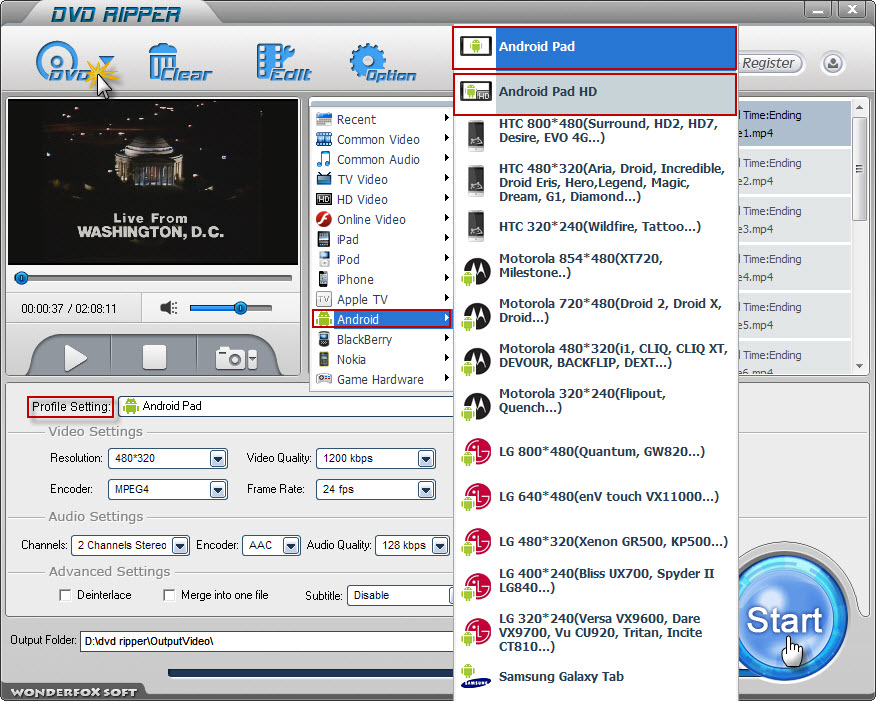 Judging from these points, WonderFox DVD Ripper can solve how to rip DVD to Xoom very well with easy operating steps.
Furthermore, WonderFox DVD Ripper supports to rip/convert DVD to all Android based devices (mobile phones and tablets).It is really a good choice for us to rip/convert DVD to video. Just download it and have a try.