How to Convert DVD to Milestone, Rip DVD Video to Moto Milestone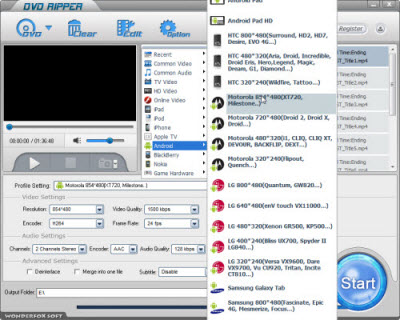 Milestone, a Motorola mobile phone which carries Android System, has become the savior of Motorola Company. Although it can play many video formats by installing the third-party video player because Android System is open-source. DVD files still cannot be played due to some technical limitation. Then how to convert DVD to Milestone is the problem we have to face and solve. And now I recommend WonderFox DVD Ripper to you to solve the problem.
How to Convert DVD to Milestone
How to choose a perfect Milestone DVD Ripper?
An awesome type of mobile phone deserves a DVD Ripper which is especially designed. Wonderfox DVD Ripper, is exactly we want. When we use it, we will see the best schemes of video and audio setting has been prepared. With a few click we can enjoy the audio-visual banquet on Milestone. Besides, Wonderfox DVD Ripper has the feature as follow:
1. Can Open DVD,IFO, MPEG/VOB files.
2. Split large video files to volumes according the mode and size you set.
3. Can select a part of video/audio to convert according to start time and quantity of frames.
4. Provide luminace filter and deinterlace filter.
5. You can select audio track and subtitle to convert.
6. Provide the capability for you to set the resolution of the output video and many other options.
7. Can edit the video files.
8. Many schemes for a lot of devices.
9. Fast converting speed and high quality of output files.
The last thing is how to convert DVD to milestone by using this Milestone DVD Ripper.
Using Wonderfox DVD Ripper to rip DVD to Milestone
Wonderfox DVD Ripper is a powerful, all-in-one and easy-to-use DVD ripper. Now let's learn how to convert DVD to milestone.
1. Download and run it.



2. Load DVD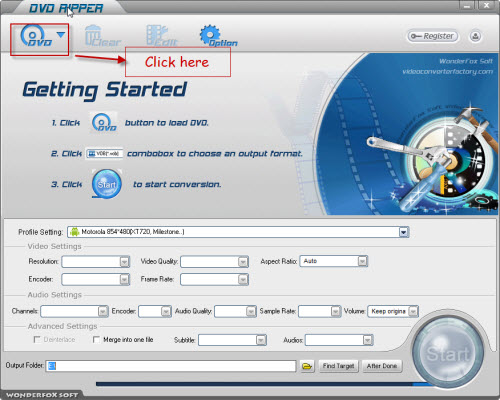 3. We can preview the source files to chose the part we like.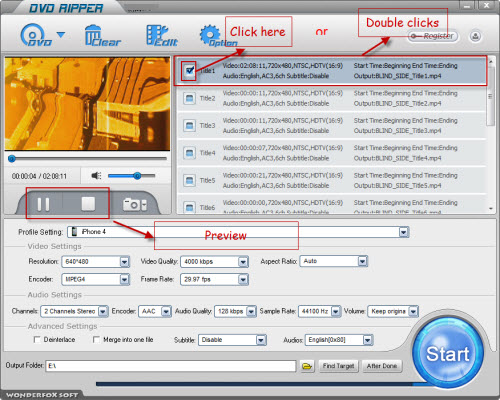 4. Select the output format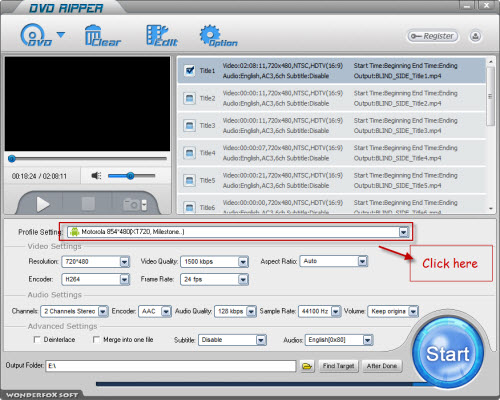 5. Select the output folder.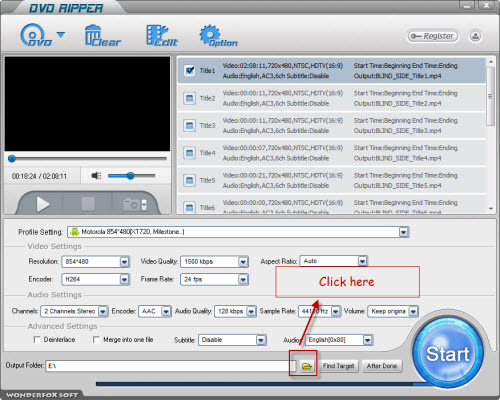 6. Click 'Start' button,. After the blue fill the line, we can hear a warning bell.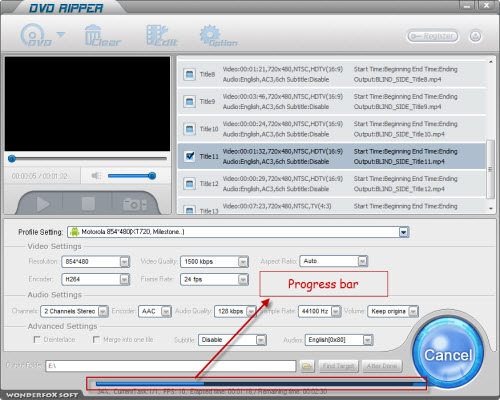 Furthermore, WonderFox DVD Ripper supports to rip/convert DVD to all Android based devices (mobile phones and tablets).It is really a good choice for us to rip/convert DVD to video. Just download it and have a try.