How to Convert DVD to HTC EVO 4G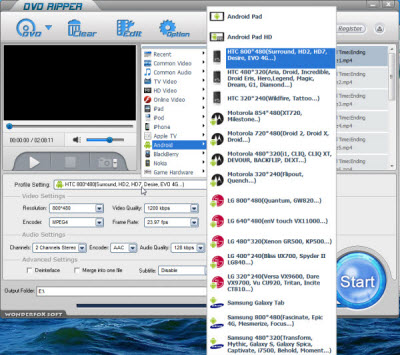 Long anticipated, hugely specified and just plain huge: there's a lot to like about the HTC EVO 4G. The first WiMAX phone in the US brings with it the promise of DSL-like mobile data access along with the flexibility of Google's Android OS, complete with HTC's now-legendary hardware quality and flexible Sense UI. On the flip side it's nowhere near cheap and WiMAX coverage is marginal. Is there any great HTC EVO 4G DVD Ripper? The answer is yes. Before we know about how to convert DVD to HTC EVO 4G, let's see the reason why we need to rip DVD to HTC EVO 4G.
How to Convert DVD to HTC EVO 4G
Why do We Rip DVD to HTC EVO 4G
The 4.3-inch display offers so much real estate it's almost overwhelming - but in a good way. The screen is bright, crisp and wonderful. We never felt that it was too large or cumbersome; in fact, it made us feel perfect. It's a great balance between a standard 3.5-inch cell phone and a small Internet tablet. Saying that the EVO 4G's screen is too big is like saying, No thanks, I would rather ride in the back of a cab than in your limo. Meanwhile, 720p HD video recording lags behind what you'd expect from a basic, dedicated HD camcorder, and seem to lack the frame rate to go along with the resolution. Still, with the correct HDMI cable it would be handy being able to show them straight away on a nearby HDTV or display.
With these great display and powerful pixel support, there seems no reason for enjoy movie on HTC EVO 4G. Where should we find the good sources? The movies in DVDs are the perfect choice. Therefore, we can rip DVD to HTC EVO 4G so that enjoy movie anywhere and anytime.
Choose A Nice DVD Ripper for HTC EVO 4G
Since we know we should have a HTC EVO 4G DVD Ripper, how to choose a nice one? I suggest using WonderFox DVD Ripper. WonderFox DVD Ripper is an all in one and easy to use DVD Ripper. Its powerful functions include: support ripping DVD video, extracting audio, grabbing screenshot and enable users to fully control output video quality or size by freely adjusting parameters. Besides, fast conversion speed and 113 kinds of output formats and devices are also its features. The last thing we shall know is how to convert DVD to HTC EVO 4G with WonderFox DVD Ripper.
OK, let's learn how to convert DVD to HTC EVO 4G as following steps:
1. Download and run WonderFox DVD Ripper.



2. Load DVD.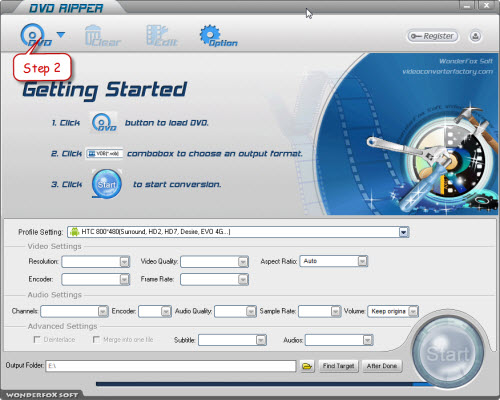 3. Choose the part you want to rip.
4. Set your profile.


5. Select the output folder.
6. Click the 'Start' button, then after the blue progress bar fill with the line, you can enjoy the movies.
Furthermore, WonderFox DVD Ripper supports to rip/convert DVD to all Android based devices (mobile phones and tablets).It is really a good choice for us to rip/convert DVD to video. Just download it and have a try.