How to Rip DVD to Motorola Droid X2, Convert DVD to Moto X2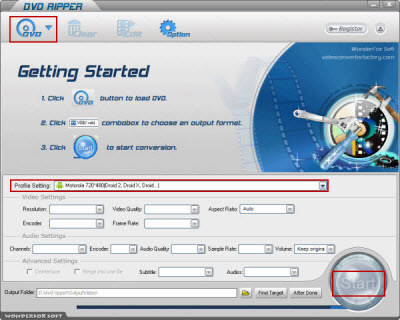 You must feel that Motorola Droid X2 can not only be considered as a cell phone, it also should be considered as a great video player. However, as we know, there are so many wonderful videos that in the form of DVD disc and Motorola Droid X2 actually cannot play DVD videos. At this very moment, how to rip DVD to Motorola Droid X2 to play DVD videos on Motorola Droid X2 is what we need to solve.
How to Rip DVD to Motorola Droid X2
Ripping DVD to Motorola Droid X2 is necessary
Motorola Droid X2 is a newly released Android-based smartphone by Motorola Inc. As the successor of Motorola Droid senior, it stays in the spotlight of Android smartphone. Good stuff always comes with nice features. Motorola Droid X2 is equipped with a TFT capacitive touchscreen, 16M colors and its Size can be 540 x 960 pixels, 4.3 inches. As this factor, everybody would like to get such a big-size cellphone to enjoy video playback life. Its internal memory is 8 GB storage, 512 MB RAM and the microSD card can be up to 32GB. The operating system is Android OS, v2.2, upgradeable to v2.3 (Gingerbread) in a conventional way. Its CPU is powerful as Dual-core 1GHz ARM Cortex-A9 processor. With a great video capability, I do think no one would like to miss the chance to enjoy videos with Motorola Droid X2. You can even regard it as a little TV for you. However, it is a trouble that how to rip DVD to Motorola Droid X2 if you want to enjoy DVD videos on it.
How to Rip DVD to Motorola Droid X2 with a Great DVD Ripper
If you want to get such a great DVD ripper for Motorola Droid X2, I would like to introduce WonderFox DVD Ripper to you. With such a great DVD ripper, you can get a nice ripping experience with satisfaction. It can provide users with fast speed and high-quality output effect. You can ensure to get a nice output effect to your Motorola Droid X2 with less time. Besides, the ripping process is totally safe and easy-to-handle. Here are the specific steps of how to rip DVD to Motorola Droid X2.
1. Download WonderFox DVD Ripper and install it.



2. Run it and load the DVD disk.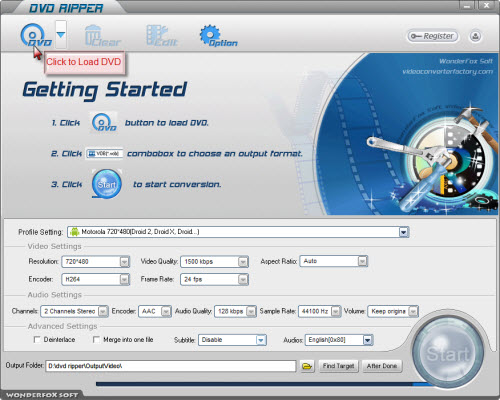 3. Choose 'Motorola 720*480(Droid2, DroidX, Droid...)' as the profile setting. You may also preview the video before you start the ripping process´╝łoptional´╝?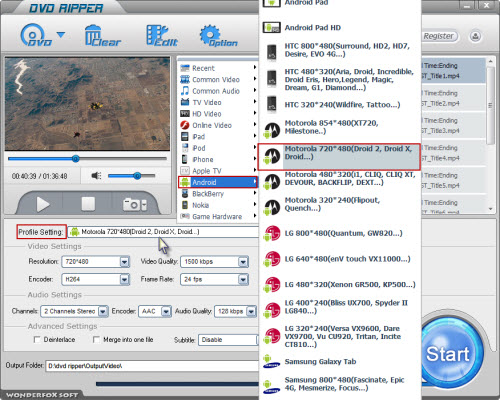 4. Set the output folder as what you want.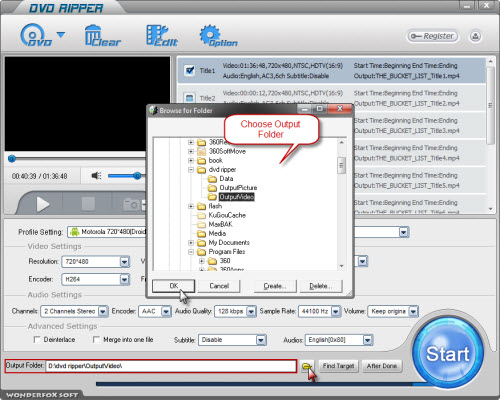 5. Click 'Start' to begin the ripping process.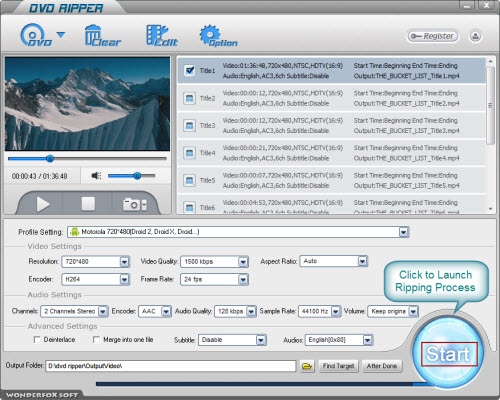 6. After the ripping process finishes, you can pick out the output video.
That is the way to solve how to rip DVD to Motorola Droid X2.
More Information on WonderFox DVD Ripper
You can never miss this. WonderFox DVD Ripper is not only a Motorola Droid X2 DVD Ripper, but also a all-in-one DVD ripper for many video formats and video playing devices. It can also support to rip DVD to AVI, HD files, MKV, MP4 and video devices, like iPod, iPad, BlackBerry, Nokia, Xoom. The ripping process goes in a totally safe and fast-speed way. Users can get its convenient factors with freedom. It deserves to have a try!
With WonderFox DVD ripper, users will not worry about how to rip DVD to Motorola Droid X2 any more.
Furthermore, WonderFox DVD Ripper supports to rip/convert DVD to all Android based devices (mobile phones and tablets).It is really a good choice for us to rip/convert DVD to video. Just download it and have a try.