WAV is a popular format. Most media players today can play WAV files without a hitch. But what programs can play WAV files exactly? What are the other ways to open WAV files? In the following, you'll learn three general ways to play WAV audio files on different devices.
Since WAV is developed by Microsoft, the default Windows Media Player and Groove Music on Windows can play WAV out of the box. For instance, let's see how to play WAV files on Windows 10 using Windows Media Player below.
• Listen to WAV Files in Windows Media Player (on Windows)
1. Open Windows Media Player on your desktop.
2. Drag the WAV file to the Play button to start playing the WAV immediately.
Alternatively, you can right-click on the file and select Open with > Windows Media Player to open the WAV file.
Tips. You can set Windows Media Player as the default app for playing music files (press Start > Settings > Apps > Default apps > find Music player and select Windows Media Player) so that you can double-click on the WAV file, and it will play directly.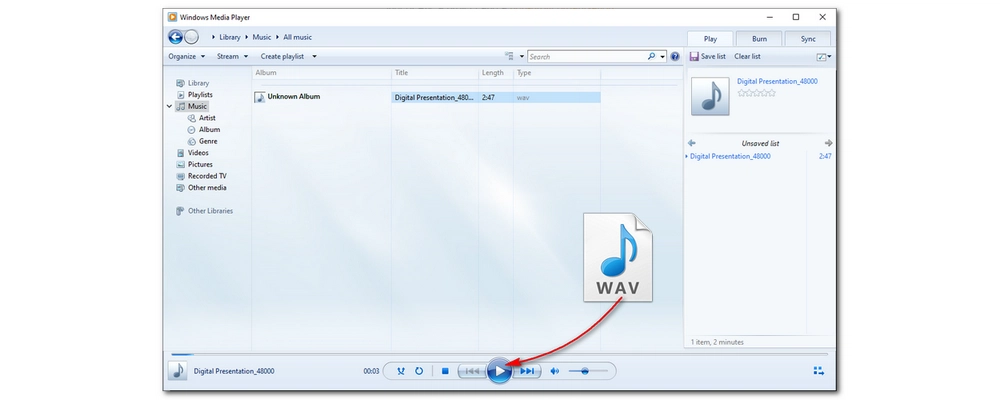 Note: In some cases, the audio file with a .wav extension might be created from the DTS audio. Windows Media Player does not support DTS and won't play this kind of WAV file. You can try the WAV player below or convert WAV to MP3 to solve the issue.
On other operating systems, the built-in media players may open WAV format files without installing third-party software. But if the WAV files won't play, you can use a WAV player to open your WAV files instead. VLC Media Player is a free and open-source program available across platforms. And it can be the perfect WAV player to play WAV files. With VLC installed, you should be able to listen to WAV files on iPhone, play WAV on Android, and open WAV audio on Mac without a problem. Here is how to open WAV files in VLC.
• Play WAV Files with VLC Media Player (on any OS)
1. Install the latest version of VLC on your device at https://www.videolan.org/vlc/.
2. Open VLC Media Player.
3. Click Media > Open File, and select the WAV audio you want to play. Or you can drag your WAV file into the player window to start playing right away.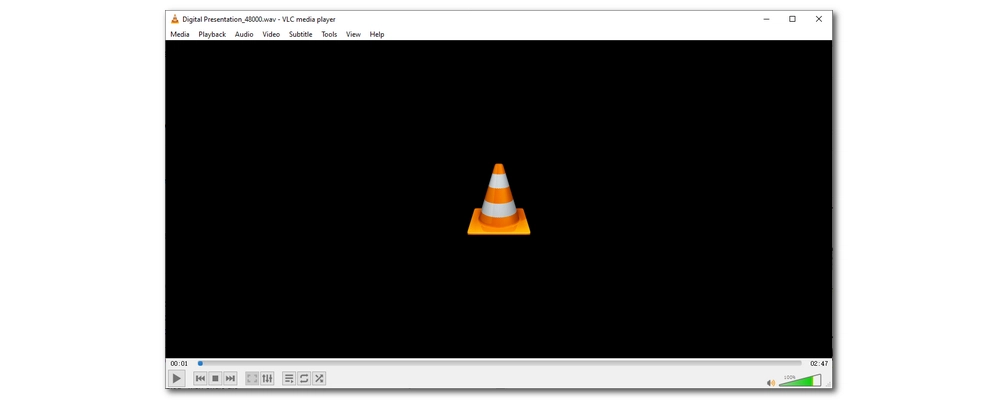 Other programs that can play WAV files include AIMP, Foobar2000, iTunes, Winamp, and so on.
Playing WAV files through browsers is not the usual way, but it comes as a quick solution when you can't access a media player. Simply drag the WAV file to a browser tab and it should start playing.
Most of the browsers, including Google Chrome, Firefox, Opera, and Safari, support WAV format files.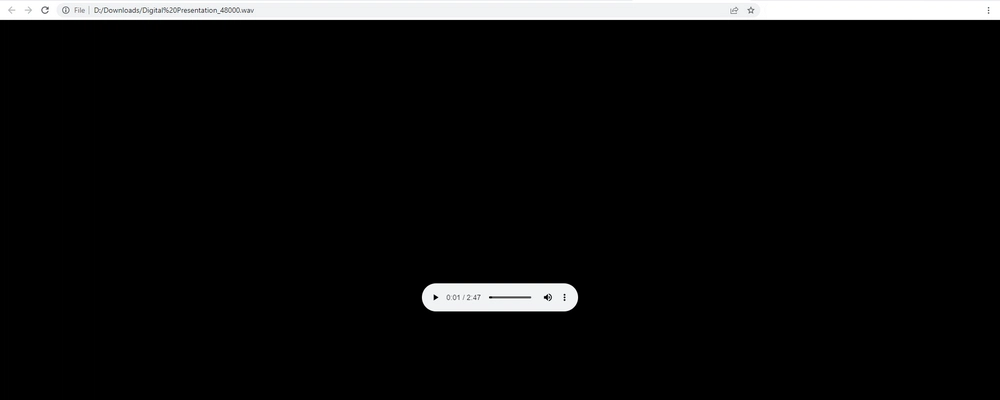 If your device or software isn't WAV-compatible, you can convert WAV to MP3 or other supported audio types to play the file. WonderFox Free HD Video Converter Factory is a popular file converter that can convert different video and audio files on Windows. Here, it can work as a free WAV converter to change WAV audio to MP3, M4A, AAC, FLAC, and more pop audio formats. Moreover, it can be used as a simple WAV player to play WAV files.
The program is easy to use. Let's free download free download the tool and follow the steps below to convert WAV files.
Step 1. Open Free HD Video Converter Factory on your PC and select Converter on the home interface.
Step 2. Click the upper-left Add Files to add your WAV files to the conversion list. You can also drag and drop the WAV files into the interface directly.
Tips. How to Play a WAV file?
Move your cursor to the music thumbnail and click the Play button to get the music playing.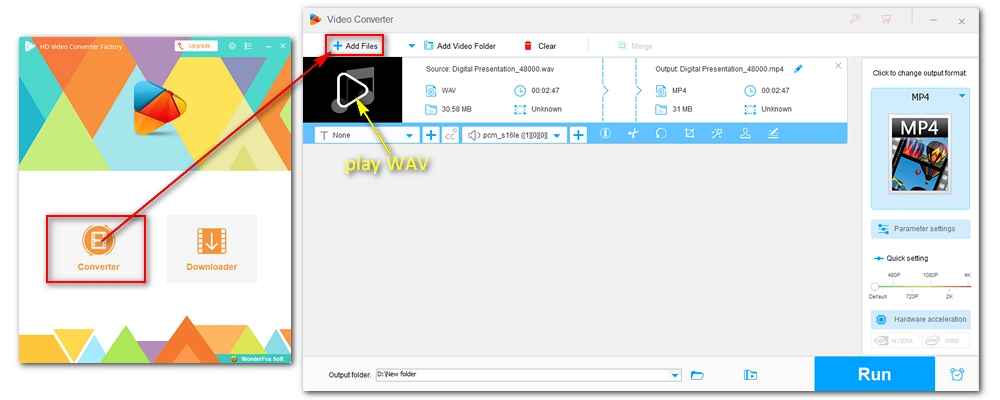 Step 3. Press the image format on the right side of the program to open the output format list. Then, head to the Audio format category and choose MP3 as the output format. (You can select other formats that can fit your target device)
Tips. You can modify the output settings to control the output audio quality and size. Just go to the Parameter settings and adjust the audio encoder, bit rate, sample rate, channel, and volume as you want.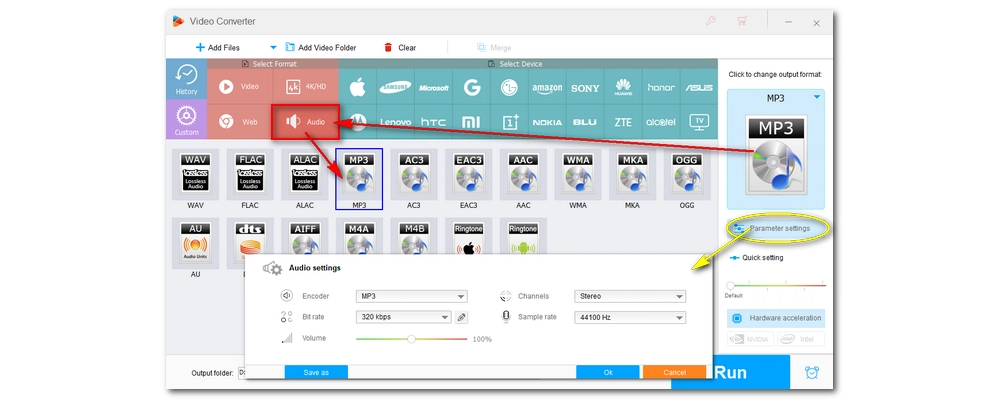 Step 4. Select an output folder by clicking the triangle button at the bottom of the interface. Finally, click Run to convert WAV files to MP3 or the format you select.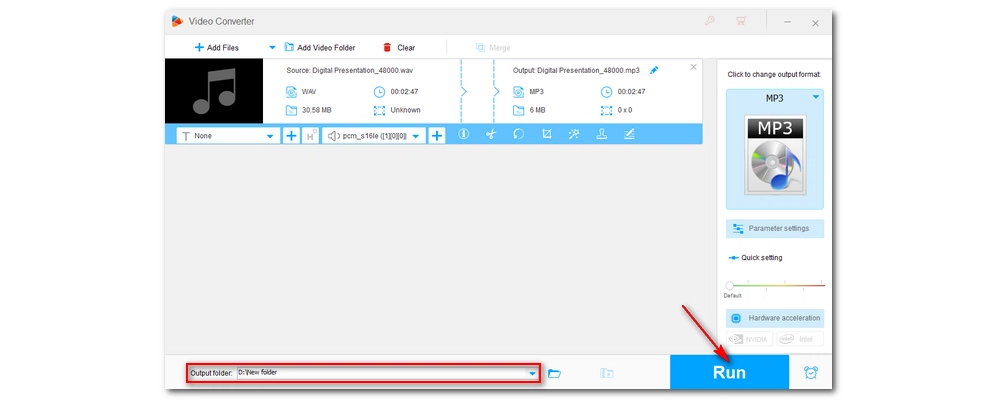 1. What is the Best Program to Play WAV Files?
It's easy to play WAV files with various media players today. Some media players offer the simplest way to play WAV audio and are most suitable for users with fewer demands. Some other programs like VLC provide advanced settings to let you adjust the audio effects, loop the audio, and more, making them the best choices for users who want to enrich their user experience. You will discover the best program to play WAV files depending on your own preferences.
2. Can MP3 Player Play WAV Files?
Many MP3 players support multiple audio formats besides MP3. If your MP3 player supports WAV, it should be no problem playing your WAV files. To know whether your MP3 player is compatible with WAV, you can search for the spec information relating to your MP3 player.
3. How to Play WAV Files on iPhone?
Apple Music, formerly iTunes, on iPhone can play WAV files natively. But sometimes, iPhone may not play some WAV files as expected. You can download the VLC Media Player for iOS to listen to your WAV files trouble-free.
I hope these solutions offered could really help you playing your WAV files. If your WAV audio still won't play, it might be corrupted. You can either use a repair tool or re-download the WAV file. That's all I want to share about how to play WAV files. Thanks for reading till the end. Have a wonderful day!