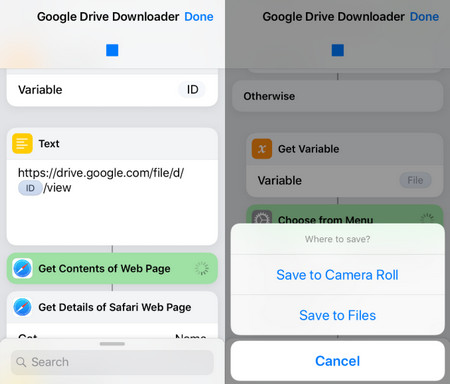 If you want to download a file shared by others via Google Drive, you don't have to first store that file into your Google Drive and then download it through the way mentioned in part one. All you need is the link of that file, be it a video, music, or document, and the Google Drive Downloader that comes with the Siri Shortcuts, an app that simplifies complex tasks on your iPhone into a single action. Below are the steps to download video from Google Drive to iPhone using Google Drive Downloader shortcut:
Step 1. Get the Google Drive Downloader shortcut in the Shortcuts app (you can download it from the AppStore).
Step 2. Copy the link of the Google Drive shared video and activate this Google Drive Downloader shortcut which will automatically prompt you to the next action.
Step 3. Confirm the action and choose to save the video to either Camera Roll or Files.