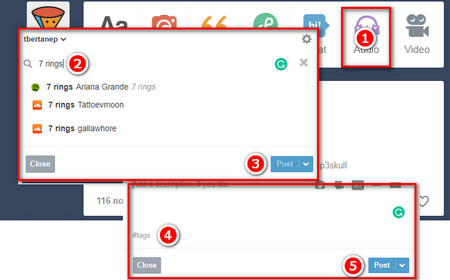 How to Post Audio on Tumblr
Since Tumblr has established a partnership with Spotify and Soundcloud, many songs can be added to your Tumblr by searching for the song name under the "Search" tab on audio posts.
Step 1. Click on the headset icon on the dashboard.
Step 2. Enter the name of the music, and Tumblr will search and display the results based on Spotify and Soundcloud library.
Step 3. Select the track you want to publish, Tumblr will automatically embed Spotify or Soundcloud player.
Step 4. Add a description or tags before posting, if desired.
Step 5. Click the Post button.