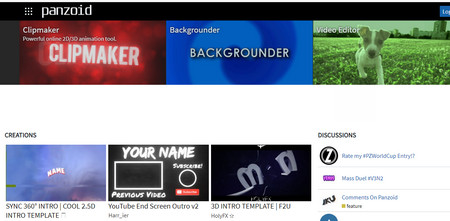 Panzoid – The Well-known Online Intro Maker
Panzoid is a popular online tool to create and edit video intros, backgrounds and 2D/3D animation. It offers creators plenty of free gaming intro templates, customizable shapes, fonts, and backroad scenes, as well as special effects. The output creations are in HD and have no watermark. Moreover, Panzoid allows users to make gaming intros without registration. With Prozoid, you can customize your own gaming intros as you wish. The following how-to tip shows you the steps of making gaming intros.
Extensive Reading: If you want to convert PZ files, a kind of project file created by Panzoid, to MP4 and other common video formats, here is the solution>>Convert PZ to MP4.