FLV (Flash video) is a format used to play videos and animations online. It has been the standard video format on YouTube and many other streaming sites for a long time. Though HTML 5 has replaced FLV gradually, some people still like to transmit videos in FLV format. However, the fact is that only a few video players and editors are able to support this format with proper codecs installed. In order to play FLV on devices smoothly, you should first solve the incompatibility issue. The best solution is converting FLV to a universal video format like MP4, which is accepted by most devices and applications.
And to complete the conversion task, a good FLV video converter is necessary. Then you may wonder which converting tool you can rely on. Don't worry. The following introduces the 4 best free FLV to MP4 converters and explains how to do the conversion in detail. Read on.
1. WonderFox Free HD Video Converter Factory
As a professional video/audio converter, Free HD Video Converter Factory can import all mainstream video formats and convert them to over 300 output formats, and presets for devices & platforms. For example, you can free convert FLV to MP4, MKV, WMV, WebM, HTML 5, etc. Besides converting file format, this software offers handy editing features to trim, crop, rotate, flip, add subtitles/watermarks/effects, and so on. FLV to MP4 converter free downloadfree download here. Follow the simple guide to convert and edit your FLV file at once.
Step 1. Import FLV File
Launch Free HD Video Converter Factory, and you'll see two modules on the home interface. Choose Converter. Then click Add Files to import your FLV video or directly drag the target file into the software.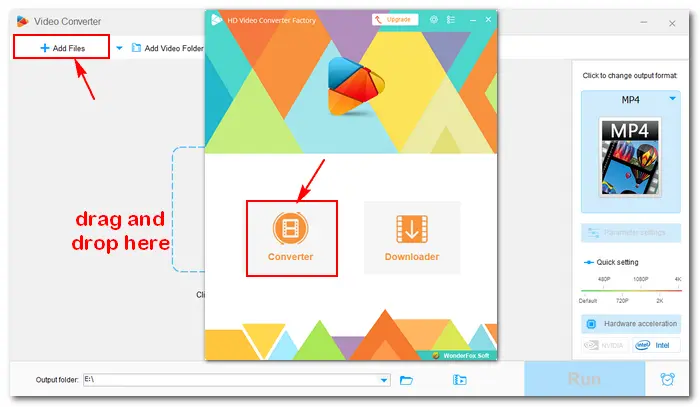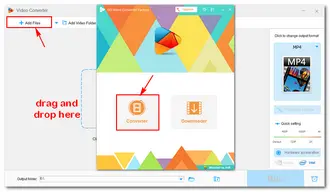 Step 2. Choose MP4
Click the format image on the right side of the interface, go to Video, and select MP4 as the output format.
Step 3. Start Conversion
Tap the inverted triangle button at the bottom to set an output folder. Then press Run to start the conversion. Once the process is completed, a window will pop up and prompt you to check the converted file.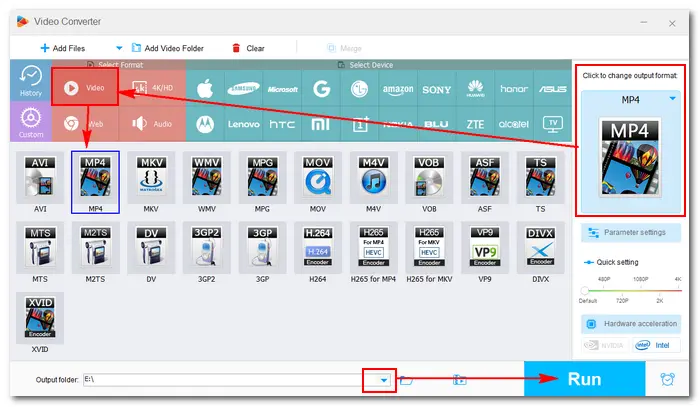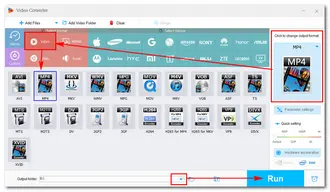 Optional - Below the imported video, there are some editing tools. You can use them to trim the video, rotate videos 90/180 degrees, crop the unwanted parts, add an audio track, and merge multiple files. Opening "Parameter settings" under the format image, you're able to change video bitrate, frame rate, aspect ratio, volume, and other parameters based on your actual needs.
Tips. If you need to convert dozens of FLV files, the Pro version of Free HD Video Converter Factory is a better choice, which enables you to convert (and compress) files in batch mode & with hardware acceleration. Upgrade now:
2. FLV to MP4 Converter Free – HandBrake
HandBrake is a popular converting tool for Windows and other operating systems. It can help you convert from nearly any format to a selection of common formats and codecs, including FLV to MP4. This open-source tool also allows you to add subtitles, modify presets, trim/cut/crop videos, and even rip DVDs.
Get HandBrake from the official website→
How to convert FLV to MP4 free with HandBrake?
Step 1: Run HandBrake after you install it on your PC.
Step 2: On the "Source Select" page, click "File" to load your FLV file. You can also drag and drop it into the program directly.
Step 3: Under the "Summary" tab, choose "MP4" from the "Format" drop-down list.
Step 4: Move to "Dimensions" where you can resize the video. Then go to the "Video" tab to select a video codec, adjust the video quality, and change other settings as you need.
Step 5: Click the "Browse" button to rename the file and specify an output path.
Step 6: Press "Start Encode" on the top menu bar to start the FLV to MP4 conversion.
You may need: HandBrake Tutorial | HandBrake Alternative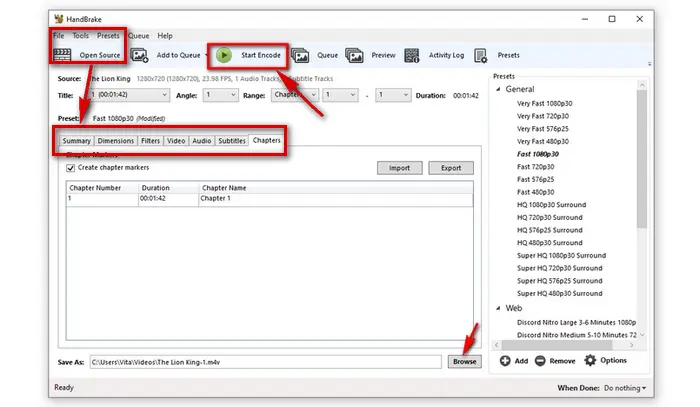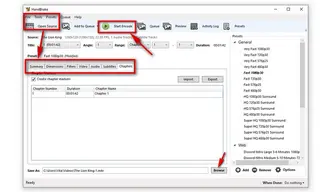 3. FLV Converter to MP4 Free – FFmpeg
FFmpeg is a free and cross-platform multimedia framework designed to process video and audio files. It's capable of playing, recording, converting, streaming videos and audio, as well as ripping DVD to digital formats. But since FFmpeg is based on the command line, it won't be easy to use for beginners. If you want to try this conversion method, do the following:
In the DOS window, enter the folder where storing the .flv files. For example, the path of my FLV files is "D:\flvFolder", how to convert FLV to MP4 free using FFmpeg?
Step 1: Press Win + R and input cmd to enter the DOS window. Input d: to enter the D disk.
Step 2: Type in cd flvFolder. (Now, you are in the FLV folder.)
Step 3: Input FFmpeg command line: for /R %f IN (*.flv) Do ffmpeg -i "%f" –c copy "%~nf.mp4". Then, you will get the converted .mp4 files.
In this free FLV to MP4 converter, you can also input proper command lines to change the video parameters as you desired. (Not recommended to inexperienced users.)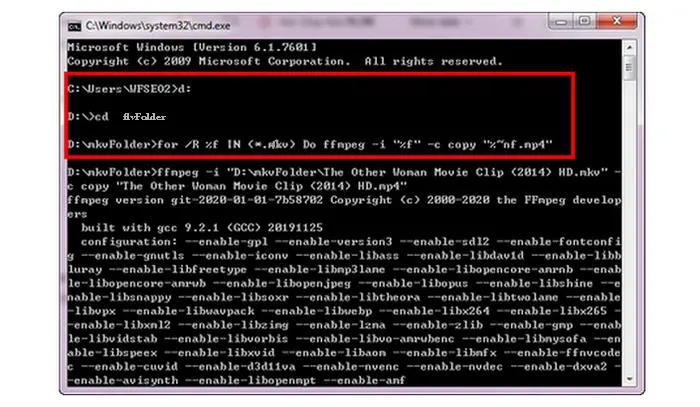 4. FLV to MP4 Converter Free Online
An FLV converter to MP4 free online offers a convenient way to do the video conversion. And you can find a lot of online converters that directly work from your browser. The operation is quite easy (usually 3 steps). But those web-based tools always have restrictions on file size, amount, format, resolution, etc. For instance, Zamzar only imports a single file smaller than 50MB, Freefileconvert allows a combined size of 300MB, and Cloudconvert supports multiple files with a max of 1GB. What's more, during the operation, you should make your internet in a stable condition. If it fails, retry to finish the conversion.
Now, I take cloudconvert.com as an example to show you how to convert FLV to MP4 free online.
Step 1: Visit the site: https://cloudconvert.com/flv-to-mp4
Step 2: Click "Select File" to add your FLV files.
Optional. Press on the wrench icon to change the resolution, alter the video codec, trim, add watermark, etc. Then, click Okay to save your settings.
Step 3: Click the "Convert" button to start uploading and converting your FLV files.
Step 4: When the process is over, download and save the converted MP4 files to your local folder.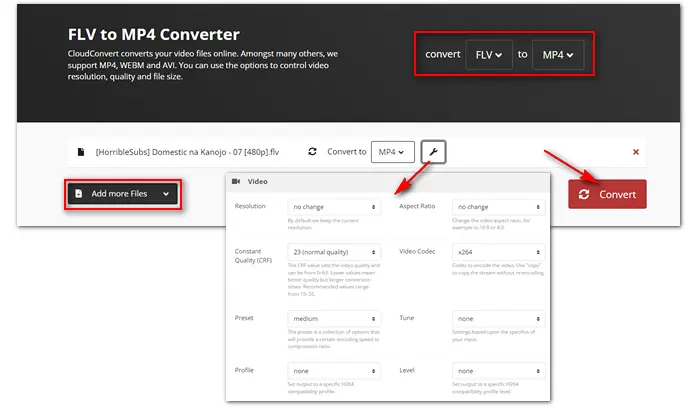 In Summary
That's all about the 4 best free FLV to MP4 converters for Windows. With brief introductions and detailed conversion steps of each converting tool, I believe that you can convert your FLV files to MP4 for handy playback and editing on various devices. In general, WonderFox Free HD Video Converter Factory is the overall easiest and most efficient solution for such conversion tasks because it has fewer limits while offering higher output quality and more additional features.