What's the Best Bitrate for FLAC Files?
FLAC stands for Free Lossless Audio Codec. It's an audio format that compresses audio without any loss in quality. FLAC files can achieve resolutions of up to 32-bit and 96 kHz, which is better than CD quality (16-bit/1411kbps with 44.1 kHz). But for most general listening, a bit rate of 320kbps is ideal. Of course, 1411kbps of a normal lossless audio track will sound better. So in the following article, we will guide you to convert FLAC bitrate to 1,411kbps or any other bitrate values you need. Just keep reading and follow.
Note. Bitrate affects both audio quality and file size. The higher the bitrate, the better the quality, while the larger the file size.
How to Convert FLAC Bit Rate Easily?
An audio bitrate converter is necessary for the bitrate conversion of high-definition FLAC files. Instead of online converting services that only support a small audio clip, we recommend you use the professional WonderFox HD Video Converter Factory Pro. It's a simple yet efficient FLAC audio bitrate converter for all users. It can help you convert multiple FLAC files to 256/320/512/1400kbps without effort. In addition to presets, this software supports manual settings up to 3000kbps. It also lets you modify other parameters, such as channel, volume, sample rate, and trimming or merging FLAC files. Moreover, you can use it to change FLAC format to MP3/WAV/AAC/WMA (and vice versa) and convert YouTube videos to FLAC with the desired bitrate.
Batch converting FLAC bitrate is not complicated with the help of HD Video Converter Factory Pro. Now, free downloadfree download and install the software on your PC. Let's get started!
Step 1. Add FLAC Files
Launch HD Video Converter Factory Pro, and select Converter. Then click Add Files or Add Video Folder to import all FLAC files. Or you can directly drag and drop them into the program.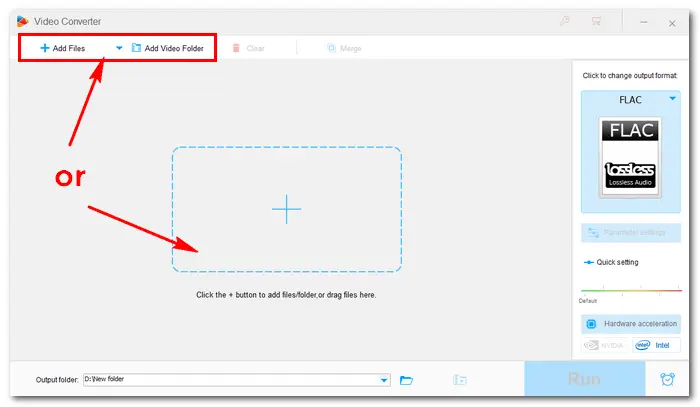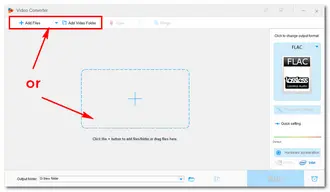 Step 2. Select an Output Profile
Navigate to "Click to change output format" at the upper right side of the program. Choose FLAC under the Audio tab as the export profile. Of course, you can choose WAV, MP3, WMA, AAC, etc.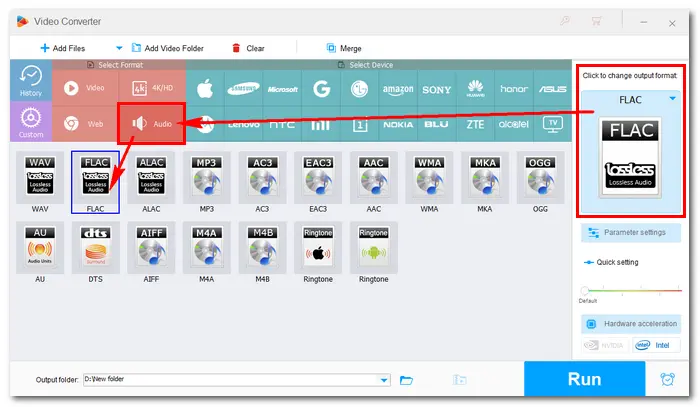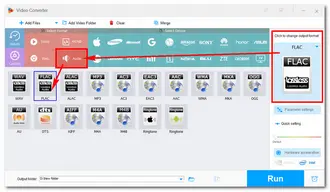 Step 3. Customize FLAC Bit Rate
Click on the Parameter settings button under the format image. In Audio settings, select a Bit rate value from the drop-down list or click the "pencil" icon to customize the bitrate as "1411". Press OK to save the change.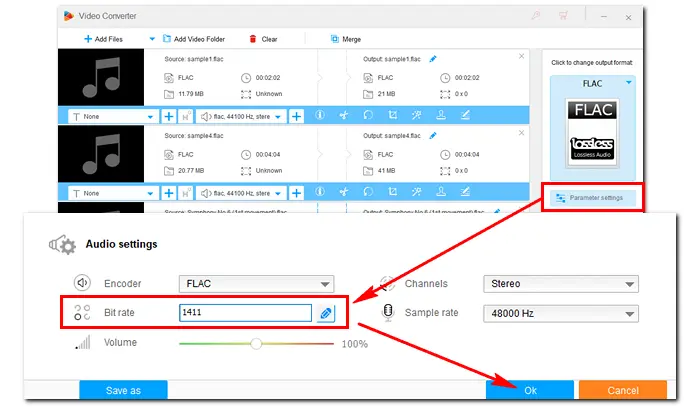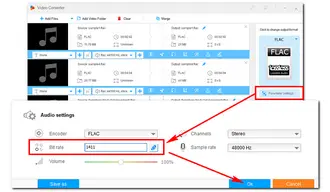 Step 4. Convert and Export Files
Hit the inverted triangle button at the bottom to set an output path. Finally, press Run to convert FLAC bit rate at once. The process will be finished soon.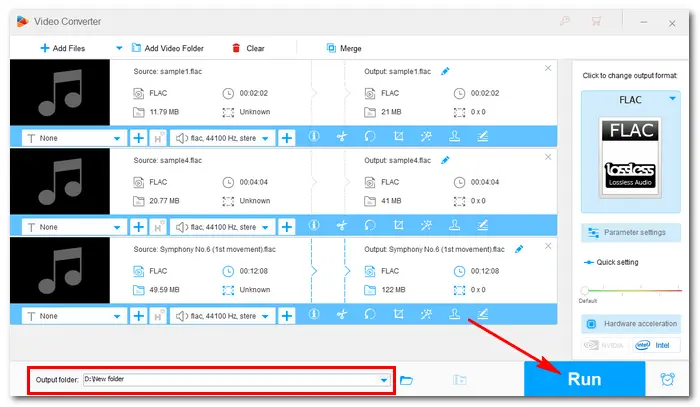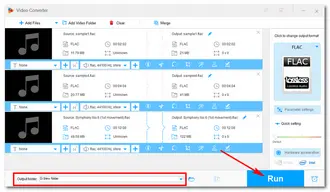 Sum-up
That is how to convert FLAC file bitrate in bulk for high quality. If you are looking for a lossless audio bitrate changer or video format converter, try WonderFox HD Video Converter Factory Pro. Free downloadFree download it here.