DaVinci Resolve is a cross-platform editing application that combines color correction, visual effects, motion graphics, and audio post-production into one. It can help you create videos with visual effects and export them to MP4, AVI, or QuickTime files. Meanwhile, this app offers many options for the output videos, such as video codec, resolution, bitrate, sample rate, etc.
Can DaVinci Resolve compress video? Yes! You can use DaVinci Resolve to compress a video by lowering the quality or re-encoding it to H.265 (HEVC), which compresses much more of the video size than other compression methods (such as H.264 and MPEG-4) at the same video quality. You can also trim the video to reduce the file size in DaVinci Resolve.
The following post will show you how to. Please read on.
How Does DaVinci Resolve Compress Video Files?
Step 1. Import Your Video File
Open DaVinci Resolve (the latest version) on your PC. Select "New Project" from the "Project Manager" and create a new project. Then, open "Project Settings" in the lower right of the interface to show more settings.
Step 2. Cut the Video
Click the "Cut" tab at the bottom control pane. Drag the sliders to shorten the video length for DaVinci Resolve video compression.
Tips. The Trim Edit Mode in DaVinci Resolve allows you to cut the video by dragging the sidebar. And the Blade Edit Mode can help you split the clip into smaller video sizes.
Step 3. Customize Output Settings
Select the clip and check the "Export Video" box. To make DaVinci Resolve reduce file size effectively, here we recommend you choose the "MP4" format and "H.265" codec. Though MP4 H.265 offers high compression efficiency, you can pick MP4 H.264 for compatibility with YouTube, Instagram, Facebook, etc.
>> See H.265 VS H.264
You can also downscale the video resolution from 4K to 1080p, 1080p to 720p, or lower to reduce video size in DaVinci Resolve. Moreover, adjust the frame rate, set the export quality to Automatic or Medium, select "Restrict to", and lower the video bitrate.
Step 4. Render the Compressed Video
Click the "Browse" button to select an output path for the compressed video. Then press the "Add to Render Queue" button, and the project will display on the list of the workspace. Click "Start Render" to export the compressed video file from DaVinci Resolve to your computer.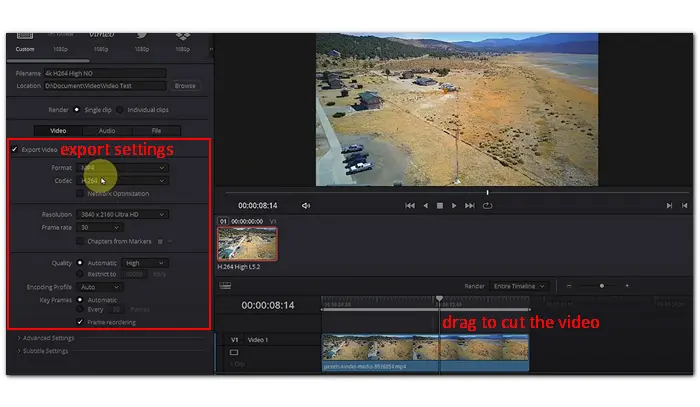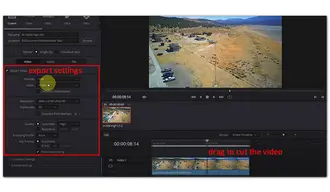 Alternative to DaVinci Resolve Reduce File Size
WonderFox HD Video Converter Factory Pro is a practical video compressor for Windows PCs. It offers a similar solution for video compression, yet a more concise user interface than DaVinci Resolve. With HD Video Converter Factory Pro, you can easily convert videos to H.265, reduce the video bitrate, resolution, frame rate, and cut videos to shrink the file size. Beyond that, you're able to compress multiple files at the same time via a simple click. It's easier and faster than DaVinci Resolve reducing file size. Free downloadFree download the software to start your work.
How to compress video with DaVinci Resolve alternative?
Step 1. Launch HD Video Converter Factory Pro and open "Converter". Click "Add Files" to import your video files.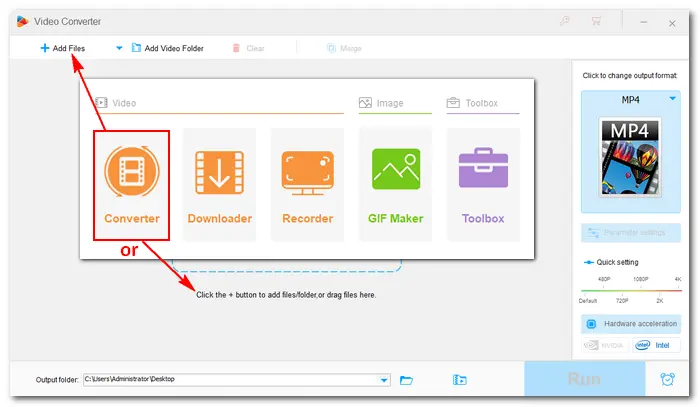 Step 2. Click the format image to select "H265 for MP4" as the output format. You can click the scissors icon to remove the unnecessary parts from the video.
Go to "Parameter settings" to decrease the video resolution, bit rate, frame rate, etc., to a lower value. Once done, press "OK" to save your settings. Alternatively, press the batch compression button at the bottom and select a compression ratio to reduce the file size at one go.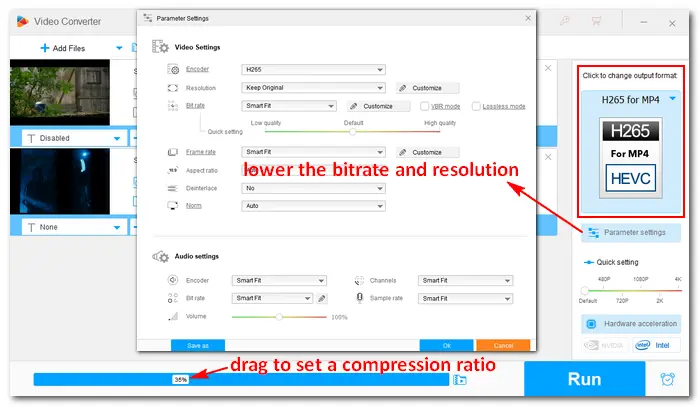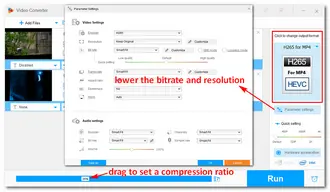 Step 3. Hit the inverted triangle button to specify an output folder. Then click "Run" to export the final files. The process will complete in a few seconds to minutes, depending on the file size.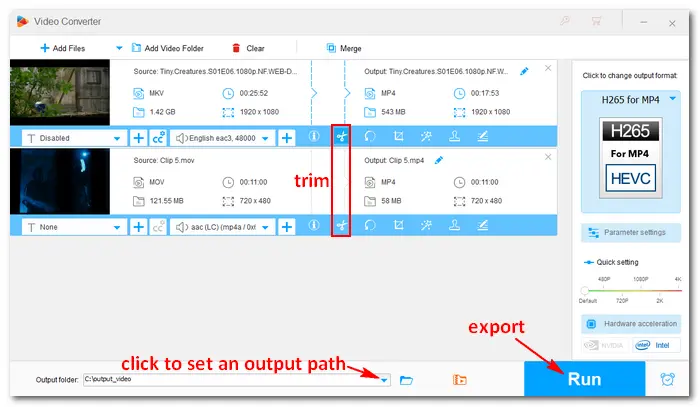 In Summary
DaVinci Resolve is an all-in-one professional video editing suit developed by Blackmagic Design. It can help users create attractive videos with various motion graphics and effects. It can also help to reduce the file size by changing the export video parameters. But compared to HD Video Converter Factory Pro, DaVinci Resolve is more complicated.
DaVinci Resolve vs. HD Video Converter Factory
• DaVinci Resolve 18: Free
• DaVinci Resolve 18 Studio: $295
The free version and DaVinci Resolve 18 Studio can decode and encode H.265 codec. The Studio version supports GPU acceleration, and the real-time performance will be better than the free one.
• Free HD Video Converter Factory: Free
• HD Video Converter Factory Pro: $29.95 (or $34.95 bundled with DVD Ripper Pro)
The free and pro versions of HD Video Converter can both decode and encode H.265 codec. They offer much more export formats and settings than DaVinci Resolve/Studio. Moreover, HD Video Converter Factory Pro supports batch mode and GPU acceleration to finish your job at the fastest speed.
Also check: Top 5 Free Video Compressors without Watermark
That's all about how to reduce video file size in Davinci Resolve and its simple alternative. Anyway, I hope this article is helpful to you. Thanks for reading!