Files with .wlmp extension are project files associated with Windows Movie Maker, a free editing software created by Microsoft as part of the Windows Live Essentials suite. WLMP file is not a valid video file but used to store related material for video creation in the freeware.
Therefore, you cannot open this file with regular media players like VLC or PotPlayer. The only way to play WLMP file is to import it into Windows Movie Maker and play it. If you want to play it on other devices or players, you need to convert it to a regular video format. Note that Windows Movie Maker is the only WLMP converter. With it, you can directly export WLMP to Windows media video file (.wmv).
Next, we'll show you how to convert WLMP to WMV in a stepwise process.
As stated previously, you cannot open and convert WLMP files using other players but Windows Movie Maker. And it is a part of Windows Essentials 2012 software suite. Unluckily, Windows Essentials 2012 suite reached end of support on January 10, 2017. Though it is no longer available for download on Microsoft official site, you can still get the installer from other sites.
Here are two download links.
1.Universal English:
http://web.archive.org/web/20170112124505/http://wl.dlservice.microsoft.com/download/C/1/B/C1BA42D6-6A50-4A4A-90E5-FA9347E9360C/en/wlsetup-all.exe
2.British English:
http://web.archive.org/web/20160423192125/http://wl.dlservice.microsoft.com/download/1/9/4/194B1919-A211-441F-BC0E-34F6B533B876/en-gb/wlsetup-all.exe
(Source from Microsoft official forum)
If you're using Windows 10, you can refer to this post for a detailed guide on the Windows Movie Maker installation: How to Download Windows Movie Maker for Windows 10
After the installation, follow the instructions below to start converting WLMP to WMV.
Step 1. Open Windows Movie Maker and click File > Open Project. Select the .wlmp project file you want to convert and click Open.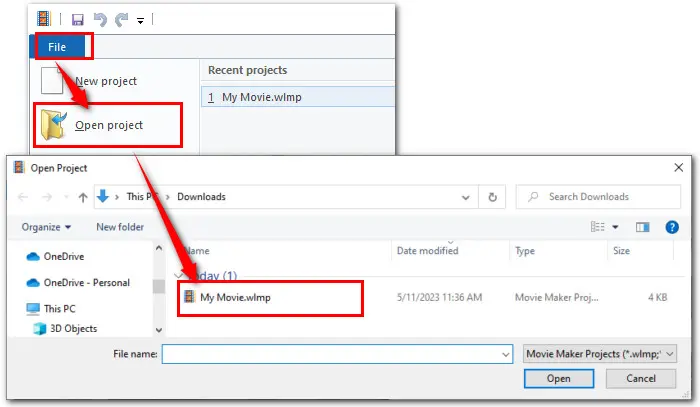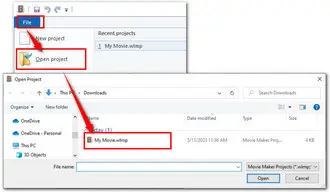 Step 2. After that, hit the File tab again and choose Save movie. Then select a needed export profile. For example, choose Recommend for this project. Options to get higher resolution or convert to phone, TV, or websites, are also available.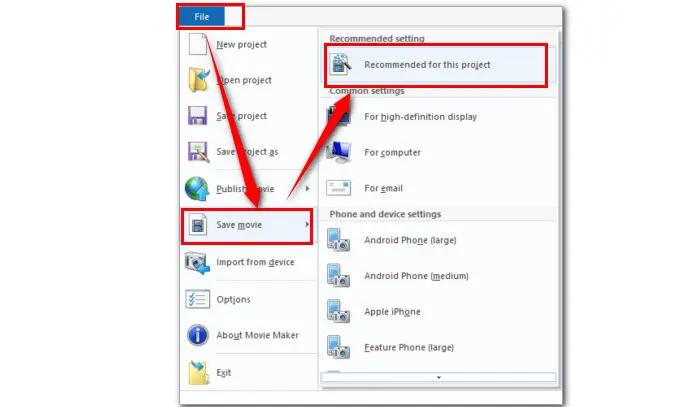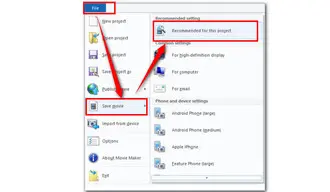 Step 3. Click the Save as type to choose Windows Media Video File (*.wmv) as the output container. Create a new name in the File name box. Finally, press Save to export the WMV video from the imported WLMP project files.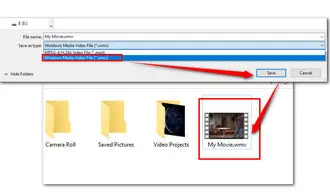 That's the whole process of converting WLMP file to WMV video using Windows Movie Maker. It's super easy. And you can also use it to convert the project file to MP4 video for greater compatibility if you're using the Windows Movie Maker 12 version.
But I noticed that earlier versions of Windows Movie Maker could only export video in WMV format. If you want to convert the resulting WMV file to other formats, get a dedicated video converter please. Here, I sincerely recommend WonderFox HD Video Converter Factory Pro.
WonderFox HD Video Converter Factory Pro is a professional video converter designed for handling varieties of video and audio-related issues.
With it, you can convert WMV or any video format to MP4, MKV, AVI, MP3, WAV, iPhone, Xbox, LGTV, and 500+ predefined profiles. The provided batch mode and GPU acceleration enhance the conversion efficiency significantly.
Download Download the powerful converter here. Then refer to the 3-step guide as follow to convert WMV in bulk:
Step 1. Launch the program and enter the Converter module. Drag the exported WMV files to the blank workspace. Also, you can hit Add Files or Add Video Folder to load them in bulk for a fast batch conversion.
Step 2. Hit the format image on the right side to open the full list of output presets. You have over 500+ profiles to choose from. For example, go to Video and select MP4.
Step 3. Once the output format is selected, back to the main interface. Hit the bottom triangle button to set a destination or just leave it as default. At last, click Run to start batch converting WMV to MP4 format.
Pro-tips: Before hitting Run, you can go to the Parameter settings to modify resolution, aspect ratio, frame rate, bitrate, sample rate, etc., to you liking.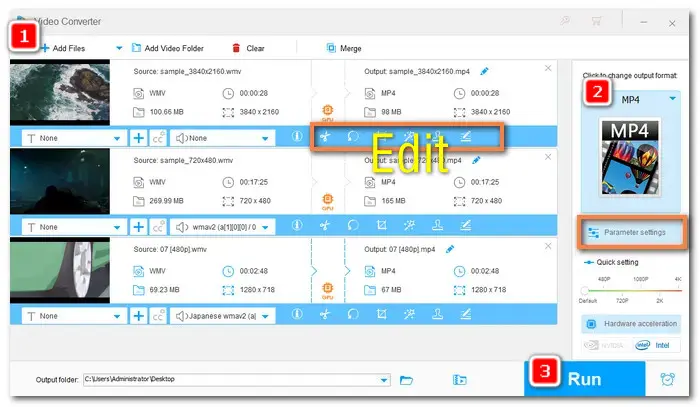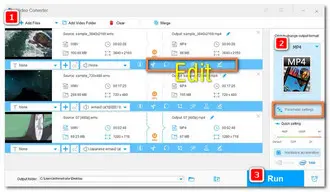 When I am searching the way to convert my WLMP files, I find some WLMP to WMV converters online. But sadly, none of them works. Even worse, when I visit the website, it automatically downloads and installs some malware on my PC. Therefore, if you find an online service claiming you can convert WLMP to WMV online free using it, please be careful. These sites are might phishing sites.