If you have a collection of original music CDs that you'd like to protect from damage, then creating a CD duplication would be a good solution. Precious original CDs for collection and duplication CDs for frequent playback.
CD duplication process is pretty simple with the right tools and methods. Now, let's see how to duplicate a CD on Windows.
Hot search: Best Free DVD Ripper Review | Top 10 Free DVD Burning Software | Top 5 Free DVD Cloner
Like VLC can be used as a free media converter and DVD ripper, Windows Media Player, in addition to being a media player, it also includes the ability to rip music from CD/DVD and copy music to compact discs, burn recordable discs in Audio CD format or as data discs with playlists. Here, we'd like detail how to duplicate audio CD with Windows Media Player.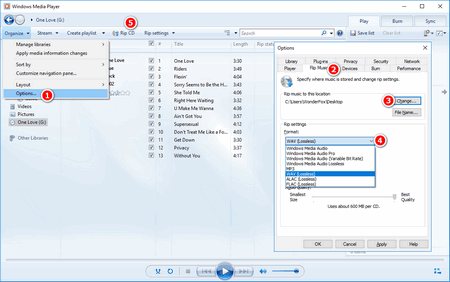 How to Rip Music CD
Preparation: For duplicating CD, firstly, you'll need to rip your CD to Library first and then burn these songs to a blank CD.
Step 1: In order to duplicate CD, insert the original music CD to CD/DVD drive and then open Windows Media Player and wait for it to recognize the CD.
Step 2: Hit Organize and then click Options from the Tool menu. And then you need to click Rip Music. Choose the ripped music output path and audio formats. Click OK to finish settings and then click Rip CD button to finish the ripping music CD process.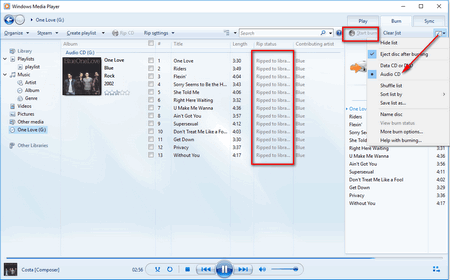 Windows Media Player for CD Duplication
Step 3: The ripped CD songs will be automatically stored in Library. And then you need to select the Burn tab in the Library Mode. Next, select the Burn options button, and then select Audio CD or Data CD. Now, let's go to how to duplicate audio CD after ripping.
Step 4: Insert a blank disc into your CD burner.
Step 5: Search for the items in your Player Library that you want to duplicate to the disc, and then drag the songs to the Burn List section on the right side of the screen.
Step 6: When you're finished with the list, select Start burn. That's the whole CD duplication process, the songs will be duplicated to your new CDs.