To burn MP3 CDs on Windows, you don't need to install any third-party CD burning software. The default Windows Media Player enables you to burn MP3 files to a CD as a free MP3 CD burner. Let's have a look at how to make MP3 CDs with it.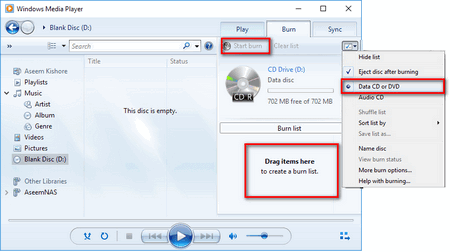 The Process of MP3 Burning with WMP
Step 1. Insert a blank CD disc into the DVD/CD ROM drive of your computer.
Step 2. Run Window Media Player.
Step 3. Click on the Burn tab at the top right, then click on the Burn drop-down list and select Data CD or DVD.
Step 4. Drag the MP3 files you want to burn from your computer into the blank area under Burn list. Please note that the size of the MP3 files you burn can't exceed the capacity of the CD as the screen displays.
Step 5. Finally, click on Start at the top of the window to burn MP3 CD.