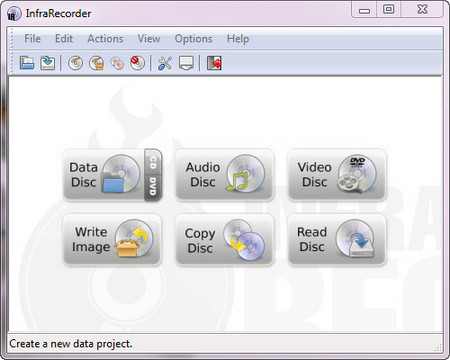 Infra Recorder
The first CD burner I'm going to check out is Infra Recorder, which is greatly lightweight and easy to use in simple CD and DVD burning. Infra recorder is a very simple program that gives you all the needed features that you'd be looking for. To burn CDs here, you can almost refer to the above tutorial, the operations are really similar. But keep it in mind that the CD burner only supports music files in MP3 and WAV.
Official Download Site: http://infrarecorder.org/
Main Features:
1. Create custom data, audio and mixed-mode projects and record them to physical discs as well as disc images.
2. Create disc copies, on the fly and using a temporary disc image.
3. Copy audio tracks and data to.wav, .wma, .ogg, .mp3 and .iso.