DVDStyler is a cross-platform free DVD burning software. It works well on Windows, Mac OS X, and Linux, and always does what you expect. With DVDStyler, users can not only burn video files to DVD that can be played on any standalone DVD player, but also create DVD menus that are individually designed. If you are new to DVD burning, DVDStyler is a great choice. Next, let's move to the detailed tutorial on how to use this MOV to DVD converter.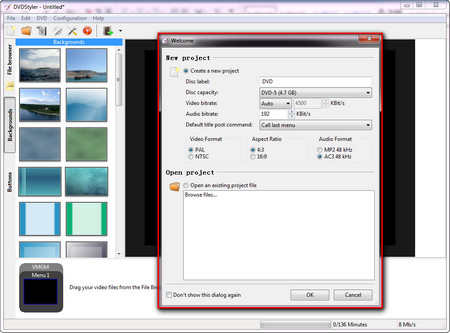 Create a New Project
Step 1: Create a New Project
When you have installed DVDStyler on your computer, run it and it will automatically pop up a New Project window.
Enter the disc label.
Select capacity of your DVD: 4.7 GB (Single Layer DVD) or 8.5 GB (Double Layer DVD).
Choose the video format: PAL vs NTSC DVD
Choose Aspect Ratio: Aspect Ratio
Click OK to save your settings. Then, you can enter a title for DVD menu and select a template.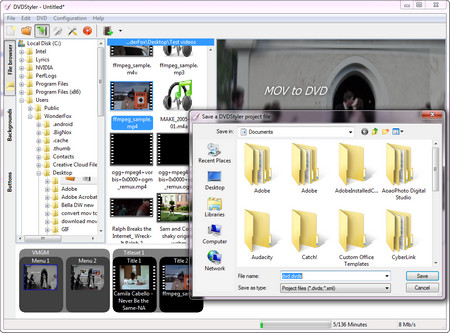 How to Convert .mov to DVD
Step 2: Add MOV Files into Program
Click on the File Browser tab on the left side of the program window. Navigate and highlight the directory containing the MOV files. The icon for each clip will appear on the right side of the directory tree. Drag the desired MOV video (left-click, hold, and drag) to Titleset Manager at the bottom of the program window. Available space on DVD is displayed in the status line at the bottom of the application window.
Step 3: Save the Project
A DVD has now been configured. Click on the Save button to save your new project.
Step 4: Start to Burn .mov to DVD
Click on Burn button on the top menu bar. You can also preview your video content by clicking on the Preview button before burning DVD.
That's all about how to burn QuickTime movie to DVD.
At last,
It is worth reminding everyone that the DVD creation process can take several hours. After burning MOV to DVD, you can pop it into a normal DVD player for viewing on a large TV screen. Hope this article is really helpful to you and you can share it with more people.