Since its release in 2015, Windows 10 has offered its users so many convenience including speech-to-text control, clearer and detailed menu Cortana and so on. However, in the meantime, it brings trouble which has confused us for a long time in which the most evident one is its incompatibility. This time I am going to introduce a video converter compatible with Windows 10 and tell you how to change video formats under it and how to fix those video playback issue including green screen issue and desynchronize between video and audio files under this system we love and hate. ( Of course, it there are no problems after updating that you just need the best Windows 10 conversion software, HD Video Converter Factory Pro must be worth the title! )

by Michael
Update on March 26, 2020
Why Do We Need this Windows 10 Video Converter
Play videos on Windows 10
As far as we have concerned, Windows 10 is a brand-new generation's operating system developed and released by Microsoft in 2015. It has brought us so much convenience including its speech-to-text control, Cortana and Xbox game supporting. However many problems also follows with itspopularity. " My video converter doesn't work after the update to Windows 10", " Why can't my video be played on Windows 10 smoothly" ," The video and sound are out of syn after I have updated my system from Windows 7 to Windows 10", or " The screen becomes green when I try playing my mp4 files on Windows 10."
To fix these issues. HD Video Converter Factory Pro - The best video converter for Windows 10 might be your choice. As we all know, a single
format tends to rely on different formats, such as MP4, made up of MPEG4 and H264. While Windows 10 is not 100% perfect due to its instability, some kinds of codec may be missing which results in a failed playback. Still take MP4 as an example: You try to play a MP4 file of H264 while your Windows 10 system has no H264 but just has MPEG4, the video can only be played when the H264 of your video file is replaced by MPEG4. HD Video Converter Factory Pro is exactly going to solve the issue in this way helping to find an available encoder for successful playback.Perfect compatibility with Windows 10, faster conversion speed than its counterparts, more than 300 formats and codecs including the commonest MP4, AVI, Xvid and DivX to those rare ones like VP9, H265 and 3GP,  higher compression ratio as a video compressor ( compressing avi, mp4 and MKV... ) and a audio compressor ( compressing MP3, WAV or FlAC... ), and multiple editing functions may all be the reason why it takes off.
Free download the freeware of the best video converter Windows 10 to freely change the formats and codec of your video files.
3 Steps to Convert Your Videos with the Best Video Converter for Windows 10
Step 1
Launch the program and on the upper left side of the interface you will see two big words " Add Files". Click on it to move the video to the interface, and of course, you can do it directly by dragging as well. At the bottom, set your desired output path by clicking on the file icon next to "Open Folder".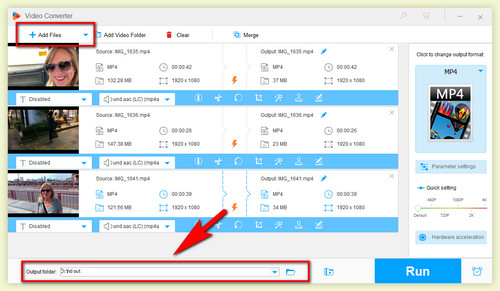 Add your video file
Step 2
Go to the right side and click below "Output Format" then enter a new page where there are various kind of sections about formats. Click on the video section and then choose the format you want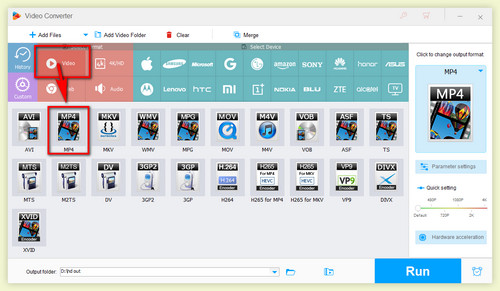 Choose a format
Step 3
Roll back to the previous page, on the lower right side, click on "Run" to launch the conversion. It usually only takes a few seconds before a 500MB video gets totally converted.
Begin your conversion
Tips On Restoring Your Video
Video desynchronizes with audio? Screen becomes green and playing or playback is hardly smooth? Or want to restore your video to enable it to be played on Windows 10 without change video formats and encoders? Simpler than conversion, add your video onto the interface and you can just keep the original format ,for example, if you have added a MP4 file, choose the MP4 Format as the output which is similar to step 2 above and launch the conversion and then it will be automatically fixed after the conversion is finished.
The Best Video Converter Will Make Your Video Look Smoother and clearer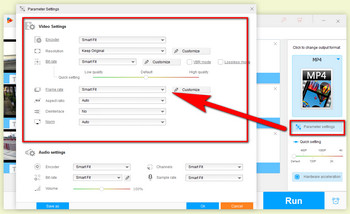 Preset video parameters
Now, please download the HD Video Converter Factory Pro to complete your jobs.
Conclusion on the Video Converter Windows 10
A powerful windows 10 video converter compatible with various formats and codec.
Able to enhance your video by presetting its parameters including frame rate and resolution.
To download video from main-stream websites at the fastest speed.
With high compression ratio, HD Pro acts as a high efficient video and audio compressor.
A Ringtone maker for enchanting mobile phone rings.
Editing your videos by cropping, clipping and adding special effects.