What is 2K Resolution?
2K itself is actually generic, referring to any resolution approximately 2000 pixels wide. It is used in the movie projection industry as a standard digital cinema resolution. Some common 2K resolutions are:
2048×1080 - Official DCI 2K (native resolution)
1998×1080 - DCI 2K (flat cropped)
2048×858 - DCI 2K (CinemaScope cropped)
2048×1152 - QWXGA (Quad Wide XGA)
1920×1200 - WUXGA (Wide Ultra XGA), also known as "1080p+"
1920×1080 - 1080p Full HD
In short, 2K resolution has a width of around 2000 pixels. It is called 2K because the width is close to 2000 pixels, and does not refer specifically to the Official DCI 2K standard (2048×1080).
2K vs. 1080p - What's the Difference?
As you can see, 1080p FHD is also included in the sample list of 2K resolution. Now you may be wondering - what is the difference between 2K and 1080p? Let's make a comparison:
Resolution: 2K is higher resolution than 1080p as 2K typically has a slightly higher pixels in width or height.
Aspect Ratio: 2K commonly uses wider aspect ratios like 16:9, 16:10, or 17:9, while 1080p is 16:9.
Use Cases: 2K is used for commercial digital cinema, while 1080p is used for HDTVs, consumer media, and streaming services.
Size: 2K video files are larger than 1080p files.
Quality: 2K is higher quality with sharper image details than 1080p.
Compatibility: Not all devices support 2K resolution, while 1080p is more widely-supported.
The Best Ever 2K to 1080p Video Converter
To be honest, the difference in quality between 2K and 1080p resolutions is not always noticeable, especially if the image or video is being viewed on a small screen, but 1080p remains a widely used and reliable resolution that offers good visual quality for most everyday activities. So, converting 2K to 1080p ensures that your video will be compatible with a wider range of devices and platforms.
If you're a newcomer to video conversion and looking for a simple yet powerful solution to convert your 2K videos to 1080p, WonderFox HD Video Converter Factory Pro is the perfect tool for you. With its user-friendly interface and diverse video processing capabilities, it stands out as an all-in-one solution for video enthusiasts. And it fully supports the latest hardware acceleration technologies to convert 2K video to 1080p at blazing fast speeds. Download the fantastic app and learn how it works.
Step 1 - Add 2K Video Files
Install and runInstall and run HD Video Converter Factory Pro on your PC. Open "Converter" module, and click "Add Files" to import the 2K video files you want to convert. Alternatively, you can drag and drop them into the windows as well.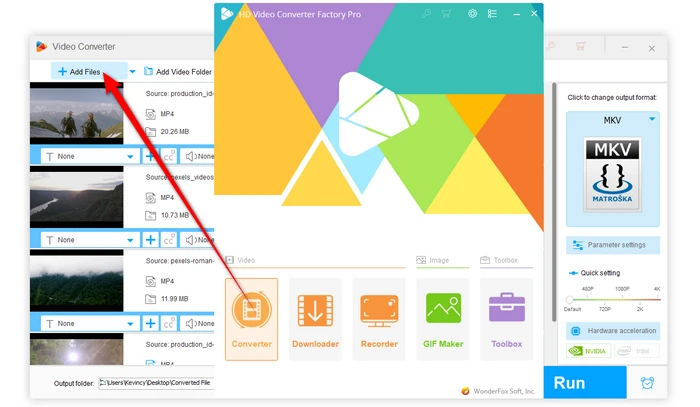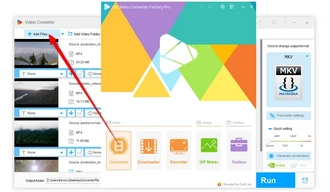 Step 2 - Select an Output Format
Expand the "Output Format" list on the right side of the interface, choose any format from the built-in 500+ optimized presets as you wish. In terms of the best compatibility, MP4 H.264 or HEVC is highly recommended.
Also Read: 4K vs 1080p | Convert MP4 to 1080p | Downscale 1080p to 720p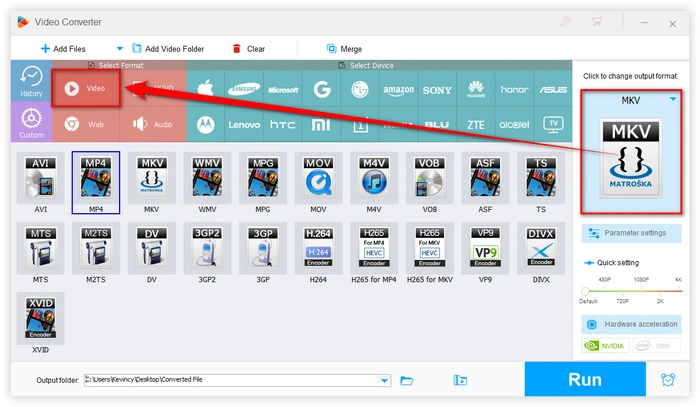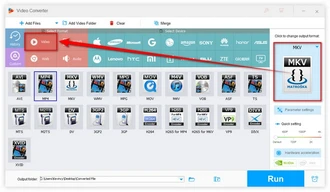 Step 3 - Tweak Resolution from 2K to 1080p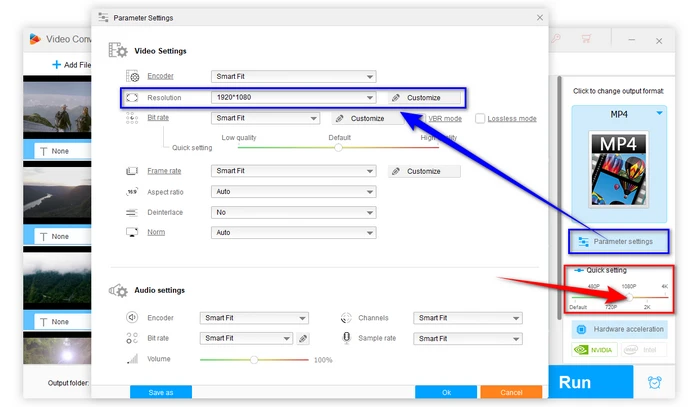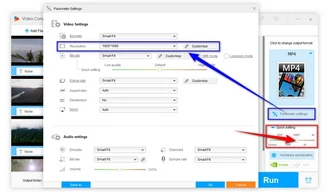 Step 4 - Start 2K to 1080p Conversion
When everything is all set, choose a destination location on the bottom. Finally, hit the "Run" button to start converting 2K video files to 1080p with GPU acceleration enabled. When the process is complete, the 1080p converted files will be saved to your designated output folder.
Tips. In addition to converting videos, WonderFox HD Video Converter Factory Pro can also download, record, and edit 1080p videos, making it a versatile tool for all your video needs.