After learning about "what does ripping a CD mean" and the dos and don'ts for ripping DVDs, you may also wonder how to rip a CD. That's the reason we come to this part. For ripping CDs, there are many functional options. You can either use a dedicated CD ripper or make the process easier with the help of Windows Media Player. Of course, the latter is most people's preferences as it doesn't require extra software installation and is easy for all. Here are steps of how to rip a CD in Windows Media Player.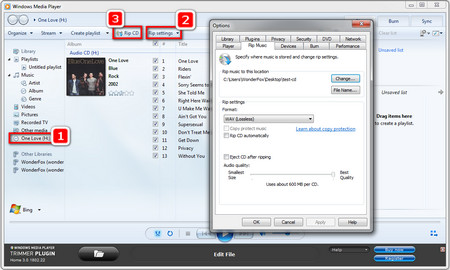 Does Ripping a CD Damage It? –Certainly No
Step 1. Insert the CD disc into your computer, open Windows Media Player. Select the CD drive letter from the left toolbar.
Step 2. Click on the Rip setting tab, select the output format as MP3, WAV, WMA, etc., move to Audio Quality to specify the output quality, and alter other settings, such as Rip CD automatically and Eject CD after ripping. If you want to set the output folder, select the More options… tab, Rip Music, then Change to designate the location for saving output tracks.
Step 3. When everything is set, select Rip CD. Windows Media Player will rip all tracks from the disc by default. Yet if you only want to extract specific tracks, deselect the box next to unwanted tracks. When the selected tracks are ripped, check them in the output folder.
Furthermore, you can try another method provided by us: Rip CD with VLC