To figure out whether you can upload ProRes to YouTube, we need first to know what formats are compatible with YouTube. According to YouTube Support, you can upload the following video types to YouTube:
.MOV
.MPEG-1
.MPEG-2
.MPEG4
.MP4
.MPG
.AVI
.WMV
.MPEGPS
.FLV
3GPP
WebM
DNxHR
ProRes
CineForm
HEVC (h265)
As you can see, ProRes is natively supported by YouTube, thus you can upload ProRes videos to YouTube.
ProRes is a compressed video codec introduced by Apple Inc., in 2007. It has evolved and there are now six formats of varying qualities – ProRes 4444 XQ, ProRes 4444, ProRes 422 HQ, ProRes 422, ProRes 422 LT, and ProRes 422 Proxy. You can commonly see ProRes files with the QuickTime "MOV" wrapper.
ProRes offers high video quality as it was mainly designed for post-production use such as editing and color correction. But high file performance comes at a cost. A video employing ProRes codecs is usually large in file size and takes up a lot of storage space.
YouTube supports uploading in all standard resolutions, including 1080p, 4K (2160p), and 8K (4320p). And the higher the quality, the longer it will take for YouTube to process the video.
But be aware that YouTube will always re-encode what you give it and then create multiple versions for your viewers. YouTube won't upscale a low-quality video to a high but can downscale it. So, to offer your audience the best visual experience, you're highly recommended to upload your source high-quality ProRes video, be it 1080p or 4K.
By doing so, you can minimize the degradation that YouTube's encoding does to your video.
But here comes the thing: the processing time can take a while. And the YouTube uploading may get stuck. If you run into this upload stuck issue, check out this guide to get help => How to Fix YouTube Video Processing Stuck at 0%, 95%, or 99%?
Though YouTube supports uploading ProRes-encoded videos, it is not the official recommended uploading format. According to YouTube's recommended spec page, the following are the recommendations:
Container: MP4
Video codec: H.264 (no interlacing)
Audio codec: AAC-LC
Frame rate: no more than 60 fps
If you don't mind lowering the video quality and want to get the job done quickly, you can convert your ProRes videos to the YouTube recommended specs for smooth uploading. To simplify this conversion process, you'll need an assistant— WonderFox HD Video Converter Factory Pro, a trustworthy ProRes converter with hardware acceleration supported. It allows you to convert ProRes to other YouTube-supported formats like MP4, AVI, WebM, MPEG-2, etc., and vice versa. You can also adjust video resolution, bitrate, frame rate, and so on.
Free download the software and then take the following steps to convert your videos to help upload ProRes to YouTube faster:
Step 1. Run the program and enter the Converter module. Next, drag all your ProRes videos into the blank conversion box.
Step 2. Click the right-side output format image and hit the Video tab. Choose MP4 from the profiles below.
Step 3. Head over to Parameter settings to set the codec and change other settings including resolution, sample rate, bitrate, aspect ratio, etc.
Step 4. Before conversion, click the ▼ button to set a new output folder or leave it as default. Then, press the Run button to start the conversion process at once.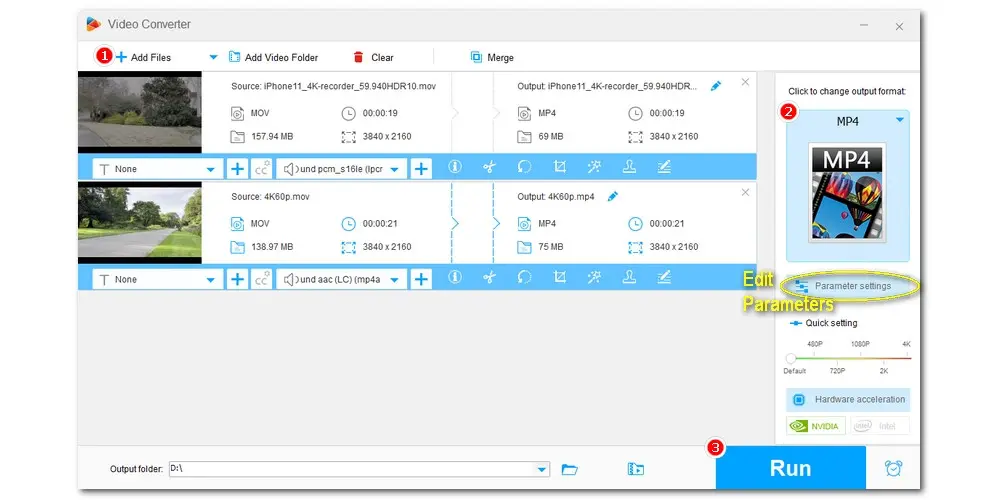 That's all about how can you upload ProRes files to YouTube with no trouble.
Aside from format conversion, the recommended WonderFox HD Video Converter Factory Pro is also available for other multimedia solutions, including downloading YouTube videos, screen recording video and audio, compressing large videos, cutting long video files, quickly merging video clips into one, and more. Download the software to explore more exciting features!
FAQs
1. Can you upload ProRes files to YouTube?
Yes. ProRes is on the YouTube supported format list for upload.
2. What is the best format to upload to YouTube?
According to YouTube, the recommended video format is the .MP4 file type.
3. Is ProRes better than H.264?
It depends on your actual needs. For a smaller file size and ease of distribution, H.264 is better. But ProRes are less compressed, so it retains more information, resulting in better video quality.