Why Do We Need to Trim a Teams Recording?
As part of the Microsoft 365 family of products, Microsoft Teams is a platform for workspace chat, video conferencing, file storage, and application integration. It allows users to hold online meetings and record any meeting or call for future viewing. In Microsoft Teams, you can capture videos, audio, and screen-sharing activities, and share the captures across your organization. But sometimes, the meeting recording is too long, and it's hard to find the vital points of the meeting. Thus, you can trim the Teams recording to make it more concise and engaging. The following post shares the three solutions. Keep reading to find your best way.
Way 1. Trim Teams Meeting Recording in Microsoft Stream
From August 2021, all meeting video files recorded using the official recording function will be saved to OneDrive. Since Teams and OneDrive are part of Microsoft 365, you can use the Microsoft Stream trimming feature to trim a Teams recording.
Note: Stream is only available to Microsoft 365 subscribers. It's browser-based, and there's no stand-alone desktop app. So you should use any supported browser of the following:
• Microsoft Edge on Windows 10
• Google Chrome on Windows 7 or higher
• Firefox version 42 or higher on Windows 8.1 or higher
• For Mac OS devices, you are supposed to use Apple Safari 10 or higher / Google Chrome on Mac OS 10.10 or higher.
Here is how to trim Microsoft teams recording in Stream:
Step 1. Log into your Microsoft 365 account in a browser and open the "Stream" app.
Step 2. Click "My content" and select "Videos". You will see a list of videos saved to your Stream.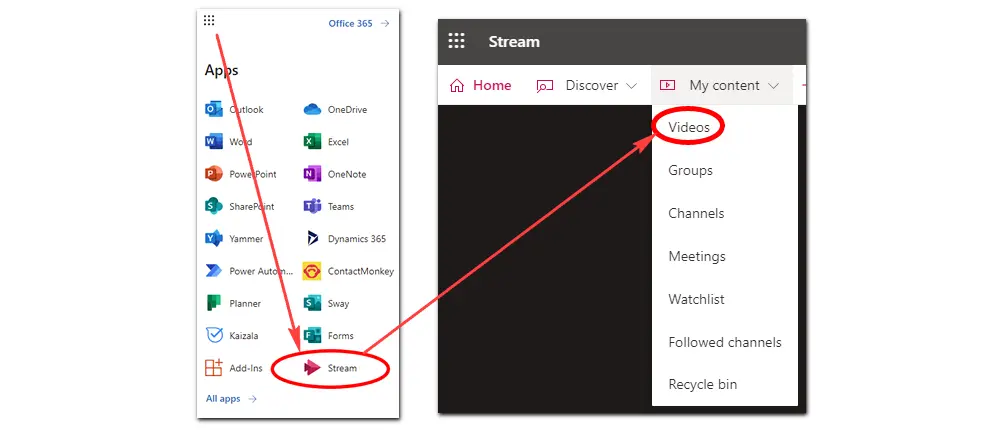 Step 3. Find the Teams recording you want to trim and click the "More/Ellipsis" icon on the right side of the video.
Step 4. Select "Trim video" from the drop-down menu.
Step 5. Stream will import your video to the timeline, where you can trim the video by dragging the handles left and right.
Step 6. Then you can hit the play button to preview the trimmed video. If it's ok, click the "Apply" button in the upper left corner to save your changes. It will delete the extra footage permanently.

While Microsoft Teams is not a robust video editor, it only allows you to trim off the beginning and/or end of a video. If you want to take out mid-sections from the Teams meeting recording, Stream won't work. So here comes the best free video editor that enables you to cur from any part of a Teams recording. Learn more details in the next part.
Way 2. Trim Teams Recording with a Free Video Cutter
WonderFox Free HD Video Converter Factory is one of the top-rated video editors for Windows PCs. It's highly recommended for the simple interface, hassle-free operation, and functional editing features. With this program, you can trim Microsoft Teams recording from any part you want or split it into multiple clips just with a few clicks. After trimming the recorded video file, you can convert it to popular video formats for handy playback or editing, such as MP4, H.264, MOV, AVI, MKV, etc.
Now, free downloadfree download and install the software on your PC and see how to cut Teams recording.
Before anything else, you need to save the Teams recording to a local folder on your PC. Log in to the Office, open "Stream", and find the video under "My content" > "Videos" as mentioned in the first solution. In the … menu, select "Download video".
Step 1. Import the downloaded video into Free HD Video Converter Factory. Launch the software and select "Converter". Then click "Add Files" to load the Teams meeting recording video. (Or you can directly drag and drop the file into the software.)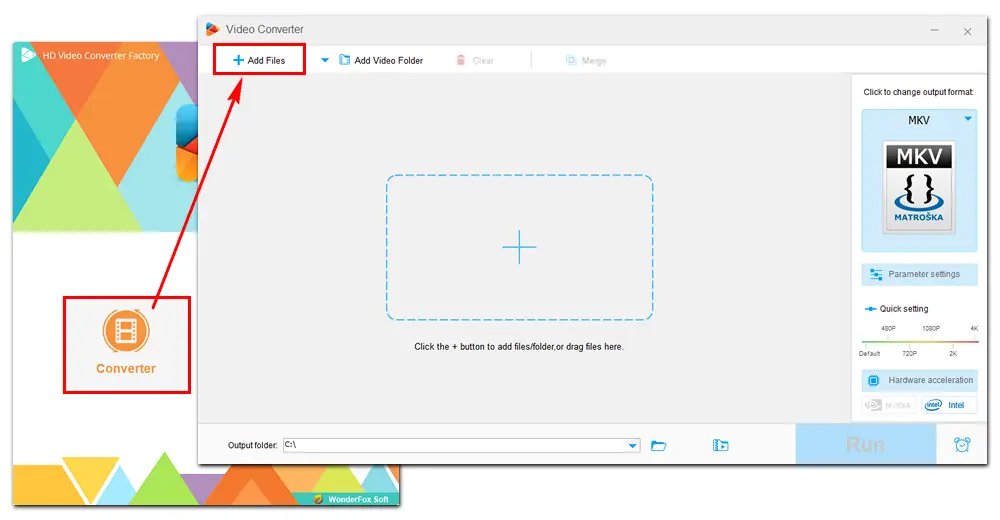 Step 2. Trim Teams recording. Click the "scissor icon" below the source file to open the Trim window. Drag the sliders to the part you want to save and hit the "Trim" button. You can repeat this step to create more clips. Once done, press "OK" to save the change.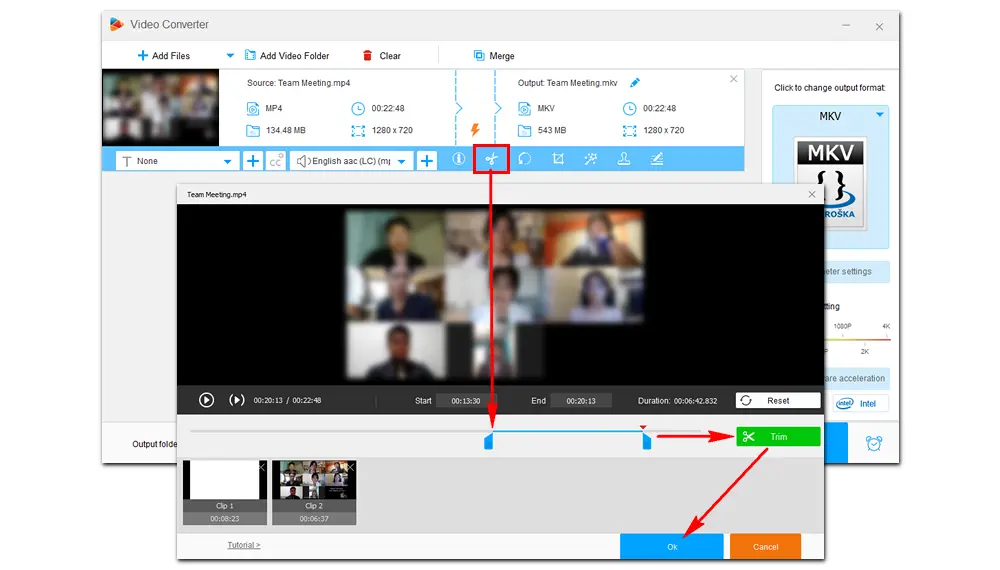 Step 3. Select an output format. Click the format image on the right and choose a desired profile from the "Video" tab. Here, I pick "MP4" as an example.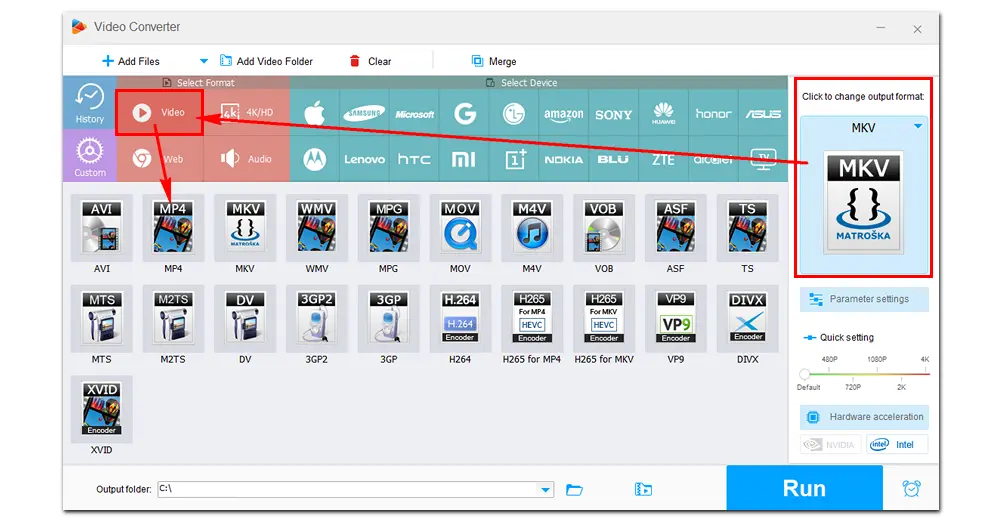 Step 4. Export the final file. Specify an output path at the bottom of the software. Finally, click the "Run" button to finalize the process. Once it's over, a window will prompt you to check the output file.
Way 3. Trim Microsoft Teams Recording in Photos App
Update: Video Editor is no longer available in the Photos app. You can create new videos and edit them with Clipchamp, the new video editor from Microsoft 365.
Microsoft Stream only trims the beginning and end of a video, but you can use a third video editor to trim off the unnecessary parts from your Teams recording. Apart from Free HD Video Converter Factory, the Windows Photos app is also a good option. It is a locally installed photo viewer and video editor on Windows devices. Below shows you how to trim a Teams recording from the middle with Photos. Follow the steps if the video editor is still available on your computer.
Step 1. Download the recorded Teams meeting video from your OneDrive, Stream, or Outlook.
Step 2. Open your file explorer, right-click on the video in the Downloads folder, and select "Open with" > "Photos".
Step 3. Click the "three-dot icon" at the top of the interface. Then select "Edit more" > "Create a video with text". Name your video or skip it.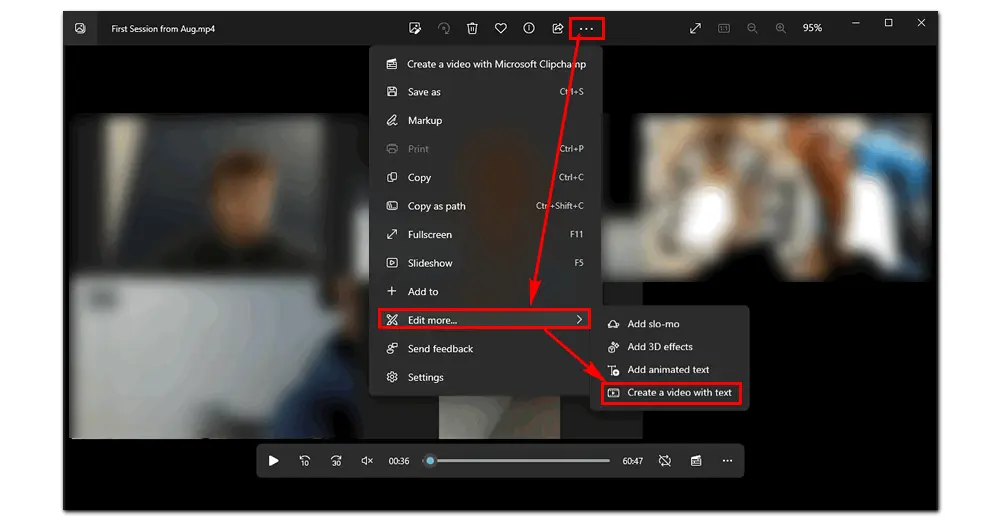 Step 4. After adding your item from the project library beneath the storyboard, select the "Trim" option.
Step 5. Drag the slider on the timeline to your wanted section. And press "Done" to save the part. You can repeat this step to trim more parts from the Teams recording.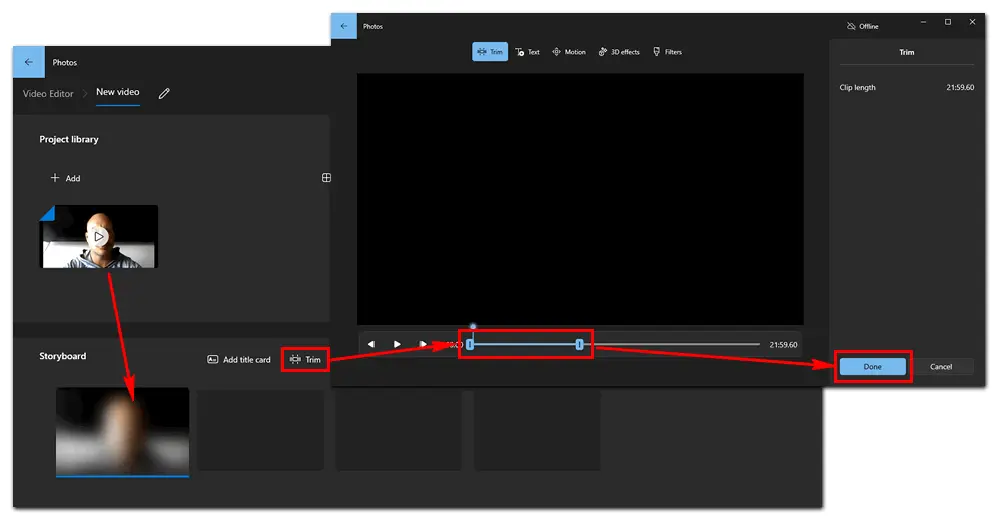 Step 6. Select all the clips you need in the work bar and click "Finish video" in the upper right corner to "Export" the final MP4 file (in 1080p/720p/540p).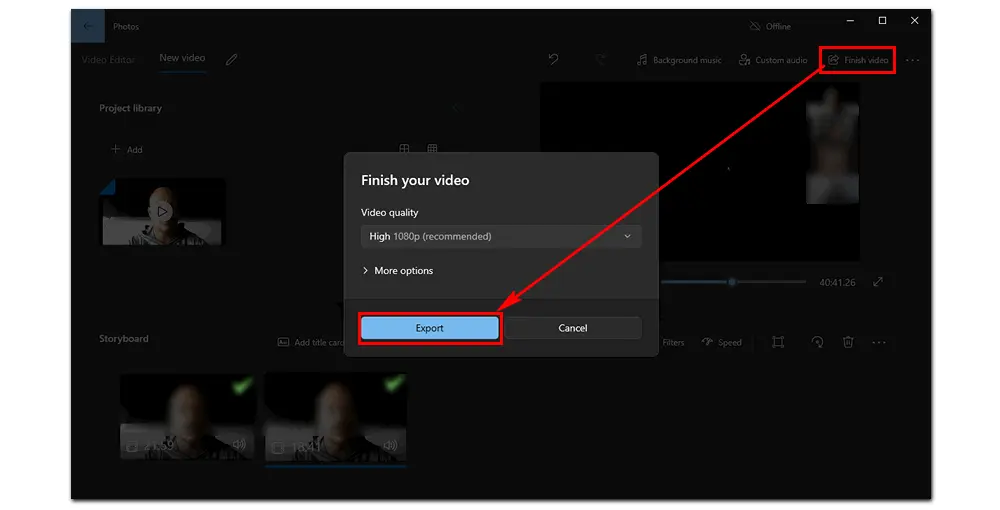 Step 7. Go back to Stream, find your recording, and select "Replace" from the ... menu to replace the original video with your new edited version.

FAQs about How to Trim a Teams Recording
Can you trim a Teams recording?
Yes, you can trim Microsoft Teams meeting recordings, uploaded videos, and even live events. All you need is a useful video trimmer like WonderFox Free HD Video Converter Factory.
How to edit Teams recording without Stream?
Besides Microsoft Stream, many video editors support trimming Teams recordings. You can try the best ways in this article or some ways else.
Sum up
This article illustrates how to trim Teams recording on Microsoft Windows with three methods. To sum up, Microsoft 365 paid users can use Stream's trimming feature, while Free HD Video Converter Factory and Photos are available for everyone. From the editor's point of view, Free HD Video Converter Factory is easier to operate and offers additional features. Yet it won't automatically combine the edited clips into one as Photos does.